April 2, 2012
Written by Contributing Writer, Sarah Farthing.
I will never forget bringing my boys to a friend's house to play when they were still toddlers and tasting peanut butter balls for the first time. I can taste them now as I'm typing this.  The two of us proceeded to repeatedly sneak them out of my friend's freezer throughout the play date and every time one of our boys entered the kitchen we would quick! hide them in our cheeks and ask, like chipmunks, what they needed.  I'm fairly certain I left that day five pounds heavier and with chocolate on my face. It was worth it!!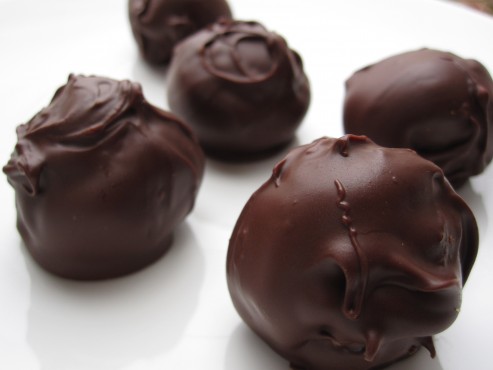 Peanut Butter Balls*
Ingredients:
1 sleeve graham crackers
2 cups powdered sugar
1 cup crunchy peanut butter
2 sticks butter
12 oz bag chocolate chips
Directions:
Crush the graham crackers. (Using a ziploc bag works well for this. Just insert graham crackers and whack with a heavy object/kitchen tool.)  Mix together the crushed graham crackers and powdered sugar.  In a separate bowl, melt together 1 cup of crunchy peanut butter (use creamy if desired) and 2 sticks of butter.  Combine the powdered sugar and butter mixtures.  Roll into balls and chill in the freezer while you melt a 12 oz bag of chocolate chips. (If you have a metal bowl that will nestle pretty securely over a pot of boiling water, it works well for melting the chocolate chips. Keep stirring it and make sure it doesn't get too hot.)  Remove the balls from the freezer and dip in the melted chocolate one at a time. Place on wax paper and repeat. Return to freezer.
These are delicious right out of the freezer (clearly!) but do well out on a tray at a party or bake sale as well.
This is a great recipe for little kitchen helpers to assist you with!
Enjoy!
*This photo is by Shannon at Killer Bunnies, Inc.  Her recipe varies slightly from the one I provided from my friend.
Share this post
You might like...
Category: Cookin'
2 Comments »
on April 2, 2012 6:18 pm

Yummy!!!

---

Jill

on April 2, 2012 10:09 pm

Will definitely try these with my niece, thanks for the fun recipe!

---
Leave Us Some Comment-Love