October 18, 2010
A happy Giveaway Monday to you!
(It's my supreme hope that the chance of winning something keeps the Monday doldrums at bay.)
Meet the Perplexus Maze Game by PlaSmart, Inc.
that will keep you spinning, twisting and perplexed!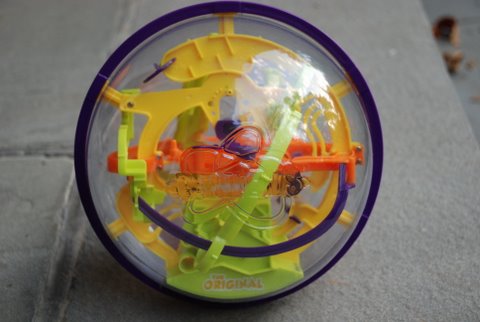 And maybe you'll pass it on to the adorables when you tire of it. (They may need to wait a while…)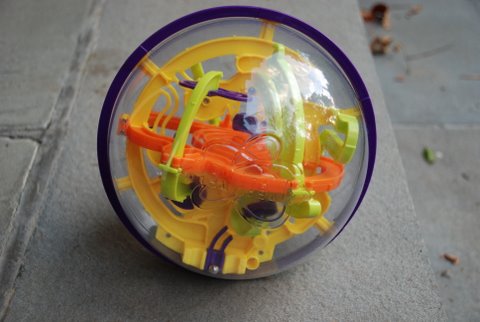 Here's how it works: You start the marble in one of these three starter positions.  Then you simply (or not so simply) twist and turn to follow the numbered path of the maze, all while keeping the marble from falling off.
The Running Man and I are hooked, and if my adorables ever had the opportunity to play, I know they would love it too. (We're meanies, not sharing like we tell them to!)
Giveaway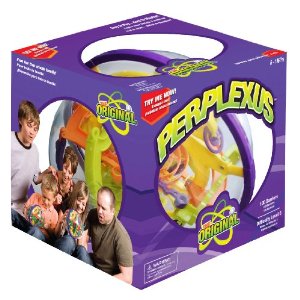 You can win one Perplexus Maze Game ($19,99) simply by leaving a comment by Friday, October 22nd.  I'll choose the winners using Random.org on Saturday.
Because I just LOVE comments, here's how to gain extra entries (please leave them as separate entries):
Do you subscribe by email or RSS to The Good Stuff Guide? I love my subscribers, so you get an extra entry. Wahoo!
Email 5 of your friends about The Good Stuff Guide and tell them what a rockin' website this is.  We'd love to have them join us!
"Like" The Good Stuff Guide on Facebook and receive the latest news and your chance at additional giveaways. (I LIKE you too!)
Good luck!
You can also find the Perplexus Maze Game by PlaSmart, Inc.
at Amazon (ages 6 and up).
Share this post
You might like...
Category: Toys and Gift Ideas
Tags: Monday giveaway, Perplexus Maze Game |
42 Comments »
on October 18, 2010 8:47 am

I would love one of these! I would share with my grand- adorables.

---

Jill

on October 18, 2010 9:35 am

Looks like fun!

---

Nicole K

on October 18, 2010 12:15 pm

I think my husband would love that. Oh, my kid, too!

---

Kristy

on October 18, 2010 1:01 pm

I'm thinking Christmas idea!

---

on October 18, 2010 3:03 pm

So fun – I can see why you're addicted!

---

Julie R.

on October 18, 2010 4:55 pm

This looks like great fun.

---

Julie R.

on October 18, 2010 4:56 pm

FB fan

---

Julie R.

on October 18, 2010 4:56 pm

email subscriber

---

Valerie S

on October 18, 2010 6:56 pm

This game looks really fun!

---

Valerie S

on October 18, 2010 6:56 pm

I subscribe in google reader.

---

Ferdinand A.

on October 19, 2010 3:33 am

Hello Perplexus. This toy will make me stay home on weekends.

---

Cathy

on October 19, 2010 7:26 am

Looks like fun! Think I might get 1 or 2 for christmas presents.

---

Cathy

on October 19, 2010 7:26 am

I subscribe via email.

---

KIm Derrick

on October 19, 2010 9:48 am

Cool

---

KIm Derrick

on October 19, 2010 9:48 am

I get e mails

---

KIm Derrick

on October 19, 2010 9:48 am

I am a fb friend

---

on October 19, 2010 9:59 am

Looks like a fun toy for the whole family
epstein.steven@gmail.com

---

on October 19, 2010 9:59 am

subscribe by email
epstein.steven@gmail.com

---

on October 19, 2010 10:01 am

"Like" The Good Stuff Guide on Facebook

---

Nancy Manchester

on October 19, 2010 10:43 am

fun!

---

Marlo Korstanje

on October 19, 2010 10:50 am

Looks awesome, Heidi!

---

Rachel C

on October 19, 2010 12:35 pm

Looks fun! My family would have lots of fun with this.

---

Rachel C

on October 19, 2010 12:35 pm

email subscriber

---

gillette

on October 19, 2010 1:14 pm

Looks like fun!

---

gillette

on October 19, 2010 1:14 pm

email subscriber

---

Melissa Mori

on October 19, 2010 2:14 pm

I would love one of these for a gift for my godson…right up his alley!

---

Melissa Mori

on October 19, 2010 2:14 pm

I subscribe to your emails!

---

Melissa Mori

on October 19, 2010 2:14 pm

I like The Good Stuff on FB!

---

on October 19, 2010 2:21 pm

Would be fun to play and have family challenges.

---

Ronda

on October 19, 2010 2:34 pm

Looks like a fun toy for the grandkids!

---

Ronda

on October 19, 2010 2:34 pm

FB fan!

---

Julie G

on October 19, 2010 2:51 pm

I would share the Perplexus with the kids, I promise!

---

Colleen Gallagher

on October 21, 2010 8:47 am

My son would love this!

---

Mimi

on October 21, 2010 10:17 am

Love having one avaliable for the new kids' playroom.

---

Mimi

on October 21, 2010 10:19 am

It's an interesting puzzle for all the young at heart !

---

Lynsi Garvin

on October 21, 2010 3:05 pm

My husband would LOVE this…although I'm not sure he needs to be preoccupied.

---

Lynsi Garvin

on October 21, 2010 3:05 pm

Facebook fan, too.

---

Jules Greenaway

on October 21, 2010 4:18 pm

My husband would love this…and to be honest, so would I!!!! Great Christmas gift!!!!

---

Joy G

on October 21, 2010 10:08 pm

This looks like so much fun!

---

on October 21, 2010 11:02 pm

Looks like fun!

---

nan lara

on October 22, 2010 11:28 am

would love this
nannypanpan at sbcglobal.net

---

nan lara

on October 22, 2010 11:28 am

e-mail subscriber

---
Leave Us Some Comment-Love