September 5, 2013
written by Cathy Baker, mom of two sweet tweens, and a wannabe photographer.
I'm not a photographer. I'm a wanna-be photographer. Someday I will explore this art some more, but for now, I collect ideas.
I admire the creativity of others.
I get lost in the beauty they are able to capture in a photograph.
And I love the 'fun' these photographers captured through the use of forced perspective photography.  Wikipedia defines forced perspective as:
a technique that employs optical illusion to make an object appear farther away, closer, larger or smaller than it actually is. It manipulates human visual perception through the use of scaled objects and the correlation between them and the vantage point of the spectator or camera.
Enjoy the smiles, that these 'forced perspective' photos offer!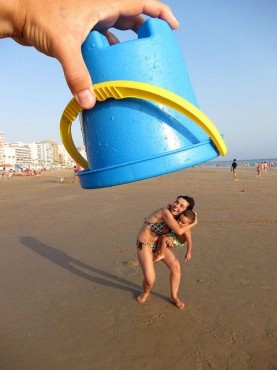 I'm so going to do this at the beach some day! Found on Flickr.
Look at all these creative ways to capture the moon!! Apparently these were taken by guy named Laurent Laveder and published in a book in France.  Click on the photo to see the pictures enlarged.
I loved the forced perspective of these flower-dressed dancers! Simply amazing.
Oh, the creativity of people! I never would have thought of doing this, but what a fun picture it makes!
Talk about taking 'finding objects in the clouds' to the extreme. Lots more cloud pics at The Endearing Designer.
Fun idea! Wonder what other famous landmarks you could do something similar with on your travels? Source: Flickr.
Another famous landmark.
And if you like the idea of 'forced photography' there are a gazillion other ideas out there too…just search "forced perspective photos" on pinterest or images in google.
Have you ever taken a forced photograph? What was it of?

Share this post
You might like...
Category: For Moms, Photography, Random and Fun
Tags: Photography |
No Comments »
No comments yet.
Leave Us Some Comment-Love