December 4, 2013
Written by Marykate OMalley, mother of three wonderful children, Gladwyne, PA 
The holiday card. Most of us tend to send out pictures of our adorables. All year I am saying to my children, "maybe this will be our Christmas card!' At the beach. On vacation. At the park. And I usually do have a back up. Typically at the beach but I did that the past couple of years and wanted a Christmas picture this year.
So this past Monday, after a tiring weekend, before bed and after showers I thought I could quickly take a picture. What was I thinking? I know from years past that I need to set the stage. Let's just say it didn't go that well. And so on Tuesday, I set the stage – I put on The Polar Express soundtrack, offered a special dessert (whatever they wanted for being cooperative) and set them on the stairs while telling jokes and snapping away. And I have many an option now.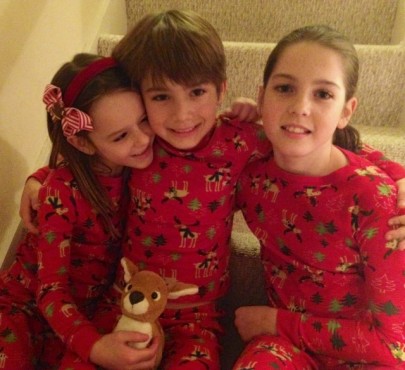 If like me, you haven't tackled this yet here are some other card ideas – use individual pictures of your children from the year as a collage, take pictures of them where they feel most comfortable – playing outside, at the park, decorating the tree, being children! Don't underestimate the power of bribery (cookies and treats) and while taking pictures be silly, silly, silly. I will say "whatever you do, don't laugh! Whatever you do don't think about"…. and then the giggles begin.
Tiny prints is offering 30% off! Next on my list – create, send and mail cards! My children love to add stamps – it is good to have elves.
Who else has some ideas to share?! Happy picture taking! 

Share this post
You might like...
Category: Brilliant, For Moms, Holidays, Mission Control, Momzone, Outdoor, Photography, Random and Fun, Travel, Wondermom Resources
1 Comment »
Anne Schenendorf

on December 5, 2013 2:41 pm

I love these tips!!!!! Last year I had one restless mad guy and one not angry(saying happy would be a stretch). I will definitely be trying these!!!! I love this pic…

---
Leave Us Some Comment-Love