November 1, 2010
Great ideas for *holiday* are forthcoming and this is one of the greats.
*Sorry to use that holiday word on you.  On a Monday, no less!
I love personalized photo gifts for the grandparents, talk about a no-brainer crowd-pleaser.
Today you can have a chance to win a new Picaboo photo calendar and check something off your list at the same time.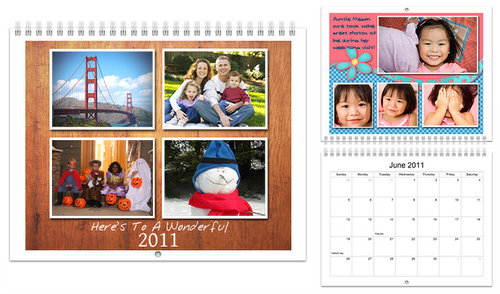 The calendars are available in 2 sizes: Classic is 8.5 X 11 inches ($19.99) and the Premium is 11 X 14 inches and arrives laminated ($29.99).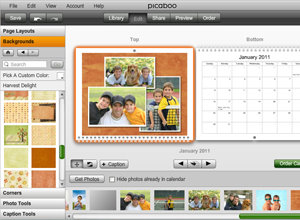 Picaboo's free downloadable software makes it super-easy to create your calendar.  It took me about 20 minutes and most of that was spend hemming and hawing over photos of my adorables.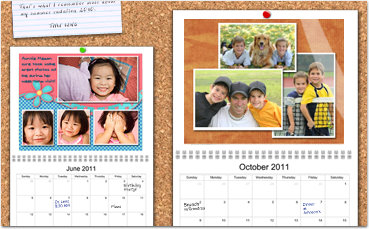 How great is that?
Giveaway
TWO of you can each win a Premium Picaboo calendar simply by leaving a comment by Friday, November 5th.  I'll choose the winners using Random.org on Saturday.
Because I just LOVE comments, here's how to gain extra entries (please leave them as separate entries):
Do you subscribe by email or RSS to The Good Stuff Guide? I love my subscribers, so you get an extra entry. Wahoo!
Email 5 of your friends about The Good Stuff Guide and tell them what a rockin' website this is.  We'd love to have them join us!
"Like" The Good Stuff Guide on Facebook and receive the latest news and your chance at additional giveaways. (I LIKE you too!)
Good luck!
Use Picaboo for your photo books also – the quality is awesome!

Share this post
You might like...
Category: Mission Control, Organizing
Tags: Monday giveaway, Photo Calendars, Picaboo |
25 Comments »
on November 1, 2010 11:32 am

I'd love to win one – I always give photo calendars to everyone for Christmas.

---

Gretchen

on November 1, 2010 11:42 am

Calendars are great gifts..

---

on November 1, 2010 12:36 pm

Love these! They would make a great gift!

---

Jane

on November 1, 2010 7:06 pm

Great idea. After giving a calendar to the mother in law, I now have to create one every year! I will look at these calendars bc the layouts from shutterfly are the same every year and they don't always have the orientation I want.

---

Sandi

on November 1, 2010 8:47 pm

I would love to win one!

---

Julie

on November 1, 2010 9:10 pm

Never done one…always wanted to try!

---

on November 2, 2010 12:57 am

What a great idea. Would love to win this. Thanks!

---

on November 2, 2010 8:38 am

Adorable! I would love one for myself and the grandparents!

---

Sue

on November 2, 2010 8:51 am

email subscriber…I have never made one either. Looks cute.

---

KIm Derrick

on November 2, 2010 12:35 pm

I get emails

---

KIm Derrick

on November 2, 2010 12:36 pm

cute cute cute

---

KIm Derrick

on November 2, 2010 12:36 pm

I'm a fb friend

---

Erika

on November 2, 2010 1:28 pm

I used to make these by hand every year but haven't recently. This would help me get back to doing this for hubby.

---

Rachel W.

on November 2, 2010 3:07 pm

Perfect Grandparent present!

---

Rachel W.

on November 2, 2010 3:08 pm

I get emails.

---

Rachel W.

on November 2, 2010 3:08 pm

I am a facebook fan!

---

Priya

on November 3, 2010 1:51 am

Would love to win !

---

Julie R.

on November 4, 2010 7:41 am

Great holiday gift idea

---

Julie R.

on November 4, 2010 7:42 am

FB fan

---

Julie R.

on November 4, 2010 7:42 am

email subscriber

---

Patty2262

on November 4, 2010 8:17 am

I would love an easy way to get my calendars done…thanks for the review.

---

Patty2262

on November 4, 2010 8:17 am

I am subscriber to your emails.

---

Patty2262

on November 4, 2010 8:17 am

I "like" your Facebook page.

---

on November 5, 2010 2:23 pm

I never think of making calendars for gifts but it is such a great idea. Thanks for the reminder.

---

on November 5, 2010 2:23 pm

I am also a FB fan.

---
Leave Us Some Comment-Love