October 7, 2013
Written by Marykate O'Malley, mother of three wonderful children, Gladwyne PA
Having lived in Manhattan, I am a pizza snob. Please don't judge me, this is probably one of the only things I am a snob about. Pizza, and maybe coffee. You know, the important stuff. My mom thought Domino's was my children's favorite place because once while babysitting they told her that was all they wanted for dinner. I let her know I couldn't bring myself to buy it, not with Jules and my old standby Sun Valley around. The power of advertising ladies! She couldn't find one anyway and their little dreams come to fruition in Disney when we had Domino's a la poolside (all about them vacation). So pizza is important. Like really important. I always think it is strange that on 9/11 after finally making it to safety that was all I wanted to eat. Pizza. I couldn't think of anything else. Pizza is the go to comfort food, it feeds the soul. Friday night especially is pizza night. And when the temperatures drop one of our favorite variations is making our own!
I buy the ready-made crust at the market. I leave it out for an hour or so because it is easier to manipulate this way. Everyone gets their own ball to knead and create their personal masterpieces. The beauty is the children make a pizza exactly the way they like – a little sauce or a lot, a lot of cheese or very little, pepperoni or plain. We have made pizza letters, smiley faces and hearts. This is also a fun activity when another family is over as well. These pictures are from when Team Farmer visited this past spring. It keeps the kids occupied and feeds them. Food and entertainment in one! Now that is efficient!
It's kind of like playdough – but edible!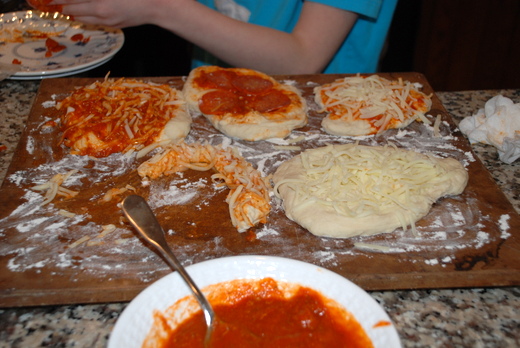 Messy fun
I have a pizza stone from William Sonoma but a baking sheet works great. And then I follow these simple directions:
2 pounds pizza dough – I just do store bought and so can't help you with homemade – all you over achievers!
1/2 to 1 cup red sauce – I buy marinara, usually Trader Joes or a brand like Barilla. I reserve the Rao's for pasta consumption.
Whatever toppings you want to add! Peppers, sautéed onions, pepperoni, bacon – veggies. I love pesto and sun dried tomatoes or ricotta and tomatoes – think outside the (pizza) box! Cheesy, I know – ha, another!
Cheese – I do mozzarella but an Italian blend works as well.
Instructions
1. Heat the Oven to 500. Let the oven heat up for about 30 minutes before you put in your pizzas.
If using a baking sheet brush it with olive oil. If using a pizza stone use a little flour.
Bake for about 11 minutes and Bon Appetit!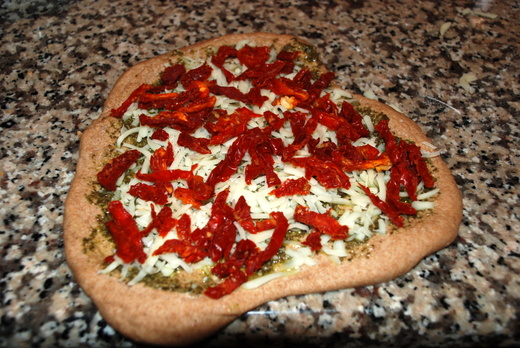 Pesto and sundried tomatoes
Share this post
You might like...
Category: Brilliant, Cookin', Disney, For Kids, For Moms, Kitchen, Random and Fun
No Comments »
No comments yet.
Leave Us Some Comment-Love