May 16, 2011
I've been gearing up for summer at our house: collecting ideas and activities that will keep the adorables occupied and entertained when vacation starts.
Oh my goodness are you going to love Playfoam from Educational Insights: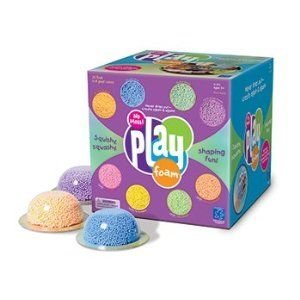 Playfoam is a pliable, creative substance – similar to Play-doh – that will never, not ever, dry out.  It comes in a multitude of colors and can be sculpted into whatever your adorable can think of: animals, cookies, blobs, whatever.
My adorables have busy making all sorts of creations and it is a HIT!  I love that there is no mess and no frantic mommy getting the airtight seal in effect so we can reuse it.  We've had our Playfoam out in the open air for more than a week and it is just as soft and squishy as the first day we opened it.  Now that's magic, friends.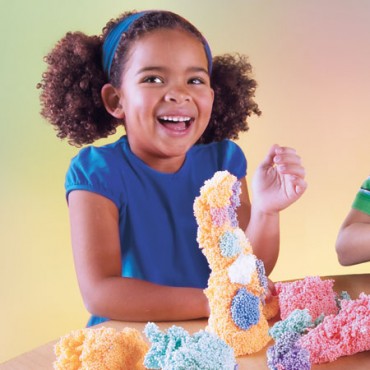 And you can win some…
Giveaway
One lucky, lucky winner can win a 20-pod set (that's a LOT!) of Playfoam from Educational Insights ($19.99) simply by leaving a comment by Friday, May 20th.  I'll choose the winner using Random.org and announce it on Saturday.
Because I just LOVE comments, here's how to gain extra entries (please leave them as separate entries):
1. Do you subscribe by email or RSS to The Good Stuff Guide? I love my subscribers, so you get an extra entry. Wahoo!
2. Email 5 of your friends about The Good Stuff Guide and tell them what a rockin' website this is. We'd love to have them join us!
3. "Like" The Good Stuff Guide on Facebook and receive the latest news and your chance at additional giveaways. (I LIKE you too!)
4. "Share" any recent post from The Good Stuff Guide on your Facebook wall by clicking 'Share' under our Facebook posts with links to The Good Stuff Guide site.  This makes a visit to our site just a click away for all your Facebook friends – the more the merrier…
(Feel free to do them all – that's a total of 5 entries!)
Good luck!

Share this post
You might like...
Category: Activities, Toys and Gift Ideas
100 Comments »
on May 16, 2011 5:26 pm

I've sooo been wanting to try the playfoam! Ahh!

---

on May 16, 2011 5:27 pm

I subscribed to The Good Stuff Guide!

---

on May 16, 2011 5:28 pm

I like The Good Stuff Guide on FB!

---

Kim Derrick

on May 16, 2011 5:40 pm

i am a fb friend

---

Kim Derrick

on May 16, 2011 5:41 pm

i get emails

---

Kim Derrick

on May 16, 2011 5:41 pm

i think my kids would like this

---

April Armstrong

on May 16, 2011 6:15 pm

I would love to try this!!

---

April Armstrong

on May 16, 2011 6:16 pm

I also "Liked" the Good Stuff Guide Facebook page

---

Vivian A.

on May 16, 2011 6:36 pm

Lots of squishy fun!

---

Lauri Daniels

on May 16, 2011 6:36 pm

I think my three year old grand daughter would love this stuff. I have never heard of it before. Thank you for this offer

---

Lauri Daniels

on May 16, 2011 6:36 pm

I subscribe on Google Reader

---

Vivian A.

on May 16, 2011 6:37 pm

Email subscriber!

---

Vivian A.

on May 16, 2011 6:37 pm

Facebook lover!

---

merilee

on May 16, 2011 10:27 pm

My kids would love that stuff!

---

merilee

on May 16, 2011 10:28 pm

I am a fan on facebook!

---

merilee

on May 16, 2011 10:28 pm

I subscribed on google reader

---

Amy

on May 16, 2011 11:13 pm

Awesome! Haven't seen this product before.

---

Arlee

on May 17, 2011 12:02 am

My kindergarten kiddos would LOVE to get their hands on this!

---

Kelly

on May 17, 2011 4:51 am

I subscribe to the Really Good Stuff Guide! I also confirmed my subscription!

---

Kelly

on May 17, 2011 4:54 am

This would be such a cool thing for my first graders to use in the room! I know they would love it!

---

Kelly

on May 17, 2011 4:55 am

I also "Liked" the Good Stuff Guide Facebook page!

---

gillette

on May 17, 2011 8:55 am

My grand-daughter has this at her school and it is great!

---

gillette

on May 17, 2011 8:56 am

I am an email subscriber

---

on May 17, 2011 9:44 am

my kids love this stuff!

---

Julie R.

on May 17, 2011 9:48 am

I'm even thinking this would be fun for my older guy.

---

Julie R.

on May 17, 2011 9:48 am

email subscriber

---

Julie R.

on May 17, 2011 9:49 am

FB fan

---

on May 17, 2011 10:59 am

Looks like so much fun! My children would love this!

---

Kaijsa

on May 17, 2011 11:59 am

Great for a birthday party I have coming up!

---

Kaijsa

on May 17, 2011 11:59 am

Email subscriber!

---

Kaijsa

on May 17, 2011 12:02 pm

Love you on Facebook!

---

monkygm

on May 17, 2011 2:51 pm

Sounds fun!

---

monkygm

on May 17, 2011 2:52 pm

Facebook fan!

---

monkygm

on May 17, 2011 2:53 pm

Shared on facebook!

---

monkygm

on May 17, 2011 2:58 pm

Emailed subscriber.

---

Valerie S

on May 17, 2011 6:32 pm

My 4 year old would love this!

---

Valerie S

on May 17, 2011 6:33 pm

RSS subscriber

---

Elisa

on May 17, 2011 6:33 pm

This stuff looks so cool!

---

Valerie S

on May 17, 2011 6:33 pm

like you on fb

---

Elisa

on May 17, 2011 6:34 pm

Email subscriber

---

Elisa

on May 17, 2011 6:34 pm

I like you on Facebook

---

Elisa

on May 17, 2011 6:34 pm

Shared on FB

---

Jamie

on May 17, 2011 8:12 pm

I shared the photo tips on facebook!

---

Fatima

on May 18, 2011 6:44 am

It is really good stuff
I can't imagine that it is stay out without being dry ..

---

Fatima

on May 18, 2011 6:45 am

I am an e-mail subscriber ..

---

Hyang A.

on May 18, 2011 10:20 am

Looks too fun!

---

Hyang A.

on May 18, 2011 10:20 am

Email subscriber!

---

Hyang A.

on May 18, 2011 10:21 am

Facebook liked!

---

nan

on May 18, 2011 12:52 pm

my son would love this
nannypanpan at gmail.com

---

nan

on May 18, 2011 12:53 pm

e-mail
nannypanpan at gmail.com

---
Leave Us Some Comment-Love