February 28, 2013
written by Cathy Baker, mom of two sweet daughters (they even brought me breakfast in bed this morning!)
I came across this adorable idea over at yahoo news that I thought some of you sweet readers would enjoy.
I mean, we moms have taken numerous items out of our kids pockets when doing the laundry (or found them in the washer or dryer after we did the laundry), right?!   I often find sparkles in my laundry, in fact, the very first post I did on my own blog was titled  Moving, Moments and Sparkles .
I loved the foresight of this mom who saved all of her son's pocket treasures through the year in a large jar.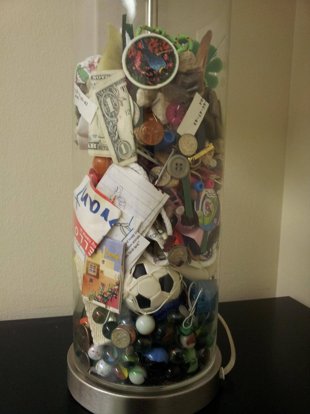 Here, you can read about it:
Reddit user justgrant2009 posted images of "the best gift" he'd ever received: a lamp filled with things his mom found in his pockets over the years.

"Growing up, whenever I left something in my pockets and put them in the dirty laundry, before she would wash things, she checked my pockets, and if she found anything, she put it in a glass jar on the top shelf in the laundry room," justgrant2009 wrote online. "I remember as a kid, wishing soooo hard that I could get some of the items back, but it was forbidden to even go near the jar. By the time I was old enough to be sneaky about it and get into it, I had just learned to accept that that was how it worked and I wouldn't get those things back."

At his wedding rehearsal dinner in May, his mother presented him with lamp filled with the objects that told the story of his childhood, from sticks and marbles to Pogs, rubberbands, a Super Mario Land game, yo-yos and Laser Quest score cards.

The gift brought him to tears.

justgrant2009 added, "Yes, she has sealed the top of the lamp to [the jar] so that I still CANNOT open it."
So, who is going out to purchase a glass jar today?! I also found this very similar fillable glass lamp at amazon.com. Order today and begin collecting memories for a lifetime!
My daughter loves to collect rocks and shells – they would look super cute in there too!
Share this post
You might like...
Category: Random and Fun
Tags: gift ideas |
1 Comment »
Marykate

on March 4, 2013 9:02 pm

So fun! I would love to fill one over the summer with shells, sea glass and sand. All the treasures the kids find.

---
Leave Us Some Comment-Love