December 28, 2010
***The week of favorite posts continues…  With a TON of snow hitting the East Coast, I'm running this just so we can dream of warmer days.***

It's COLD and snowy here and NOTHING, no NOTHING sounds better to me than floating in a pool.  In my dream, my adorables can swim unaided (Read: me not being panicked lest their heads dip under water) and they can frolic at one end while I float around in my foamy lounger at the other end sipping my Diet Coke.
Sounds nice, right?
While I'm at it, I've also got killer abs, the words "Miracle Suit" are unknown to me, and a pool boy runs at lightening speed to replenish my Diet Coke.
But I digress…
Today, we're going to play a fun little game: I'm going to show you 6 magnificent pools in the Hamptons of Long Island, and you get to choose your favorite.  While it's not possible to "give" you the pool of your choice, I'm happy to send you "the thought of" the pool of your choice and in some realm of existence that's exactly the same thing, right??
So here we go…
Pool #1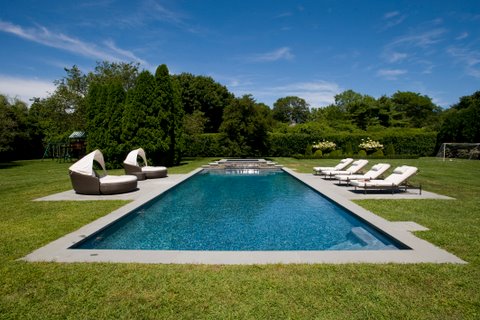 Sleek and sexy.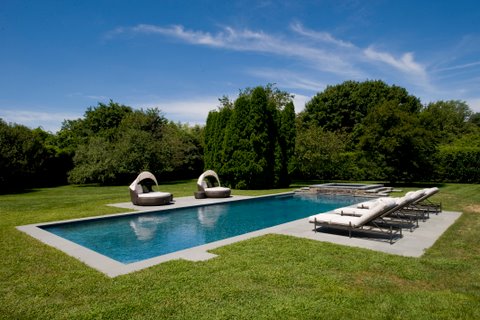 Very Miami South Beach boutique-y hotel.
(I've only walked through such hotels at a gallop, the whole time terrified management would boot me from the premises for being oh so very uncool.)
Pool #2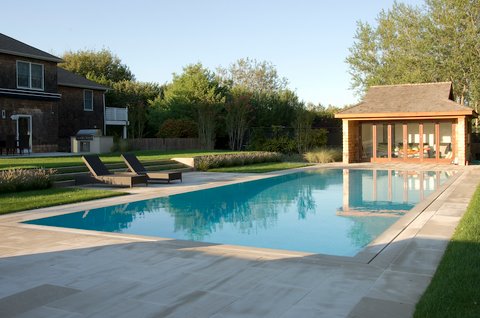 Pool House, friends.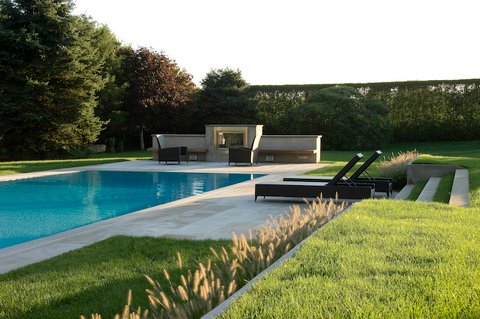 With a fireplace at the opposite end.  An interesting and surprising touch!
Pool #3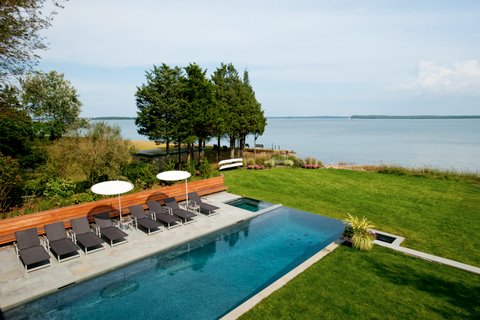 Mmmm… waterfront infinity pool….
… with a waterfall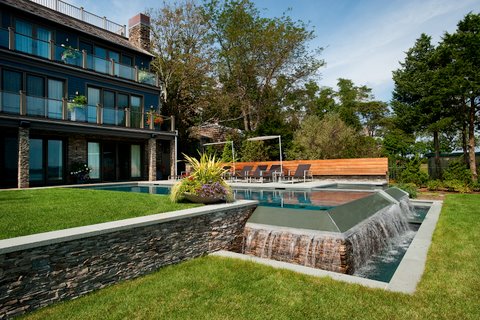 Nice.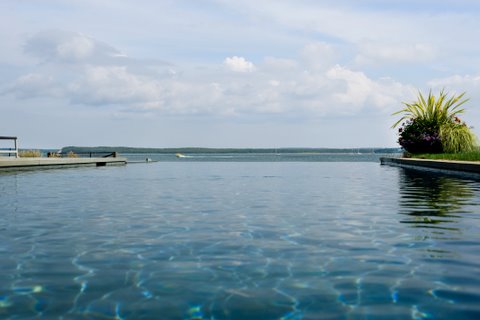 (but can my foamy float fall over the waterfall?!?  You know I'm going to have to ask someone.)

Pool #4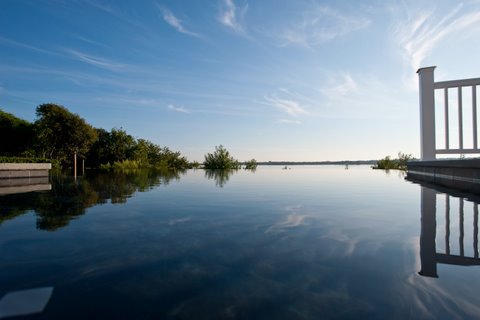 More waterfront infinity action…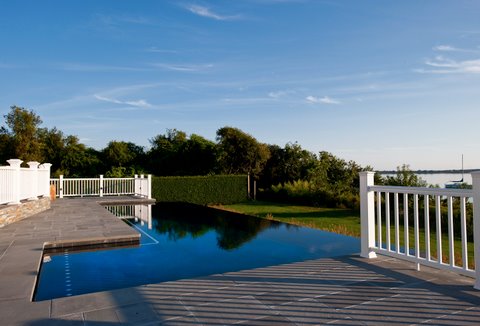 Similar concept to the above…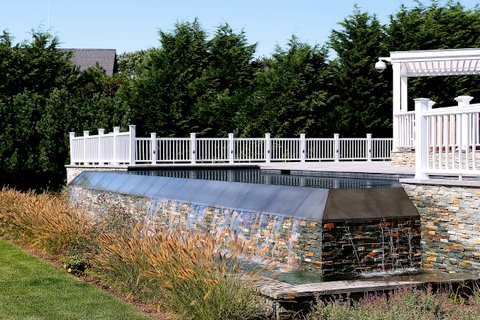 I like this white trellis there.  And the flow-y grass makes it all look so natural.
Pool #5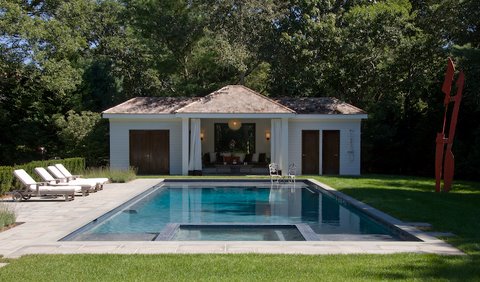 Only 1 photo of this pool, but the pool house is pretty killer.

Pool #6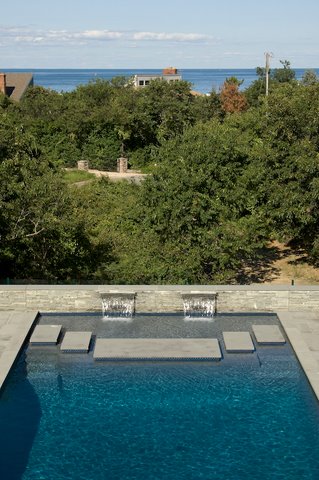 Hmmm… Water view…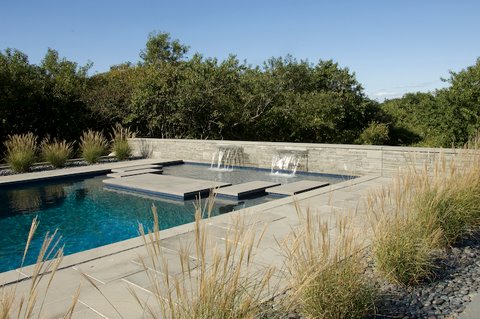 All those cool stone slabs on which to sit: completely out of the water, only legs in the water, half immersed in the water.  I like the options this provides.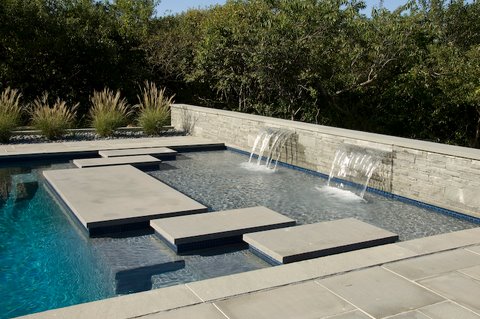 And waterfalls to boot.
________________________________________________________
So the choice is yours.  Be careful now and choose wisely!
These gorgeous pools are all the work of Pristine Pools of East Hampton, NY.  Many thanks for the use of their photos.
Share this post
You might like...
Category: Outdoor Space
Tags: gorgeous pools, Hamptons, Pristine pools |
7 Comments »
Julie

on July 21, 2010 11:11 am

I'm going for pool #2. I get bored in a pool by myself and think a pool with a nice pool house and fireplace for friends to come over and hang out would be ideal. Also have to keep your diet coke chilled someplace close by now don't we! =)
I'm surprised that non of these have a hot-tub/spa component.

---

Alison

on July 21, 2010 11:30 am

AMAZING!!!! Love them all!

---

on July 21, 2010 4:47 pm

I'm thinking #5 – it seems to have the most shade, which is pretty important for this fair-skinned girl. Oh, and a pool house!

---

Jen

on July 22, 2010 7:13 am

speaking as one with a fall:) in the summer our river is too low for taking you over the waterfall! You'd be safe here! So would I if I thought I'd enjoy swimming in the river. I dream of those pools daily!

---

on July 22, 2010 7:20 am

I choose #1 because I do think there's a hot tub at the end. (You don't Julie?) If it's not a hot tub, I'll take #2 so my husband can cook up wonderful things on that grill while we entertain….

Thanks for the dream!

---

on July 22, 2010 10:56 am

Where are the diving boards? The slides? 😉 I love them all. So very adult-like.

---

Gillette

on December 29, 2010 11:07 pm

#5 AND #6

---
Leave Us Some Comment-Love