October 17, 2011
Written by Contributing Writer, Sarah Farthing
Perfect for an easy family meal or no-fuss entertaining!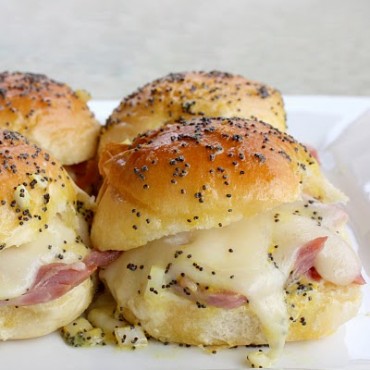 Poppy Ham Rolls
1 dozen dinner rolls
¾ pound baked ham, sliced
½ pound swiss or mozzarella cheese, sliced
1 stick butter
1 tablespoon Worcestershire sauce
1 tablespoon prepared mustard
1 tablespoon poppy seeds
2 tablespoons brown sugar
Fix individual ham and cheese rolls and lay in 9×13 pan.  Bring remaining ingredients to a boil over low heat in a saucepan.  Remove from heat and spoon over top of prepared rolls.
Let sit for 4 hours or prepare the day before and store in refrigerator.  (I find this step not entirely necessary.  I do, however, like the meal the next day only taking 15 minutes to prepare start to finish.  Sometimes it's helpful but don't stress if you need to just pop them in the oven right after you prepare them.)
Bake at 350 for 15 minutes or until cheese melts.  Serve warm or at room temperature.
I like to serve these with a simple salad.
*I snagged this picture here but this exact recipe is from my friend Maria.
Do you have a sure-fire recipe to share with us?!  E-mail sarah@thegoodstuffguide.com

Share this post
You might like...
Category: Cookin'
7 Comments »
on October 17, 2011 9:08 am

Those look so good!

---

Heidi Farmer

on October 17, 2011 10:03 am

I think these look so great too! What an easy and quick and yummy meal.

---

on October 17, 2011 11:04 am

I just pinned this exact photo/recipe yesterday!

---

Julie R.

on October 18, 2011 7:15 am

sorry, silly question. Do you put the sauce over the top of the buns, or do you put on the sauce and then put on the top of the bun??? If you put the sauce over the buns, are they a mess to eat?

---

on October 18, 2011 7:54 am

Not a silly question at all! Yes I pour the sauce right over the top of all the sandwiches. It does make for some sticky finger tips but the sauce doesn't stay really runny so it's not a huge mess. I just make sure I have extra napkins out on the table and it's not a problem.

---

Heidi Farmer

on October 21, 2011 7:37 pm

Made these tonight for dinner and they WERE SO GOOD! I'm so full from all the dee-lish. Super easy too!

---

Brian

on December 20, 2012 9:18 am

I love that these can be done the day ahead. And since a smoked turkey arrived as a gift I am going to use that instead of ham.

---
Leave Us Some Comment-Love