June 2, 2010
First, a HAPPY BIRTHDAY to my elder adorable who turns 5 today!  Seriously, how is this possible?!?
Okay, back to our regularly scheduled programming…
In my mind, it's officially summer.
I know some of the northern adorables still have a month left of school, but it's hot outside and the sunshine keeps my adorables up wicked late.
So to plan for all of your roadtrips this summer, I had to share this idea for a travel art studio I stumbled upon.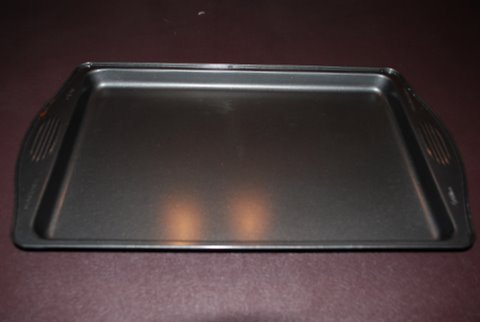 Start with a rimmed cookie sheet.
Would you believe I bought these and because of the handles, they've never fit into my ovens.
Never.  Who knew I needed a tape measurer to purchase cookie sheets??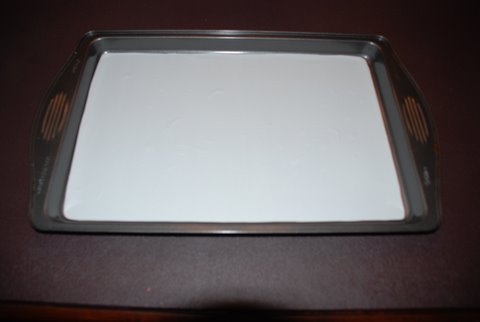 Line it with white Con-Tact Paper.  Remember your adorables will not even notice if it's not perfect.
This cookie sheet transforms before your very eyes into a drawing surface for the car.  Complete with sides, to hold everything in.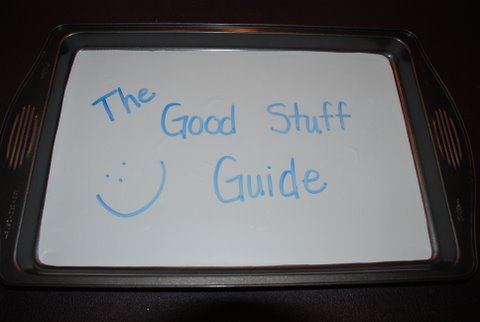 Best part, with a baby wipe, the surface becomes a clean slate for drawing over and over.
So get out your dry erase markers and go crazy.
And in case you thought me crazy for handing over dry erase marker in the car (for crying out loud, what is she thinking??!?)…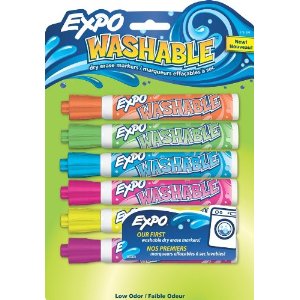 Lookee here – Expo Washable Bullet Tip Dry Erase Markers
.  Brilliant or what?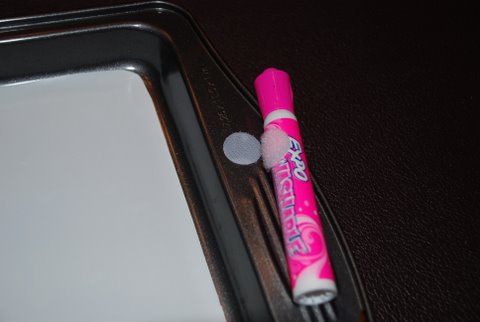 If you want extra credit, you can attach these Velcro dots to affix the markers.
So happy driving!
What other tricks do you have for the car??

Share this post
You might like...
Category: Activities, Family Trippin'
Tags: Dry erase markers, Expo Washable, travel art studio |
7 Comments »
Jen

on June 2, 2010 7:44 am

Great idea! And because it's also magnetic you could put some little magnets on the back in a little baggie so they could play with them as well. I'm looking for ideas as we are taking a vacation that is about 4 hours away with our 3 kids.

---

on June 2, 2010 10:41 am

This is brilliant! And it's a great re-use for old cookie sheets that are too yucky to use. Just cover the surface with contact paper. Yay!

---

on June 2, 2010 11:18 am

Aquadoodle boards work great with the kids too, whether we're on the road or at home. But my hubby prefers having bringing along the portable DVD player!

---

Julie

on June 3, 2010 8:04 am

Heidi – Happy Mommy Anniversary to you!!!!! 5 years ago you also had a life changing day. I think the birthday of your oldest is a celebration for you too.

---

Heidi Farmer

on June 3, 2010 10:19 am

This is so sweet! Thank you. I love thinking about it this way.

---

on June 3, 2010 10:29 am

This is such a great idea!

---

Jill

on June 7, 2010 9:00 pm

Good one! We have survived many road trips without DVD entertainment in the car. My kids love plain old white printer paper in a clipboard. We tie a string around a pen and tape one end to the carseat…that way when they drop it (which happens a lot) they can just fish it right back up!

---
Leave Us Some Comment-Love