January 16, 2012
When we make salsa on the weekends we save enough to make this Salsa Chicken.  The flavor is incredible with homemade salsa, but also very good regular store-bought (pick any spice level you like).  The yogurt makes the dish!
Salsa Chicken
Serves 4-6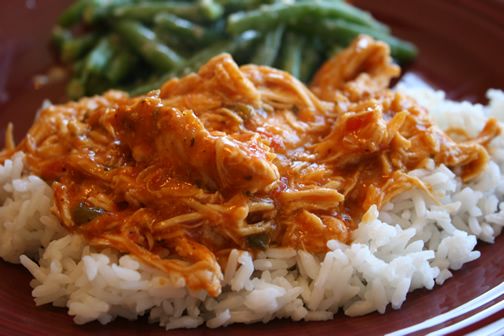 INGREDIENTS:
4-6 Boneless, skinless Chicken Breasts, cut into bite-sized pieces
4 teaspoon Taco Seasoning Mix
1 Jar Salsa
1 cup Shredded Cheddar or Mexican cheese
White rice
TOPPINGS:
Nonfat Plain Yogurt or Sour Cream
DIRECTIONS:
Preheat Oven to 375 degrees.  Place pieced chicken breasts into baking dish.  Sprinkle taco seasoning and mix to coat both sides.  Pour salsa over all until covered.  Bake for 30-40 minutes or until chicken is cooked.  Sprinkle cheese evenly and baking for an additional 3 to 5 minutes or until cheese is melted.  Serve over White Ricee.  Top with Plain Yogurt for a tangy twist (that also cuts the spice) or sour cream for a traditional treat.
It's a favorite at our home!
Share this post
You might like...
Category: Cookin'
No Comments »
No comments yet.
Leave Us Some Comment-Love