November 21, 2011
Happy Thanksgiving week!  This is my all-time favorite dish served on this sacred day – and I don't even like sweet potatoes!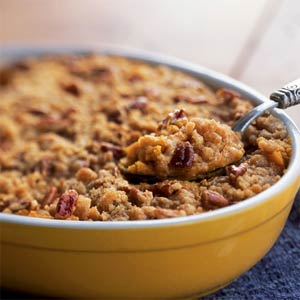 Highly Classified Sweet Potato Casserole
4 sweet potatoes which, once cooked (use the microwave set to potatoes to get the job done quickly) should equal approximately 3 cups mashed sweet potatoes
1/2 teaspoon vanilla
1/2 cup melted butter
1 cup granulated sugar
2 eggs beaten
1/2 cup milk
Mix the above together and pour into a lightly greased 9×13 pan.  Now, onto the topping . . .
Topping:
1 cup brown sugar (doesn't need to be packed down)
1/2 cup flour
1/2 cup butter chilled, cut into pieces
1 cup chopped pecans
Take brown sugar, flour and butter and pulse in food processor until the butter pieces are pea-sized.  Mixture should be crumbly.  Don't mix too long or you will end up with a dough-like topping.  Mix together with pecans and spread over the top of casserole.
Bake at 350 degrees for 45-50 minutes or until browned and bubbly.
Thanks to my sister, Whitney (of Daily Deals for Moms and The MotherList.com fame) who provided this top-secret family recipe!  It's worth the effort, I promise!
What are your favorites for this great day?  Share them please!

Share this post
You might like...
Category: Cookin'
7 Comments »
Mollie

on November 21, 2011 10:42 am

This looks like a great recipe. Plus, you can probably make it ahead of time which is awesome!

---

on November 21, 2011 8:24 pm

I can't wait to try this- looks delicious and sweet potatoes are my favorite!

---

Laurie

on November 24, 2011 12:43 pm

Making almost this same recipe right now! Love it. We use crumbled corn flakes on top in place of the flour. Yum! Happy Thanksgiving!

---

Sandi

on November 28, 2011 1:30 pm

I made this for Thanksgiving. It was a HUGE hit. Thank you very much for the recipe. It is great!

---

Heidi Farmer

on November 28, 2011 2:39 pm

Hooray! Glad you liked it!

---

on December 8, 2011 11:41 am

I just made this last night and it was DELICIOUS!! Thank you for the recipe Heidi!

---

Jenny H

on December 13, 2011 5:04 pm

Just had this over the weekend at a friend's house that got it off your site. It was amazing! Totally copying this down to add to the forever book!

---
Leave Us Some Comment-Love