March 4, 2014
Written by Marykate O'Malley, mother of three wonderful children, Gladwyne PA
It was a long road. My crew started with lessons and ski school at 3 and for the most part picked it up rather quickly. There was the satisfaction of learning something new. There was a feeling of accomplishment. There were meltdowns. At three, when ski school ended one day my son was crying hysterically in a heap at the base of the mountain because he wanted to keep "keeeing" and was absolutely devastated we had to end.  I had to remove his boots and skis while he was on the ground, snow angel position, base of the mountain, wailing. He was 3. He had been in school from 9-4. It was 20 degrees outside. And he wanted to keep going because he loved it that much.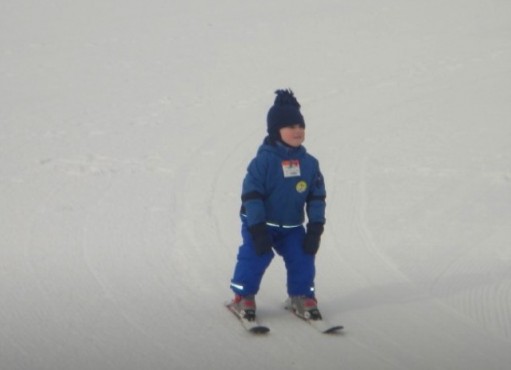 I don't think it gets cuter than this. Age three. 
There was a lot of equipment to schlep and carry, and buckle into and out of and carry and carry and yes to carry. Sometimes equipment, sometimes children, sometimes equipment attached to children while you carried them.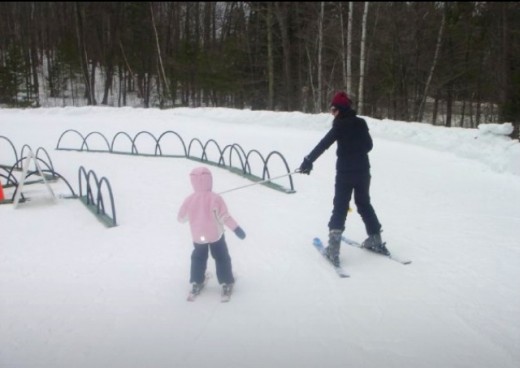 My oldest, so very young.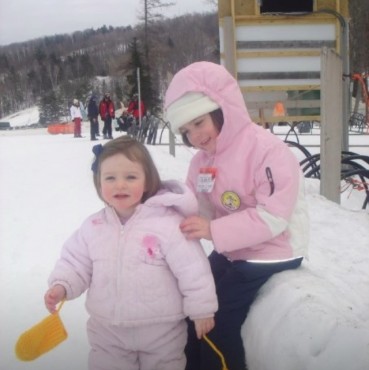 So very sweet. Sisters.
And now, since last winter, we can all ski together. No more school, no more lessons. Just us. A little tribe running up and down the mountain. We can all do the lift, we can all stop, we can all turn, and it is divine. Skiing is hands down my favorite family activity. I can't say I am even a crazy skier. I am not. I love it because I truly can't think of a better way to spend time together. It is gorgeous in the mountains, we are doing something athletic, outdoors, and we are together.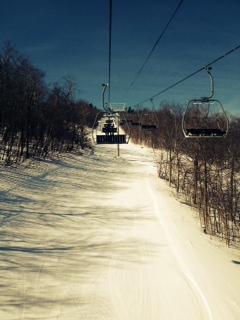 I find that on chairlifts, are some of the best conversations I have ever had with my children. It is impossible not to consider life, and beauty, and gratitude with all that majesty around you.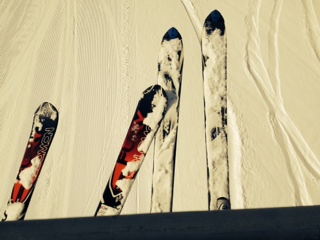 Happiness is… 
A couple years ago I was on the lift with my son looking out at the snow capped mountains as the light was fading and the sun starting to set. He pointed and said, "Mom, is that heaven?" Yes son, I believe it is. It is heaven. This is heaven.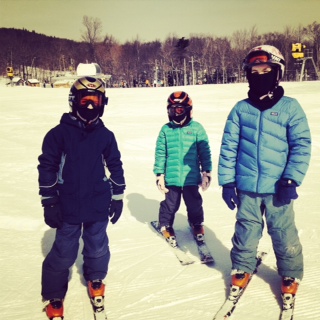 Today!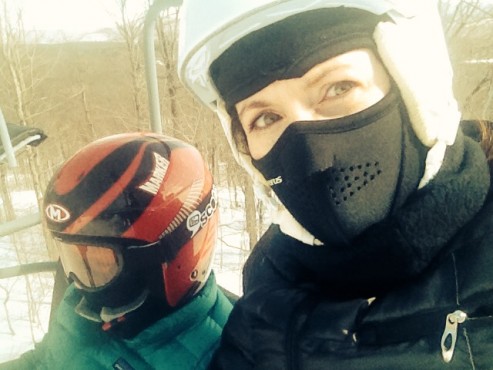 My youngest said I look like a robber. I can't help but think … (sorry) Silence of the Lambs.
This is why I don't watch scary movies. I will never recover. 
Share this post
You might like...
Category: Activities, Brilliant, Family Trippin', For Kids, For Moms, Gear, Momzone, Outdoor, Outdoor Space, Photography, Random and Fun, Travel
3 Comments »
Celeste Won

on March 4, 2014 8:27 pm

Hey MK, We feel exactly the same way! A lot of locals have had enough of the snow around here in what they consider the "mid-Atlantic" more than the Northeast, but we say thank God for our little ski mt! It makes getting outside and exercising with my kids so much more fun in freezing temps than any other winter outing. If you have the time to come over March 15-16 we have free passes/rental for you and your kids and you can bunk at our little house. Glad to hear you all are having fun! Hugs, Celeste

---

Marykate

on March 6, 2014 9:28 pm

Celeste you are so kind to think of us!! We miss you and I am so glad you are enjoying the snow – when life send you snow… Ski! Will email you/ sending love!

---

Anne Schenendorf

on March 8, 2014 9:32 am

MaryKate I accidentally posted this to Heidi. I looooooved this as did Greg! Ronald's words going up the lift touch my soul. It is Heaven surrounded by your children. The meltdown after a full day in 20 degree weather had me in stitches too. Sooooo cute!! Love you!!!!

---
Leave Us Some Comment-Love