October 3, 2012
Written by Marykate Wurster, mother of three wonderful children, Gladwyne, PA
My kids love activities – sports, art, drama club, gymnastics, dance – you name it we probably have done it, or do it. And so the challenge is doing all of this and keeping my sanity.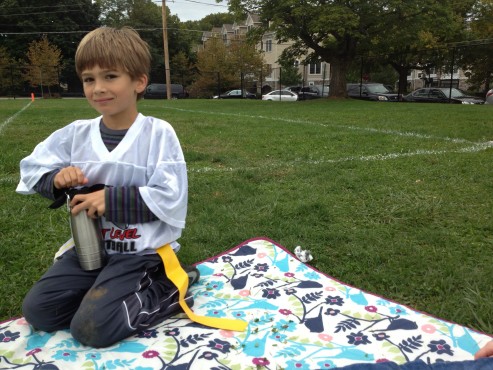 This guy loves his sports – water break, flag football
Here are my tricks and tips for a busy mom with a schedule chock full of activities:
1. Find a friend who is great at carpooling. How I miss my Sarah. And not just because she is the carpool queen. Because she was an awesome neighbor and is a super friend. Who I need to call! See Carpool Matrix.
2. To borrow from a sage friend, who I was lucky enough to work for many years ago, "what you know in advance, do in advance". The following will keep you sane: keep one bag for every activity, always packed and ready to go. For soccer my son's cleats and ball go right back into his backpack after practice or games, the shin guards go directly from the wash and bypass the the drawer – right back into the bag along with his jersey. You get the picture. This eliminates the last minute scrambling. Lets face it, it is hard enough getting children out the door without adding additional stress to the schedule.
Old school bags are great as recycled activity bags. I found some canvas ones at Michaels my children decorated. For carpooling reasons, bags will leave the car. Otherwise, they remain the entire season. Last winter I had bag that never left the car with ice skates, helmets and gloves for skating. It was so great every Friday to know I could go from school to skating and not stop home first for all our gear. The little things become big things over time.
Football Love
3. Happy spectators make for a happy Mommy. And everyone is happier when snacks are involved. And so I have learned to be the snack lady. Here is what I do: I always keep a fold up picnic blanket in the car for games and practices. I found this cute one at Bed Bath and Beyond. Pottery Barn Kids also sells them as well. I also keep a bag of snacks packed at all times and will replenish it when needed. Think juice boxes, goldfish and graham crackers. I have also learned that any snacks that are lingering in the cabinet without any takers – bring them to a lacrosse practice and children flock like seagulls and they are gone in minutes. I think about all of this, probably much more that is necessary or normal.
4. I also keep a case of water in the back of the minivan for forgotten water bottles and for, well, if you are thirsty. You are probably starting to get a visual of my car – you see the canvas bags, the picnic blanket, the water. This is why I drive a mini van with under the floor storage.
5. Most fields have a playground which is always a help for the siblings on the sidelines however not all do. And sometimes a sister or brother may not be in a monkey bars mood. So I keep another bag (add to your visual, this one is a Whole Foods reusable bag) with crayons, coloring books and paper. It also stays in the car all the time and is used for "need to keep the kids quiet or occupied occasions".
Those are all my ideas! Who else has some spectator sanity ideas to share?
Share this post
You might like...
Category: Random and Fun
4 Comments »
Heidi Farmer

on October 3, 2012 4:06 pm

Oh man! How I miss the "snack lady!" I think we moms crunched on some of those many a time too. I, too, concur with one bag per kid, per activity. I have all of mine in the family room behind the couch, ready to be schlepped out to the car. Hockey bags (X2) are too big to stay full-time. Darn it!

---

Marykate Wurster

on October 3, 2012 7:53 pm

I miss you too! Was going to add – have to sign up with friends so you can catch up on the sidelines – all about multi tasking! I miss catching up and cheering on our boys together!

---

Marta Kyle

on October 4, 2012 11:02 pm

In my experience I would also add always be prepared for the trip to the E.R.!! One never knows when an ankle,eye or any other injury will occur. Back up babysitters,friends and family come in very handy. At one point I think the staff at Bryn Mawr knew us personally. All the fun!!

---

Marykate Wurster

on October 5, 2012 7:36 am

Marta – you did have a run there for a while. So true. And it takes a village for those emergencies that are just a part of life! I keep a small first aid kit and some band aids in my car (I could survive for weeks in my mini van if necessary) which have come in handy many times.

---
Leave Us Some Comment-Love