November 1, 2011
This brilliant idea brought to you by Megan Pangborn
So making lunches for three picky kids to take to school is exhausting, but compound that with my nagging mom instincts about plastic bags, waste, BPA exposure, and whether they were getting healthy eating options – it's too much to think about.
So, before the school year kicked off I got organized.  Here are a few tips that made my life that much easier this school year. . .
1.  Each kid gets a thermos that fits into their lunch box for water.  No need for juice boxes with all that sugar.  Healthier and cheaper!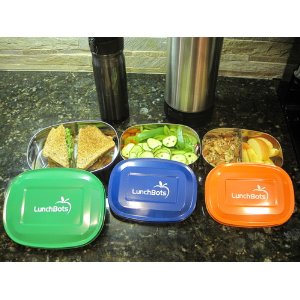 2. Ditch the plastic bags!  Made the investment for some stainless steel LunchBots containers that I had been debating on for quite some time.  (yes, I am serious here. . . a year I thought about this!) These suckers are amazing, why did it take me so long to commit?   No more running out of baggies, having smushed sandwiches or smelling plastic on my food! They are easy to take the lids off and are dishwasher safe.  YAY!  No more stacks of plastic to hand wash.  Love them.  And for some reason it inspires me to pack healthier because food looks so much more appetizing in these!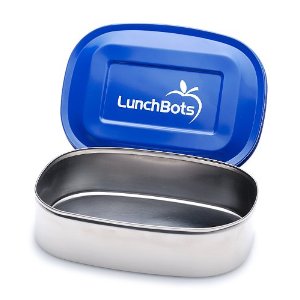 3. A go to lunch that is peanut-free!  I mourned the loss of my go to peanut butter and jelly sandwich for that punch of protein when everyone became tired of lunchmeat.  This is when my girlfriend introduced me to I.M. Healthy SoyNut Butter.  I found it at my local "regular" grocery store too!  Peanut/TreeNut free, Gluten free and it actually passed the "Does this really taste like peanut butter test?" with 3 picky boys and my hubby!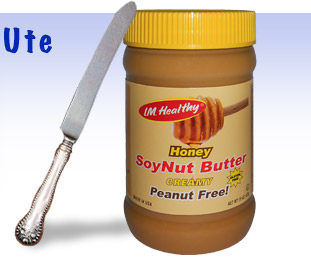 Good luck!!  What are your tips for lunches?
Thanks Megan!
If you have a brilliant idea to share, please email me at heidi@thegoodstuffguide.com!
Share this post
You might like...
8 Comments »
Heidi Farmer

on November 1, 2011 7:53 am

We are a peanut-free school too, so I am finding this Soy Butter today! Thanks!!

---

Carly Larrabee

on November 1, 2011 10:55 am

These are great tips for packing the kids lunches. I love all the tips! I am going to look for those cool containers now!

---

on November 1, 2011 11:13 am

We are going to have to try the Soy Butter because I know our school next year is peanut averse if no peanut-free! Thanks for these tips!

Heidi once posted about these little sport themed cold packs to include in lunches to keep Go-Gurts and other cold items cool until lunch and I found some at Target that I love and use for my boys!

---

Stephanie

on November 1, 2011 11:41 am

My son is allergic to peanuts and we tried the Soy Butter but were not completely in love with the flavor. We really like SunButter, it is made with sunflower seeds and is very yummy. We found it in the organic section at the local grocery store.

---

on November 1, 2011 5:47 pm

With four sons I used to pack six lunches a day. I used wax paper bags for sandwiches and other items. Paper bags were used because they did not want to carry anything back home Homemade cookies would be traded for Oreos! Times have changed. Really like your containers. Some older kids will haul small coolers for a lunch box now. A thermos bottle opens up ideas for soup and chili. Will have to try your "peanut butter" especially with the prices going up. Good ideas:)

---

Heidi Farmer

on November 1, 2011 6:13 pm

@Francie, OH MY!! Six lunches!!

---

Maria Hilsmier

on November 2, 2011 10:14 am

Great ideas! The kids hate how their food tastes like plastic bags, and environmentally it has been bothering me all year. The lunchbots is a great idea! Thanks Meg!

---

on November 3, 2011 9:58 pm

Love these ideas Megan! Great tips.

---
Leave Us Some Comment-Love