May 23, 2013
written by Cathy Baker, mom of two tweens, who love to Wordle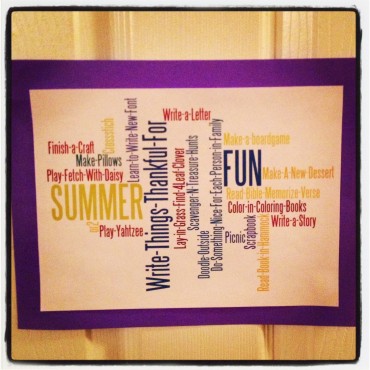 There is this fun website called www.wordle.net — and basically what you do is type in any words you want, and then it randomly puts them into cool layouts for you to print out. For free!
You can customize the colors, the font, the direction — all of it!
So we made a huge list of fun things to do this summer (only 3.5 more school days til summer begins here!) I told them it could not involve any electronics, but it could include anything fun they could do instead of saying "I'm bored."
After we made our huge list (150 things!) I had them pick their favorites and type them into wordle.  Above is the list I made. Here are a couple views of the one my daughter made…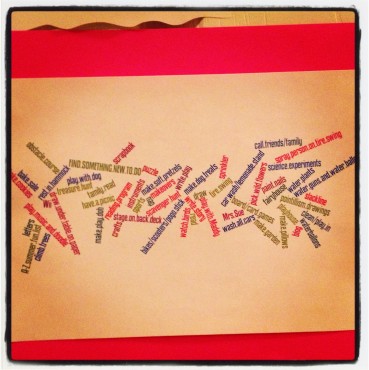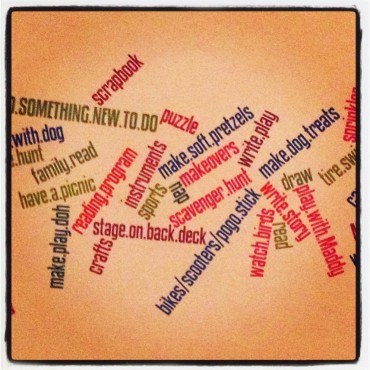 Then I hung these on their bedroom doors, so they have lots of inspiration at eye-level all summer long!
TIPS for using wordle –
If you put a space, it will put the word on a new line.
If you have more than one word you want to stay on the same line, put a – or . inbetween the words so they stay on the same line (ie, Write-A-Letter or Write.A.Letter).
If you want a word larger (see my "SUMMER FUN" in top picture) then you just type it more times. I typed that 3 times.
A few more IDEAS for using wordle –
Make cards for birthdays. Make the person's name large. Then type in a bunch of words to describe them.
Make a list of all the places you traveled and frame it.
I've seen teachers type their name large and they put all the names of the kids in their classroom around their name and hang it outside their door.
Family Rules
Inspirational Words to frame.
Lyrics to a favorite song.
Memories from a trip.
Go ahead – wordle today — it's fun!

Share this post
You might like...
Category: For The Home, Random and Fun
Tags: summertime, wordle |
3 Comments »
Marykate

on May 24, 2013 6:43 am

This is fun – havent heard of this and cant wait to try!

---

Sue S

on May 24, 2013 9:35 pm

This is such a cool site! No experience needed to do cool stuff!

---

Heidi Farmer

on May 28, 2013 10:48 am

So I had a party yesterday, and everyone was talking about this post! One woman was saying she couldn't Wordle on a Mac??? They all LOVED your idea of making summer lists this way! We still have 1 month of school left (!) so this is a way off for us, but LOVE this idea!!

---
Leave Us Some Comment-Love