February 28, 2011
Happy Monday to you!  This week we are celebrating National Read Across America Day, which occurs on Wednesday, March 2nd.  We have quite a LOT of great stuff in store for you!
Just a quick sentence about National Read Across America Day: To celebrate the birthday of our beloved Dr. Seuss, the National Education Association (NEA) has set aside every March 2nd to inspire and promote reading among our children.
Isn't that fabulous?  A whole day just to celebrate reading.
Except here, where we make it a week!
And today we're kicking off our celebration with a major giveaway!
Meet the LeapFrog TAG Reading System
: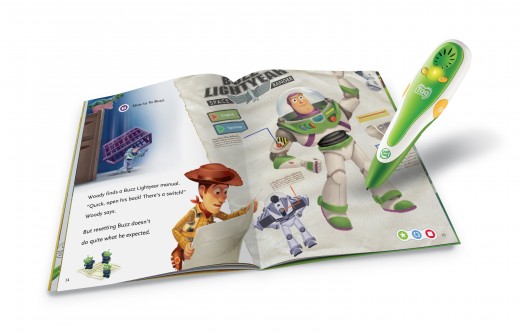 This contraption is one of my all-time favorites around our home.
Here's how it works:
The TAG Reader has a small infrared camera which recognizes letters, numbers and pictures as your adorable touches the page.
Your adorables can choose to have the book read start to finish, by page, or just the words your emerging reader has trouble with.  I also appreciate the phonics games at the end of each book which teach rhyming, beginning sounds, vowel sounds, etc.
If you think this replaces conventional reading, I confirm that it does not.  It merely adds to the time your adorable spends with a book.
Here are some ways we use the TAG at home:
1) I keep our TAG Reader and TAG books right in the kitchen where they're always accessible.  It's rare that a day goes by that my adorables haven't used them at some point (and sometimes in #4, see below).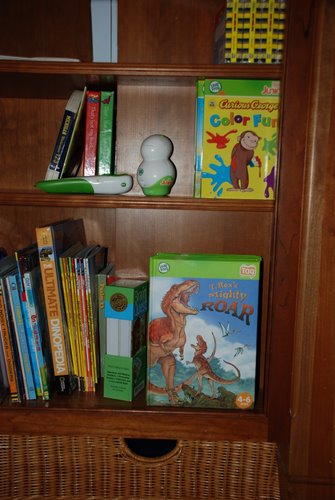 2) In the car, set up a tub of TAG books and the TAG Reader and you have a better movie alternative.
3) Set the timer for 15 minutes of quiet reading time while you're cooking dinner, doing laundry etc.  I can't tell you how often the buzzer goes off signaling the end and my adorables don't even notice and keep going.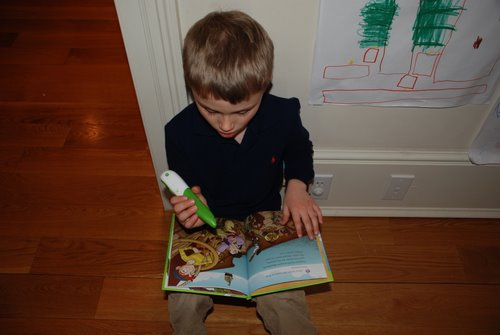 4) Here's a controversial one: when we have time-outs, I often hand the offending adorable the TAG and a couple of books.  I'm not trying to punish them with books, I'm trying to refocus their energy and get my good adorable back.  Since they enjoy reading and usually forget whatever behavior that got them there in the first place, I consider this a success.  My mom still thinks I'm punishing them with books.  What do you think??  I'm curious if I'm damaging my adorable's love for reading.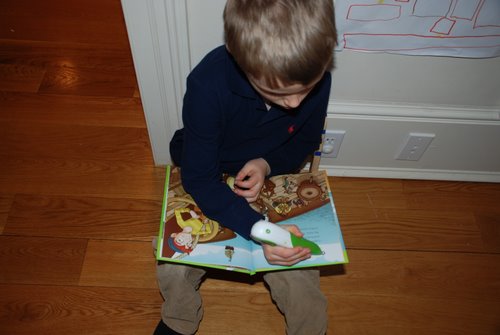 **These photos were not taken during an actual time out.  I don't want to convict the innocent here…
Regardless, the TAG Reading System is terrific for increasing the amount of time your adorable's spend with their books!
And you can win one…
Giveaway
One lucky, lucky winner can win a LeapFrog TAG Reading System
simply by leaving a comment by Friday, March 4th. I'll choose the winner using Random.org and announce it on Saturday.
Because I just LOVE comments, here's how to gain extra entries (please leave them as separate entries):
1. Do you subscribe by email or RSS to The Good Stuff Guide? I love my subscribers, so you get an extra entry. Wahoo!
2. Email 5 of your friends about The Good Stuff Guide and tell them what a rockin' website this is. We'd love to have them join us!
3. "Like" The Good Stuff Guide on Facebook and receive the latest news and your chance at additional giveaways. (I LIKE you too!)
Good luck!
Many thanks for LeapFrog for this fabulous giveaway!

Share this post
You might like...
Category: Activities, Toys and Gift Ideas
Tags: LeapFrog Tag Reading System, National Read Across America Day, TAG reader |
94 Comments »
on February 28, 2011 9:06 am

My toddlers would love this!!

---

on February 28, 2011 9:07 am

I follow you via GFC.

---

on February 28, 2011 9:07 am

I like you on FB.

---

on February 28, 2011 9:11 am

I emailed five friends.

---

on February 28, 2011 9:59 am

My nephews/niece have the Tag reader and we love using it!!!!

---

on February 28, 2011 9:59 am

I'm a FaceBook fan

---

on February 28, 2011 10:14 am

We haven't ever tried one of these but they look great!

---

Marci

on February 28, 2011 10:24 am

This would be perfect for my daughter!

---

Marci

on February 28, 2011 10:24 am

Email Subscriber!

---

Marci

on February 28, 2011 10:25 am

FB Fan!

---

Colleen Gallagher

on February 28, 2011 1:56 pm

what a great learning system. thx

---

Ronda

on February 28, 2011 3:08 pm

Looks like a great system!

---

Ronda

on February 28, 2011 3:09 pm

Facebook fan

---

Kirsten Williams

on February 28, 2011 3:43 pm

I've heard great things about TAG!!!

---

Cathy

on February 28, 2011 5:26 pm

Love Leap frog products! Would love to give this to a neice or nephew!

---

monkygm

on February 28, 2011 5:48 pm

LOVE!

---

monkygm

on February 28, 2011 5:49 pm

Facebook fan!

---

monkygm

on February 28, 2011 5:49 pm

Email subscriber!

---

Elisa

on February 28, 2011 6:42 pm

Love tag!!!

---

Jessica Crump

on February 28, 2011 10:05 pm

I am an email subscriber

---

Jessica Crump

on February 28, 2011 10:06 pm

I like on FB

---

Jessica Crump

on February 28, 2011 10:08 pm

I am emailing 5 friends about this giveaway.

---

JAN SCHAUB

on February 28, 2011 10:39 pm

Jessica Crump tag me this site. It's a nice site.

---

JAN SCHAUB

on February 28, 2011 10:41 pm

Facebook fan

---

Leanne M

on March 1, 2011 2:25 am

I would love this for my son.

---

Leanne M

on March 1, 2011 2:26 am

email subscriber

---

Leanne M

on March 1, 2011 2:26 am

I like you on facebook

---

bridget r

on March 1, 2011 6:49 am

Love the TAG pens!

---

bridget r

on March 1, 2011 6:49 am

Like you on FB

---

bridget r

on March 1, 2011 6:50 am

I receive emails

---

Mimi

on March 1, 2011 7:29 am

A wonderful stimulus to reading for adorables !

---

Mimi

on March 1, 2011 7:33 am

This book comes with it's very own built-in teacher.

---

Laurie B

on March 1, 2011 7:35 am

I love this and so would my little one!

---

Melissa M

on March 1, 2011 7:51 am

Would love this for my 2 1/2 yr old who loves to read!

---

Melissa M

on March 1, 2011 7:51 am

I subscribe to the GSG by email

---

Melissa M

on March 1, 2011 7:52 am

I like the GSG on FB

---

Sue

on March 1, 2011 8:04 am

My neice would love this! (email subscriber)

---

Liz G.

on March 1, 2011 8:17 am

This would be perfect for my soon to be 5 year old!

---

Liz G.

on March 1, 2011 8:17 am

I subscribe via email

---

Liz G.

on March 1, 2011 8:18 am

I like the good stuff guide on facebook

---

Liz G.

on March 1, 2011 8:18 am

Emailed 5 friends

---

Jamie N.

on March 1, 2011 8:26 am

Ohh, would love to win this for my little boy!

---

Jamie N.

on March 1, 2011 8:26 am

Im a facebook fan

---

Jamie N.

on March 1, 2011 8:27 am

I subscribe via email too

---

Jules Greenaway

on March 1, 2011 10:30 am

This would be great for my adorable when he gets a little older!! Plus, I love LeapFrog!!!!

---

Jules Greenaway

on March 1, 2011 10:31 am

I'm a subscriber…

---

Jules Greenaway

on March 1, 2011 10:31 am

Oh yeah, and a FB fan too!!!!

---

on March 1, 2011 11:03 am

My girls would love the Tag. They're just getting interested in reading.

---

on March 1, 2011 11:04 am

I follow through RSS reader.

---

on March 1, 2011 11:04 am

And I'm a FB fan, of course.

---

on March 1, 2011 11:05 am

I didn't email, but I posted you on FB to a couple thousand friends:
http://www.facebook.com/MoneywiseMoms#!/MoneywiseMoms/posts/145300302199724

---

Carilyn

on March 1, 2011 11:17 am

My daughter loves her tag Jr.We would love to win a Tag!

---

Rachel C

on March 1, 2011 11:56 am

Thought about getting one of these for Christmas, but didn't. I'd love to win one!!

---

Rachel C

on March 1, 2011 11:56 am

email subscriber

---

Jane

on March 1, 2011 12:22 pm

Hi. Great prize, great website. Thanks!

---

Kim B.

on March 1, 2011 12:30 pm

We have the jr and would love to upgrade to the reader.

---

Kim B.

on March 1, 2011 12:31 pm

Follow you on fb.

---

Linda

on March 1, 2011 2:13 pm

This would be a great gift for the little ones

---

Linda

on March 1, 2011 2:13 pm

I'm an email subscriber

---

Linda

on March 1, 2011 2:13 pm

I follow you on fb

---

Patricia Lucas

on March 1, 2011 2:35 pm

We love all things LeapFrog and are ready to graduate from the TAG Jr.!!!

---

Cheryl

on March 1, 2011 4:36 pm

Tag I am it, lol. Seriously, my two adorable little girls would really love to have the tag reading system.

---

Valerie S

on March 1, 2011 4:37 pm

great giveaway!

---

Valerie S

on March 1, 2011 4:38 pm

RSS subscriber

---

Valerie S

on March 1, 2011 4:38 pm

Good Stuff Guide Liker

---

Ruth F

on March 1, 2011 5:09 pm

Using the old Leappad, but the Tag is so much better. My adorable is just learning to read and would love the Tag! We are huge Leap Frog fans!
Thank you!

---

Ruth F

on March 1, 2011 5:11 pm

Liked on Facebook!

---

Ruth F

on March 1, 2011 5:12 pm

shared with all my friends!

---

Sara

on March 1, 2011 5:45 pm

I have often wondered if my daughter would like a tag reader. We have never had a chance to try one and would love to give it a go!

---

Sara

on March 1, 2011 5:46 pm

subscribe rss

---

Sara

on March 1, 2011 5:47 pm

like you on FB sara peterson davis

---

Marykate

on March 1, 2011 8:33 pm

These look great!!

---

Rachael

on March 1, 2011 11:04 pm

cool giveaway!

---

Shelley

on March 2, 2011 12:59 am

We would love a Tag Reader.

---

nan

on March 2, 2011 1:25 pm

thanks for the chance
nannypanpan at sbcglobal.net

---

nan

on March 2, 2011 1:25 pm

e-mail subscriber
nannypanpan at sbcglobal.net

---

Jackie J.

on March 2, 2011 5:21 pm

I'm an email subscriber.

---

Jackie J.

on March 2, 2011 5:22 pm

What a great giveaway. I'd use this with my students. I'm sure they would enjoy it.

---

Jessica M.

on March 2, 2011 6:35 pm

This would be wonderful for my little one!
Thank you!

---

Jessica M.

on March 2, 2011 6:35 pm

I subscribe by email

---

Lisa

on March 3, 2011 10:36 pm

FB fan!

---

Lisa

on March 3, 2011 10:37 pm

Email subscriber too!

---

Lisa

on March 3, 2011 10:37 pm

My twins would love this!

---

Kelly R.

on March 4, 2011 3:51 pm

The TAG pens are the best!

---

Kelly R.

on March 4, 2011 3:51 pm

Like you on FB, too (where I saw the reminder about this!)!

---

on March 4, 2011 4:13 pm

My youngest is learning to read, this would be fantastic, thanks for the chance!

---

on March 4, 2011 4:13 pm

Facebook Fan! (Jen Andrade)

---

on March 4, 2011 4:51 pm

I would love one for these for when my little one gets old enough!

---

on March 4, 2011 4:52 pm

FB Fan!

---

hillary

on March 4, 2011 6:12 pm

I have one and my twins fight over it!

---

hillary

on March 4, 2011 6:13 pm

FB fan

---

gillette

on March 4, 2011 8:13 pm

I NEED one of these for my grand-daughter!

---

gillette

on March 4, 2011 8:14 pm

I am a subscriber

---

on March 5, 2011 10:14 pm

I am a subscriber. I love the Tag reader and need one more, so my little ones won't fight over it.

---
Leave Us Some Comment-Love