February 17, 2012
First a VERY HAPPY BIRTHDAY to The Running Man AND Sarah's husband Joe, who were inexplicably born the same day!!  This is a Texas oldie but a REALLY goodie while we travel to Texas!
Home Tour Friday is here at last!
Today we're off to Texas to see a gorgeous modern hillside home that packs a punch.  Wait until you see this pool, I'm just warning you.  You might not sleep for a week thinking about your adorables in it, but you will be wowed.  More on that later.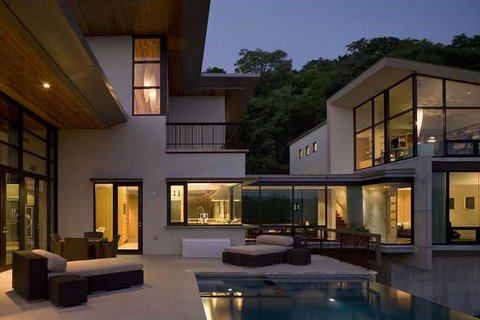 Isn't this stunningly modern?  Here's a glimpse of the pool.  I love the way it is integrated into the home's architecture.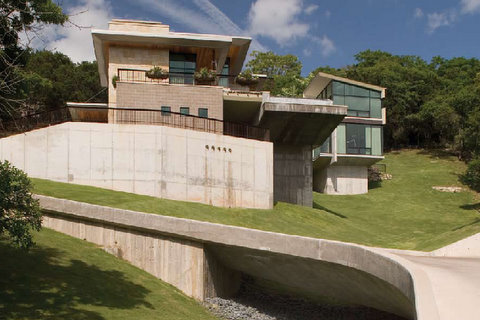 View from the driveway on your approach.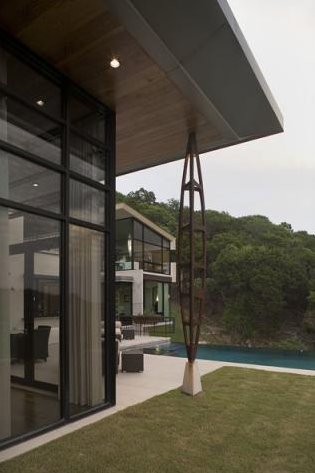 This support column also becomes art.  Love the floor to ceiling windows and the multitude of them.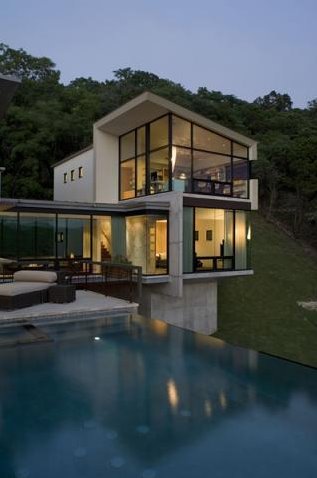 Gorgeous, isn't it?  Here's a big clue about the pool…
Moving inside…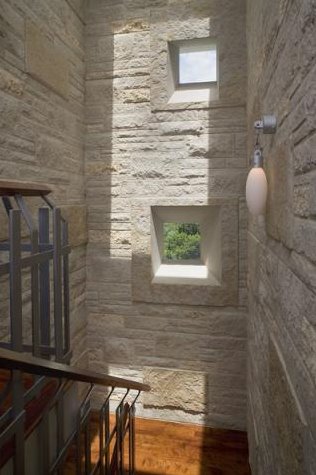 I love stone, and this stairwell is breathtaking.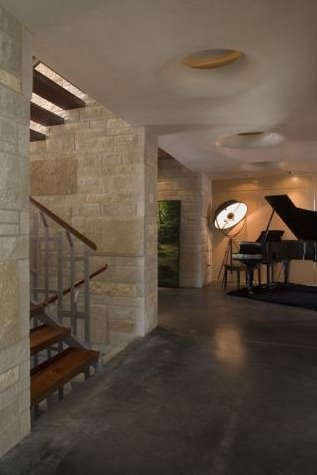 I just imagine being serenaded as we tour.
Thanks to the glass, this room is so bright.  There's a timeless quality in here too.  Love the stone wall and the view!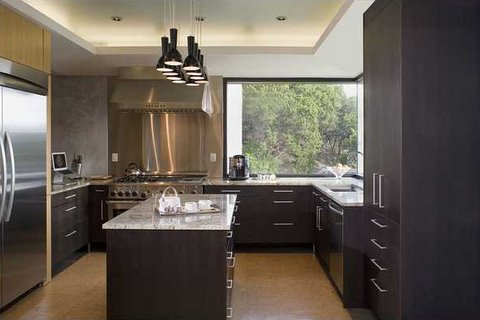 The kitchen continues the theme of the home: sleek and clean.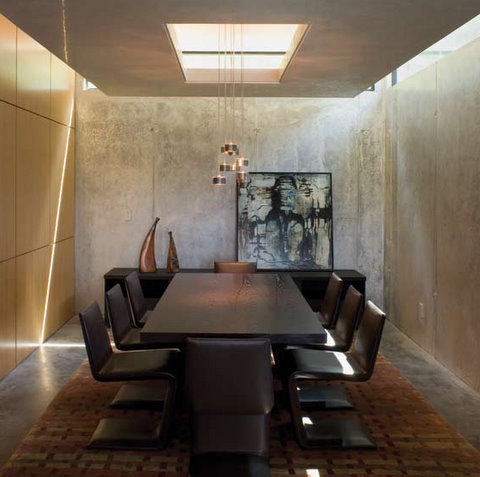 Notice the suspended ceiling in the dining room.  The light comes in from above but is muted by the dropped ceiling.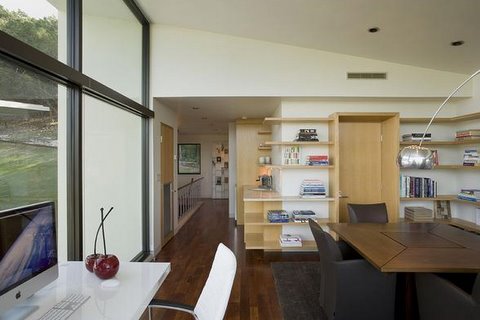 This library/office is awesome!  Functional space ready for serious productivity.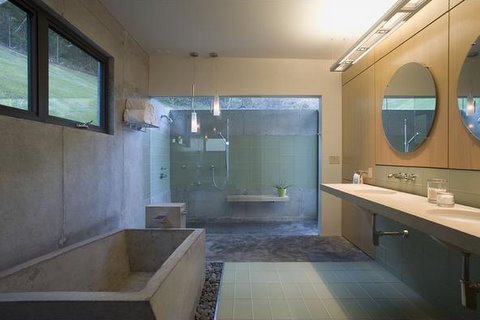 Showers must feel very close to nature.  What a way to wake up.
Down in the barreled shaped wine cellar.  Notice that all the walls are stone down here.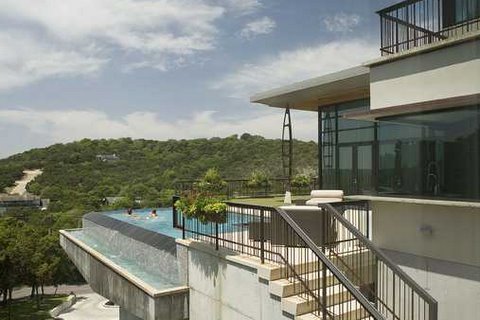 Okay, I saved the pool for last.  Isn't it both the coolest thing you've ever seen, while at the same time the most haunting?
I'm going to show you a photo again so you can fully appreciate where this pool is: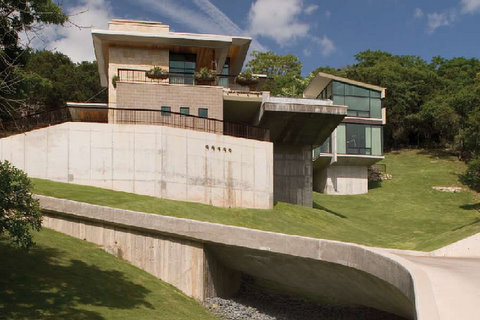 There it is jutting out from the house on the right.  I've never seen anything like it!
Special thanks for this magnificent tour to Cottam Hargrave, architects and general contractors for the project.
Many thanks to Paul Bardagjy for use of his photos.
Have a great weekend ya'll!  Is it a long one for you with Martin Luther King day on Monday?

Share this post
You might like...
Category: Home Tours
Tags: home tour fridays |
11 Comments »
on January 15, 2010 9:03 am

Okay….WOW!

---

Marlo Korstanje

on January 15, 2010 9:58 am

Excuse my language….Holy Shit! This house is amazing!!

---

Ingmar

on January 15, 2010 10:16 am

Marlo's post says it all. Possibly the slickest house I have ever seen.

---

on January 15, 2010 10:36 am

I agree with Marlo. This place is unbelievable! Why do I feel like I would be ultra productive and organized here?

---

Heidi Farmer

on January 15, 2010 10:46 am

If you're interested in moving to Texas, it is for sale: http://www.zillow.com/homedetails/402-Redbud-Trl-West-Lake-Hills-TX-78746/64504666_zpid/

---

Heidi Farmer

on January 15, 2010 1:45 pm

Just got word again that this house sold over the holidays, but the architects are happy to build another!

---

on January 15, 2010 4:44 pm

Of course it sold! Who wouldn't want to live there? I keep looking at those stone walls. Gorgeous!

---

Marlo Korstanje

on January 15, 2010 5:08 pm

I have a feeling Ingmar is going to be sorry I ever saw this "Home Tour Friday!"

---

Ingmar Korstanje

on January 22, 2010 8:48 am

Just like a good husband, agreeing with Marlo's sentiments yet again.

---

gillette

on January 23, 2010 11:21 am

absolutely stunning!

---

joyce

on February 17, 2012 1:06 pm

WOW!! I agree with Marlo completely….AWESOME!!

---
Leave Us Some Comment-Love