November 19, 2013

Written by Marykate OMalley. mother of three wonderful children, Gladwyne, PA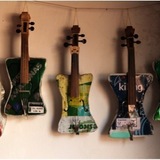 I am rarely at a loss for words. But I am at a loss when it comes to introducing this video. I could use words like inspiring, amazing, and beautiful. But they are just words and don't adequately convey what  I want to say.
And so all I have to say is – set aside 10 minutes and sink into this, with a box of tissues on hand.
My dear friend Joanne, my sister's mother in law, shared this with me and because we share things that move us with friends, I am sharing with all of you! Thank you Joanne! Link below.
Share this post
You might like...
Category: Activities, Art, Brilliant, For Kids, For Moms, Momzone, Random and Fun, Wondermom Resources
3 Comments »
Anne Schenendorf

on November 20, 2013 7:08 am

MaryKate, I was covered in goosebumps watching this videos. It made me cry too. One of my favorite things is when you see hope in the most unlikely places and proof of triumph of the human spirit. Thank you for sharing and Mom too!!!!!! xxxooo

---

Joanne

on November 20, 2013 12:55 pm

While reading a book about trucks ( what else is new?) to the twins, I came upon the page with the trash truck, and I decided to show them this video. I only showed snippets but when I showed them musical instruments made of trash, they were amazed!! Of course, the triumph of the human spirit is the key point here, and how music lifts the soul, but it's also a message about the seemingly useless things we discard every day. It can also be a message about reusing, recycling, repurposing. Let's take as many messages as we can from this wonderful video. MK thanks for sharing on this site…. Love, Joanne

---

Marykate

on November 21, 2013 6:52 am

Anne & Joanne – exactly – it is layered with so many messages. It is amazing how creative people can be. I showed it to Maggie since she is learning the violin and she was amazed!! Love you both!

---
Leave Us Some Comment-Love