November 30, 2011
My friend Laurie Biebel from Grand Rapids, Michigan shared her favorite kitchen utensil: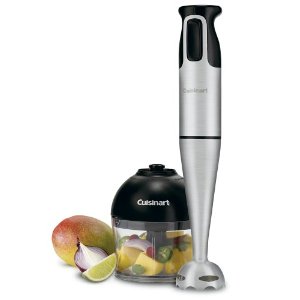 The Smart Stick Hand Blender by Cuisinart
She writes: "This is my favorite winter thing ever and one of my essential kitchen items!  It keeps me happy because I make soup all winter long and it's so, so easy to use and to clean -soup in the winter is my survival food! I have a few favorite recipes for butternut squash soup & cauliflower soup, and it's all a one pot deal thanks to this little blender.  I just saw one at Costco for around $30 (Heidi here: Amazon's price is $44; love that Costco!).  It's great for smoothies in the summer too and I use it in the place of a regular blender all the time."
And she shared her favorite soup recipe for fall and winter:
Butternut Squash Soup (from allrecipes.com)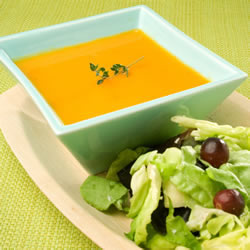 Ingredients:
2 TB butter
1 small onion, chopped
1 stalk celery, chopped
1 medium carrot, chopped
2 medium potatoes, cubed
1 medium butternut squash- peeled, seeded, and cubed
1 (32 oz) container of chicken (or vegetable) stock
salt & freshly ground black pepper to taste
DIRECTIONS:
1. Melt the butter in a large pot, and cook the onion, celery, carrot, potatoes, & squash 5 minutes, or until lightly browned.  Pour in enough of the chicken stock to cover vegetables.  Bring to a boil.  Reduce heat to low, cover pot, and simmer 40 mins or until all veggies are tender.
2.  Use stick blender (carefully as liquid is hot) and blend until smooth.  (can also transfer to a regular blender)  Season with salt & pepper.
Sounds super yummy!!
Many thanks to Laurie for sharing – do you have any soups for winter that keep you going?
If you have a great idea to share, email heidi@thegoodstuffguide.com!

Share this post
You might like...
Category: Cookin', Kitchen Gadgets
2 Comments »
Megan

on November 30, 2011 11:45 am

This looks awesome Laurie! I'm all about easy cooking! Thanks.

---

Sandi

on December 2, 2011 11:14 am

This is on my list Laurie! I hope the GR costco still has them.

---
Leave Us Some Comment-Love