August 16, 2010
A happy Giveaway Monday to you!
Have you been watching celebrities and the uber-elite having fun in the Hamptons this summer?  Now you can take a little of the Hamptons home with you via Southampton-based The Elegant Setting.  The Elegant Setting has a store on Main Street in Southampton, but more accessibly, a website where you can shop directly from your home.  There you'll find the finishing touches to bring that relaxed yet elegant Hamptons style home with you.
And you get a chance to win a $100 shopping spree, so let's start shopping…
Seersucker Makeup Bags ($64.00)
These cosmetic bags offer a fashionable solution for storing toiletries and cosmetics for travel or for a touch-up kit to leave in the office or car, or smaller items such as hair accessories and baby supplies. Each bag is vinyl covered inside and out for easy cleaning.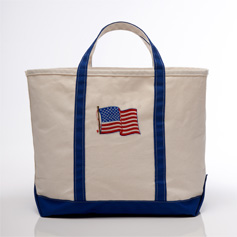 Flag Tote ($85.00)
A stylish accessory for the earth conscientious teenager. This natural canvas tote has royal blue handles, trim, with American flag icon is a patriotic way to bring extra clothes to a weekend BBQ or swimsuits to the pool. Tote is sold as is, or may be personalized for an additional $20.00.
Embroidered Cocktail Napkin (Set of 6, $48.00)
These nautical themed, embroidered white linen napkins add a great touch of style to serving cocktails on the boat or hosting a dinner party with an ocean view. They are also a thoughtful hostess gift.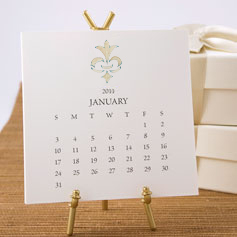 Elegant Setting Calendars ($68.00)
A top-seller, our desktop calendar with easel is made exclusively for The Elegant Setting. Each sturdy, 6×6 card displays a different artistic image that you are sure to love, whether you flip through immediately or you save as special surprise every month. Makes a wonderful gift or a delightful addition to your own work space. Refill calendars available each year.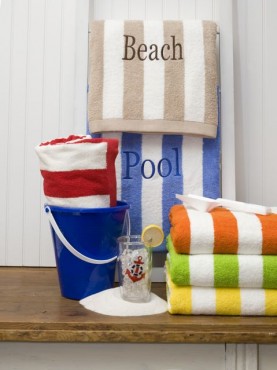 Embroidered Beach Towels ($65.00)
Perfect gift item for a beach house, these 100% cotton terry embroidered beach towels are striped and have a woven border. Personalize with a monogram, beach name or house name.
Available colors: Sand/White, Periwinkle/White, Orange/White, Lime Green/White, Lemon/White, Red/White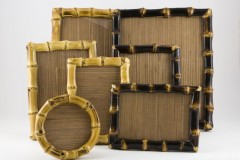 Natural Bamboo Picture Frames ($36.00 and up)
Made of authentic bamboo wood, these charming pictures frames are a great gift for anyone looking for a unique photo display. Perfect for beach or vacation photos. Available in four sizes and two color shades of dark or light bamboo. Due to the authenticity of the wood, please expect shape and color variations.
Giveaway
You can win a $100 The Elegant Setting shopping spree just by leaving a comment by Friday, August 20th and I'll choose the winner using Random.org on Saturday, the 21st.
Here's how to gain extra entries (please leave them as separate entries):
Do you subscribe by email or RSS to The Good Stuff Guide? I love my subscribers, so you get an extra entry. Wahoo!
Email 5 of your friends about The Good Stuff Guide and tell them what a rockin' website this is.  We'd love to have them join us!
"Like" The Good Stuff Guide on Facebook and receive the latest news and your chance at additional giveaways. (I LIKE you too!)
(Feel free to do them all – that's a total of 4 entries!)
Good luck!
Be sure to check out The Elegant Setting to see more tips on elegant living!   Special thanks to the website for this excellent giveaway!

Share this post
You might like...
Category: For The Home, Wondermom Resources
Tags: hamptons style, Monday giveaway, The Elegant Setting, theelegantsetting.com |
70 Comments »
on August 16, 2010 9:09 am

I need a little elegance in my life! Sign me up!

---

on August 16, 2010 9:31 am

What fun!

---

Stacey Rhea

on August 16, 2010 9:42 am

I love that Flag tote and the beach towels. I may have to do a little shopping.

---

Jenny

on August 16, 2010 9:51 am

I love those towels and the frames!!

---

Melinda

on August 16, 2010 9:52 am

Looks good!

---

Jenny

on August 16, 2010 9:54 am

I'm an email subscriber.

---

Jenny

on August 16, 2010 10:00 am

I'm a facebook fan.

---

Kat

on August 16, 2010 10:10 am

Great contest – love those towels!

---

Kat

on August 16, 2010 10:10 am

I am a subscriber

---

Kat

on August 16, 2010 10:12 am

I am a FB follower

---

Bridget

on August 16, 2010 10:23 am

what a fun shopping spree!

---

Bridget

on August 16, 2010 10:24 am

FB fan!

---

Amy nowak

on August 16, 2010 10:24 am

I could always do a little shopping!:)

---

Bridget

on August 16, 2010 10:24 am

email subscriber too

---

Amy nowak

on August 16, 2010 10:25 am

I am also a facebook fan!

---

Amy nowak

on August 16, 2010 10:25 am

I am a subscriber as well!

---

Sarah

on August 16, 2010 10:33 am

I'm up for a shopping spree!! Sign me up, this stuff looks so fun!

---

Sarah

on August 16, 2010 10:34 am

Just read the fine print, I'm a FB fan!!

---

Rebecca Graham

on August 16, 2010 10:49 am

I like the bamboo picture frames.

---

Rebecca Graham

on August 16, 2010 10:50 am

Already a Facebook fan of the good stuff: Rebecca Honey Graham

---

Rebecca S.

on August 16, 2010 11:02 am

I like the towels. Thanks for the contest.

---

Rebecca S.

on August 16, 2010 11:03 am

I'm a FB liker, too.

---

on August 16, 2010 11:51 am

I could always go for a shopping spree! The stuff looks great!

---

on August 16, 2010 11:52 am

Also a FB fan!

---

Sandi

on August 16, 2010 1:35 pm

So posh. I would love the tote.

---

Jerry

on August 16, 2010 2:15 pm

Oh I love the towels.

---

meeyeehere

on August 16, 2010 3:44 pm

Terrific!! Wow, lots of fancy stuff,huh? Thanks and please count me in!!
jacksoncrisman@yahoo.com

---

meeyeehere

on August 16, 2010 3:45 pm

I subscribe to your feed

---

Kim Derrick

on August 16, 2010 4:37 pm

Cute

---

Kim Derrick

on August 16, 2010 4:38 pm

I have 'liked' you on facebook

---

Kim Derrick

on August 16, 2010 4:38 pm

I receive emails from you

---

on August 16, 2010 4:51 pm

This stuff is super cute!

---

on August 16, 2010 5:01 pm

I'd love to enter your Elegant Setting giveaway – I looked at their website and they've got so many nice things.

---

Jane

on August 16, 2010 9:39 pm

Cute picture frames.

---

on August 16, 2010 10:19 pm

Yeah, I could use just a five minute bathroom break where the kids are bursting in and interrupting me. Will I ever have peace again? Or nice towels?

---

Ferdinand A.

on August 17, 2010 3:43 am

Elegant prize!!!!

---

Julie R.

on August 17, 2010 7:31 am

Thanks for the great giveaway.

---

Julie R.

on August 17, 2010 7:31 am

email subscriber

---

Julie R.

on August 17, 2010 7:31 am

FB fan

---

on August 17, 2010 8:01 am

love the towels & picture frames!

---

Rachel C

on August 17, 2010 11:04 am

I'd love to win this! Thanks for the chance

---

Rachel C

on August 17, 2010 11:05 am

email subscriber

---

nancy

on August 17, 2010 11:07 am

beautiful!

---

Valerie C.

on August 17, 2010 11:32 am

I have a few birthdays and special occasions coming up. This store could be a big help. I love so many items they carry.

---

Valerie C.

on August 17, 2010 11:33 am

I'm an email subscriber of yours…thanks!

---

Valerie C.

on August 17, 2010 11:36 am

I already like you on Facebook. I left a comment there under the contest post.

---

gillette

on August 17, 2010 12:14 pm

I want to go to the store!

---

gillette

on August 17, 2010 12:16 pm

email subscriber

---

Lesli C

on August 17, 2010 8:42 pm

Oh my goodness! I Love everything in this store! My favorite would have to be the large cosmetic bags-soooooo adorable!

---

Lesli C

on August 17, 2010 8:42 pm

I DO subscribe by email! Yay!

---

Lesli C

on August 17, 2010 8:42 pm

I already like you on FB!

---

Lesli C

on August 17, 2010 8:43 pm

I emailed five friends about this giveaway this am

---

Laura

on August 17, 2010 11:06 pm

Great giveaway Thanks!

---

Laura

on August 17, 2010 11:07 pm

email subscriber

---

Laura

on August 17, 2010 11:07 pm

Like you on Facebook

---

Jules Greenaway

on August 18, 2010 7:35 am

I LOVE the Hamptons!!!! AND I love everything you have pictured!! Come on random.org!!!!

---

Kimberly Flickinger

on August 18, 2010 7:54 am

I love this! Thank you for giving me a chance to enter your giveaway!

---

Kimberly Flickinger

on August 18, 2010 7:55 am

Fan on Facebook!

---

on August 18, 2010 3:41 pm

Love this stuff!!

---

on August 18, 2010 3:42 pm

FB fan.

---

Stephanie Grant

on August 18, 2010 10:38 pm

With all the cool stuff on this website I could spend hours shopping :0) please accept my entry!

---

Stephanie Grant

on August 18, 2010 10:39 pm

I subscribe to your Rss via Google Reader

---

Stephanie Grant

on August 18, 2010 10:40 pm

I "Like" The Good Stuff Guide on Facebook (Stephanie Petty-Grant)

---

gillian s

on August 18, 2010 11:15 pm

great stuff!

---

gillian s

on August 18, 2010 11:15 pm

fb fan

---

gillian s

on August 18, 2010 11:16 pm

subscriber…

---

Anna

on August 19, 2010 7:00 pm

I really need a new make-up bag! I'm a facebook fan also!

---

nan lara

on August 19, 2010 7:20 pm

would love it
nannypanpan at sbcglobal.net

---

nan lara

on August 19, 2010 7:21 pm

e-mail subscriber

---

Kelsey

on August 20, 2010 8:52 pm

I could use a $100 gift card to spend on my birthday this sunday!

---
Leave Us Some Comment-Love