October 4, 2013
Written by Marykate OMalley, mother of three wonderful children, Gladwyne, PA
I am a soccer mom, and drama club mom, and cross country mom, and baseball, lacrosse, tennis, basketball, piano, and art mom. And I am usually content on the sidelines cheering on my children, ready with their water bottles and a "way to go!"  I don't consider myself overly competitive – not a "in it to win it" kind of person. I like yoga because it is me trying to be better than me (and not the woman in the front of the room, killer arms twisted like a pretzel or contortionist).
Suddenly that has changed. My oldest is running cross country. The irony about the meets is that the parents run along with the children. Not in tandem as I sure many feel compelled to do, but we wait expectantly at the starting line – the gun goes, off the girls lurch forward and then the parent's dash up the hill to cheer on their children as they round the bend. I give my duteous, "way to go!! You got it!!" make eye contact with a large supportive grin and then charge down the hill to meet her as she comes around the next bend. I wait expectantly until I spot her and again give my best Mom cheers. I do two sequences of this and meet her at the finish line. She told me the other day that she runs faster when she sees me which now takes my Mom duties to an entirely new level.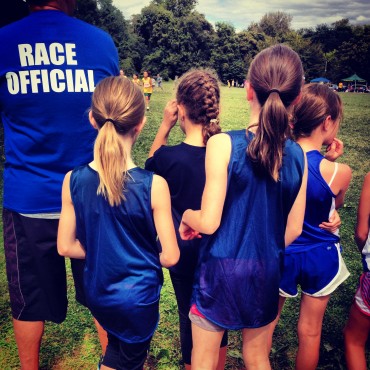 At the starting line
And all of that aside, these meets have ignited something in me. Something left on a field hockey field in Washington, DC after I walked off the turf from my last game. Something left in the wood fiber of my lacrosse stick long ago forgotten. Something dormant, silent and sleeping but not gone. The gun goes off and I want to run, like the wind. I want to be 9 again and chase down girl after girl until I am in the pack at the lead of the race. I want to tear around corners and give everything I have, everything I don't have and don't know I have.
Track and field and cross country are the classic sports. I think of the Olympic Games and ancient Greece. I think of Chariots of Fire and the purity of the sport – no ball or stick or equipment. Just you and the road before you.
The Meet location – how beautiful is setting?!
I have a thing about athletics when it comes to my children, maybe because I always played sports. I think it teaches essential life skills – teamwork, diligence, goal setting, leadership, winning with grace, loosing with grace – I could go on and on. And as they get older there is something to be said for having your hours filled and learning how to manage your time effectively. I don't think I want my teenagers to have unoccupied hours on their hands (no explanation needed).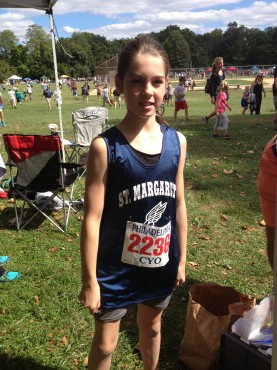 My running girl – always give all she has – and then some
And with my tennis elbow still on the mend I am thinking running could be a good supplement and something we can do together. Meet you at the finish line!
Share this post
You might like...
Category: Activities, For Kids, For Moms, Momzone, Outdoor, Outdoor Space, Random and Fun
3 Comments »
Celeste Won

on October 4, 2013 9:14 pm

Hi Mary Kate and Maggie, We all loved seeing your pictures of the race day! Adelaide says, "Run Fast" and come back to see us!
Best of Luck-Celeste and Co.

---

Marykate

on October 5, 2013 10:34 am

Hello dear Celeste!!! So sweet!! Please send everyone our love and we would love to visit again!! And have you here! XXOO

---

on October 5, 2013 11:27 pm

Love this MK! I can just picture you running right along with her. What fun – and I'm sure she's so happy to see you.

---
Leave Us Some Comment-Love