June 14, 2009
Maine is rich with children's literature.  When we travel, I like to read the adorables books about the places we're visiting.  I think it helps to make these places come alive.  The following books (and their authors) have captured the essence of Maine, and helped us visitors learn about what makes this state different from their neighbors just south.  Some of my favorite books describe Maine's seafaring history and their hard-working people.
1. One Morning in Maine (Picture Puffin)
This book is so relaxing; the prose is almost lyrical. My eldest adorable has long loved this "day in the life" of Sal and her lost tooth and trip across the bay.
2. Miss Rumphius
When you travel around Maine in the early summer, you can't help but notice the lupine flowers everywhere: on the side of the highway, in fields, in gardens, just everywhere. I love to think that Miss Rumphius was responsible for all this beauty.
3. Lobsterman
A great read which explains the ins and outs of lobstering.
4. The Little Island (Dell Picture Yearling)
By the same author of Runaway Bunny and Goodnight Moon comes this charming tale of a little island in Maine. It won the Caldecott Medal for its brilliant illustrations.
5. Island Boy (Picture Puffins)
By the same author of Miss Rumphius, Barbara Cooney tells the life story of Matthias, who was born and lived to be a grandfather on Tibbett's Island in Maine. Spoiler alert: Matthais dies in the book, which is unsettling, but the book is very much worthwhile as a personal history.
6. Time of Wonder (Picture Puffin)
I just love the stories that Robert McCloskey tells. Time of Wonder, another Caldecott winner, is no different. This is told from the vacationers point of view, while Burt Dow, below…
7. Time of Wonder (Picture Puffin)
… is told from the real Maine fisherman's perspective. He's cheeky, leathery, and has seen his share of Nor'easters.
8.  The Circus Ship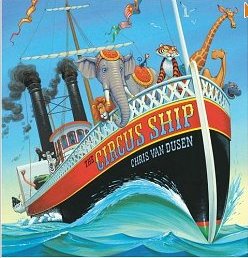 Very loosely based on a circus ship that sunk off the coast of Maine, this book by Chris Van Dusen is sheer delight and gorgeously illustrated.
9. A Camping Spree With Mr. Magee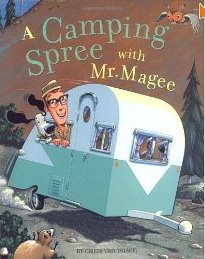 This book illustrates Maine: adventurous, spirited, with a gorgeous view.  Excellent, witty story to boot.
10. Down to the Sea with Mr. Magee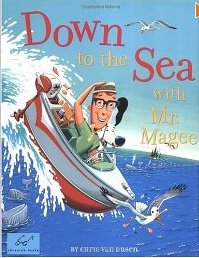 Whales. Water. Maine. Adventure.  Need I say more?  It's a winner folks!

Share this post
You might like...
Category: Family Trippin', Picture Books
No Comments »
No comments yet.
Leave Us Some Comment-Love