October 22, 2013


Written by Marykate O'Malley, mother of three wonderful children, Gladwyne PA
When I was in high school an old friend used to sing, "she climbs a tree and scrapes her knee, her dress has got a tear. She waltzes on her way to mass and whistles on the stairs… how do you solve a problem like Marykate."  And like all good friends, she had me pegged. Not much has changed, although I am a much much more mature version of my 16 year old self, now I just think things and don't share so readily. Maybe I had some crazy ideas, like wanting to be Amish. I was 16. And from Pennsylvania. Maybe I was searching; maybe I liked the starched white aprons and white caps. I was the anti-rebel which in a weird way is really rebellious – not wanting to be Goth or punk but Amish. I mean that is hard core. When you are 16. And when I drive through Lancaster County and see their simple way of life and how beautiful that can be – I get it. Yes, the Amish Maria.
These days, there are times when for no reason at all I want to break out with "let's start at the very beginning, a very good place to start." And I understand why she skips so much, for a grown up. Then a few months ago my oldest was sitting on my bed lamenting about something, during a thunderstorm, and at bedtime, and almost on cue her brother and sister entered my room saying they were scared. So of course I HAD to break out with my best rendition of "My Favorite Things." At least it got every laughing. I stopped myself before making play clothes out of the curtains.
So I have reined in it. I don't tell people about the Amish thing, except all of you. Circle of trust here girls. And I still embrace my inner Maria. I think a lot of us have a touch of Maria in us. With Maria in mind, I share with all of you, some of my favorite things. And want to hear yours.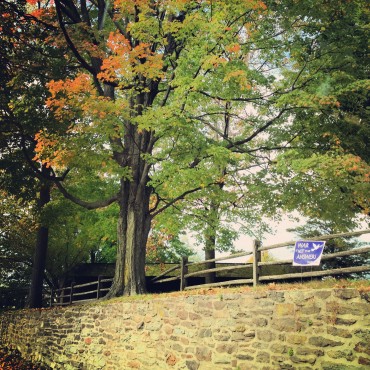 Merion Friends Meeting House
church bells
the crunch of leaves underfoot
watching the wind catch leaves and send them swirling in circles
all "real things" – real fireplaces vs. gas, real Christmas trees, real butter
laugh lines and weathered faces
sunlight streaming through the windows casting shadows on the wood floor
sunlight through the trees
solitary walks through the woods
old stone walls
catching the shock of blue of a blue bird
the roar of the crowd at sporting event
bicycle tires
coffee tins
wood doors with brass knockers
crystal door knobs
hand written notes
stationary
silvery drops of water suspended on a spiders web
squeaky wood floors and noisy stairs that say history and legacy and this house has a story
grinning toothy jack o lanterns
the whistle of a tea kettle
delicate clinking of china
fishing lines
boats gently rocking tied to docks
seagulls standing like statues or decoys on buoys
the early morning, while it is still dark, and the house sleeps except for me
the cherub like look of all sleeping children
freshly brewed coffee
Share please!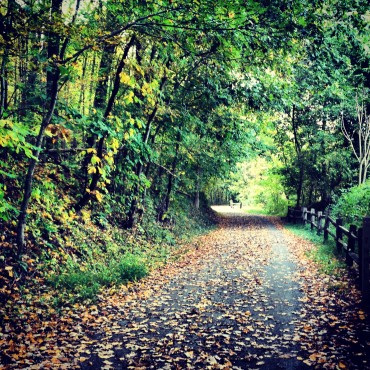 Pennsylvania trees – glorious
Share this post
You might like...
Category: Brilliant, Brilliant Authors, For Kids, For Moms, Outdoor, Photography, Random and Fun, Travel, Wondermom Resources
9 Comments »
on October 22, 2013 11:02 am

Oh Marykate, I still have an essay I wrote in 10th grade that talks about how I wanted to move to Amish country in Lancaster when I was older, adopt a child, be a teacher and stay single!!! Ba,ha,ha! I love reading that now and seeing how much more beautiful my life is now than my limited imagination could hold in HS. I lived in Lancaster for a summer in 4th grade and have always wanted to go back! And the Sound of Music — don't get me started, but it is one of my all time favorite movies!! Loved reading this! I need to pause today and remember a few of my favorite things! And psst – your secret is safe with me!

---

on October 22, 2013 1:51 pm

I thought everyone secretly wanted to be Amish for a time…or a nun? Or possibly even both? Loved this post, and "I have confidence" has gotten everyone out of a scary, nerve wracking situation at some point. People who deny it are lying. 😉

---

Marykate

on October 22, 2013 10:46 pm

Sonal – thank you so much for your comments – my favorite part is hearing from people! I should have added that to my list And so true! Funny enough I did want to be a nun as a kid and now with my crazy life think – there is really something to that!

Cathy – that is so funny!! Seriously?! What are the odds??…

---

Anne Schenendorf

on October 23, 2013 7:24 am

I love this MaryKate!!!! I too as a kid want to move- or least live for a while in Amish country. I was drawn to the lack of electricity, the simplicity in their living and their belief in who they are. As a kid, our extraordinary mother used to take MaryKate and I and our many brothers in the station wagon with wood paneled sides, to go buy milk from the Amish. It was magical as a child. There was the Amish version of us, a big brood of adorable energetic children. I remember these tiny Amish kids bossing around and directing these enormous cows. I was riveted. We would eventually buy a cow when the FDA no longer let milk be sold without being pasturized. We named the cow Shirley and she became part of our story. 😉 As a catholic girl, I too wanted to be a nun, but now looking at my two exquisite children and amazing husband, I am glad for destiny. I loved this MaryKate, thanks!!!!! And by the way, I value more than anything your musings on life, never hold hold back . This made me smile. Things I love?
The smell of heat when the radiators first start up in Fall, the smell of someone having. Fire, the sound of my babies' voices talking to each other(yesterday one snuck into the fridge with a step stool and I heard the other say 'thank yoooooou!' So cute), my husband's smile, the first snowfall and how quiet it sounds- and of course my favorite sister in the world- God was generous the day he gave me you. xxxooo

---

Uncle Al

on October 23, 2013 10:13 am

Marykate,
You outdid yourself on today's post. The only thing I could think of to add was hearing the singing in the little country church as you walk by on a Sunday morning.

Thanks for such great word pictures.
Al

---

Marykate

on October 23, 2013 10:48 am

Thanks Al – that is beautiful!! I love it!

---

Heidi Farmer

on October 23, 2013 12:04 pm

MK, this is outstanding. Did I ever tell you my great-grandmother was Amish and she married my great-grandfather who was Jewish? (they became Christians, funny enough). I wish I could have been there to see how this possibly could have happened in rural Indiana. My mom remembers going to the Amish/Mennonite family reunions as a teen, wearing bright red lipstick to rub it in that she could.

A few of my favorite things: laughing with girlfriends, seeing my adorables smile at me, long walks, curling up with my hubby to watch tv every night, traveling (anywhere), my adorables asleep, my adorables playing sports, my adorables just in general.

---

Jessie

on October 23, 2013 10:48 pm

Dearest Cousin MaryKate!! Thank You So Much For Sharing Your Wonderful Story! Lately I Have Been Thinking About What I Want And What I Don't Have. Its Easy To Go Out And Buy Things..Or Go Shopping. But One Can Never Replace The Love And Friendships We Find Every Day. I, Too, Wanted To Be A Nun When I Was In The Second Grade, Although It Was Due To The Movie "Sister Act" With Maggie Smith And Whoopi Goldberg. I Also Had A Young And Vivacious Dominican Sister teaching Me about The Sacraments Of First Reconciliation And First Holy Communion. I Was so Fascinated By Her Joy For God And For Teaching Us Rambunctious Little Kids About His Love For Us And How She Fully Embraced Living For Him And Him Alone. I Dropped The Idea Of Becoming A Sister Until HighSchool….Until I Got A Boyfriend And Realized I Wanted Something Else. Fast Forward 10 Years And Now I'mMarried To The Love Of My Life…Your Handsome Cousin, Andrew. He Is Indeed One Of My "Favorite Things"…I Love The Sound Of His Laugh, The twinkle In His Eyes When He Smiles, The Sound Of His Heart Beating When He Holds Me Close. I Love Talking To Him And Hearing His Voice. And I Love Going Everywhere With Him…And Meeting All Of You Friends And Family! Now Andrew Is Someone I Could Never Find Online Or In A Shop. And His Love Is Worth More Than Anything In Gold, Silver, Or Platinum. I Do Love To Shop…I Love The Color Pink, I Love The Taste Of A Good Cup Of Coffee Or A God Bottle Of Wine. I Love The Sound Of Water.Flowing Over Rocks. I Love Frogs And Lizards And Teddy Bears. I Love To Sing And Dance. And Yes, The Sound Of A Quiet, Dark House In The Morning Is Pure Decadance. I Thank You, MaryKate, For Your Reminder Of What Really Matters In Life. And I Thank You For Welcoming Me Into Your Family With Open Arms. God Bless You And Your Children…I Hope To See You Sometime Soon!!!!!!!!

---

Marykate

on October 24, 2013 6:48 am

I love reading all of these!!

Anne – thank you, of course you are one of my favorites!! Is there anything more wonderful than a sister. Cant beat that! And I think that could be what started it all. Itt all started with Shirley and a glimpe into a simple beautiful life. And I hear you, I wouldnt trade my cherubs for any experience in the world. Not any. I still get the nun thing though – wow maybe I really am Maria!! Ha!!

Heidi – that is so great! "We are an American family" borrowed from You Got Mail. Great line. I would love to see pictures!! All things adorable are the best. And travel anywhere – so true.

Jessie!!!!! Thank you so so so much!! And SO great to see you on here! I loved your comments – what a gift to read about your favorite things and how it is Andrew! He is super special – and so are you! I am so grateful God brought you two together!! It is a gift for all of us!!! I hope to see you soon too!! Sending tons of love!

---
Leave Us Some Comment-Love