June 29, 2010
I was just about to send in all my adorable's artwork for publication at Artimus Art and I thought you all might like the reminder (and the coupon code!!) too.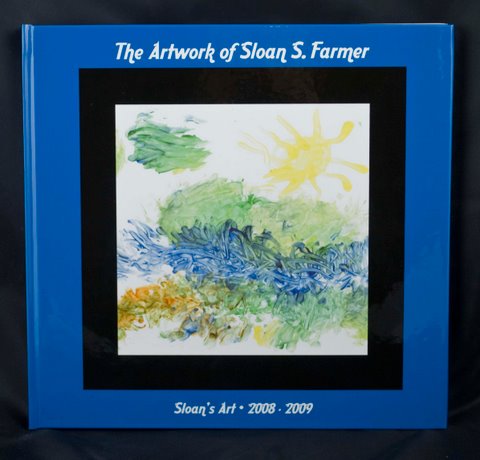 So to recap….
This is NOT just another photo book that you create with My Publisher, Photoworks, etc.  Artimus Art SCANS all of the artwork using heavy duty scanners.  So here's how it works:
1.  Go to Artimus Art and purchase your book.  There are 3 sizes: The Red Wagon for a 24-page book; The Trolley for a 50-page book (that's what I'm buying); and The Dump Truck for an 85-page book.
2. In the mail you'll receive a huge art box for all of your art.
3. Ship it back (all shipping labels are included so you just have to drop it off) and in a few days all the magic happens.  You'll receive a message that your art had been scanned and you're ready to create your book.  It will take you approximately 7 minutes to create your book online.  You can change the order of the pages easily, choose the color of the cover and title the book.
4. Then you'll receive all of your artwork and YOUR BOOK back in the mail!
5. Place the box under your couch and start collecting art for next year's book.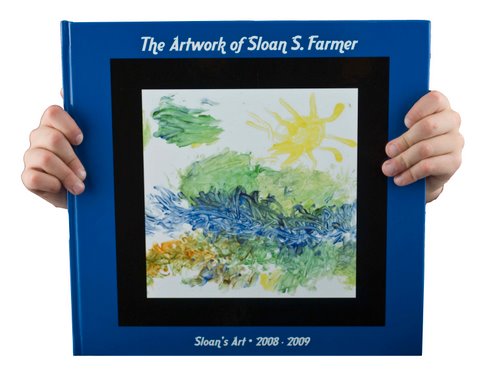 I really thought this book would be more for me as a way to keep my adorable's art without having tons of loose papers laying around.
What I hadn't planned on was how much my he loves to pour over his book.  He regularly requests his book as part of our nighttime "reading".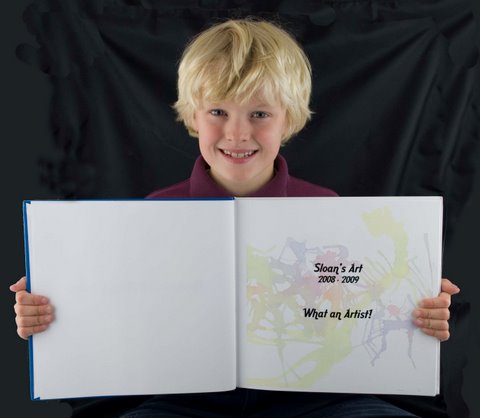 The quality was amazing.
Here's the thing: art that was 3-dimensional actually LOOKED 3-dimensional on the printed page.  Their scanners must be outstanding because you can even see textures.  If you looked at this book, I promise you'd touch a couple pages because you'd think the art is glued in.  But it's not.  Scout's honor.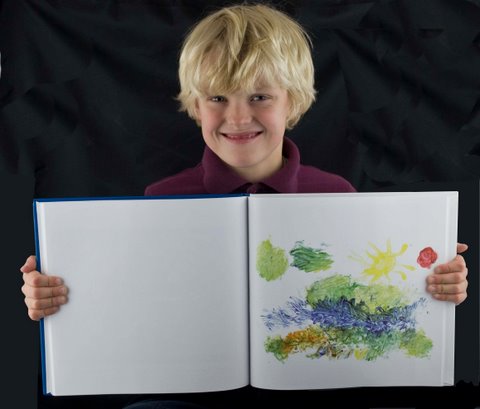 Artimus Art was created by a kind mom to three adorables aged 8 to 16.  She launched Artimus Art just a short time ago when she wondered what to do with all the art created by her prolific little artists.
Naturally I asked for another coupon code:  Use CIIIYI7YN for $10 off at Artimus Art.
Now don't be surprised if when you see yet another post about Artimus Art around Christmastime. I think it's an excellent gift for grandparents and I really am just that excited about these books!
Have a great day everyone!

Share this post
You might like...
Category: Art
Tags: artimus art, keeping kids artwork |
7 Comments »
on June 29, 2010 9:07 am

Those are so great!

---

on June 30, 2010 2:55 pm

Cool way to handle the piles of train, spaceship and animal drawings that are now stored in a box under the bed.

---

Jessica

on June 30, 2010 4:25 pm

No joke… my husband and I were JUST talking about this last nite!

---

Heidi Farmer

on June 30, 2010 7:16 pm

Oh that's crazy – I seriously LOVE the book I made.

---

Amy Nowak

on July 1, 2010 5:29 pm

So cool- I just ordered mine today. I can't wait until I send the stuff in and my books arrive. What a great idea- thanks for sharing the info!!

---

Heidi Farmer

on July 1, 2010 6:17 pm

Oh that's such fun news! You'll have to let me know how your book looks. I'm pretty confident you'll love it!

---

Jen Meredith

on July 12, 2010 1:56 pm

I did a book last year for my daughter and loved it. I have been saving all of her artwork from this year of preschool and can not wait to send it in. She sits and looks at last years all of the time and is very proud of what she drew.

---
Leave Us Some Comment-Love