December 16, 2009
If you haven't gotten your Holiday Cards done this year, do not despair.  There's still time!
Just think "New Year" Cards – it's all the rage, honestly.
Tiny Prints has the cutest selection of them to choose from.  And deals abound – I'm a little sorry I didn't wait.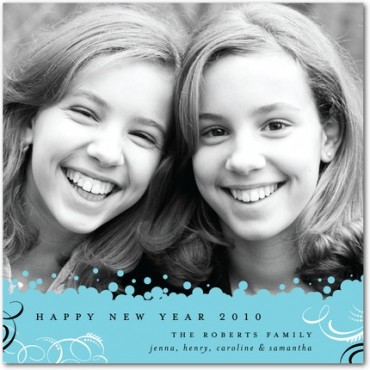 Isn't this sweet?  It's also available in Pink or Green.
Here's another:
Certainly doesn't hurt that these adorables are well, adorable (those cheeks!).
This one may be my favorite.  Love the candy cane type stripes and font.
There are many more to choose from and you can see the whole line at Tiny Prints 2009 Holiday Cards.
Prices are seriously marked down and they'll even ship them for free.  See their website for details.
Good luck!
Share this post
You might like...
Category: Holidays
Tags: New Year Cards, Tiny Prints |
5 Comments »
on December 16, 2009 8:44 am

That's a great idea!

---

on December 16, 2009 9:30 am

I love their cards. I'm waiting for mine to arrive today so I can get them mailed!

---

Sarah

on December 16, 2009 5:12 pm

What about Christmas cards sent out after Christmas? I'm going to try to make that all the rage:)

---

on December 16, 2009 5:21 pm

I love Sarah's comment! We may be helping to start that trend! However, I want to thank you for the idea – perhaps I'll plan to do New Year cards next year. And a nod to tinyprints – the organization I work for just sent out New Year cards to its members – I was impressed by the quality and level of personalization available.

---

Heidi Farmer

on December 16, 2009 6:07 pm

I had a friend who sent out Happy February cards. It was a sweet surprise when I got it the mail. So I don't think people ever care!

---
Leave Us Some Comment-Love