May 3, 2011
Written by Contributing Writer, Sarah Farthing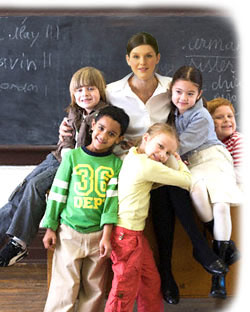 Today is National Teacher Appreciation Day!  To honor teachers everywhere I asked a group of elementary school educators what we as parents can do for them.  They shared with me what they feel are the most important things loving parents can do to support their child's success in school.  (Hint: It doesn't involve flashcards for babies or a running playlist of classical music!)
Here is what they had to say:
1)      Make communicating with your children a priority.  Without the distraction of a screen (including your phone): read to them, answer their questions and have fun and meaningful conversations….every day.  You'll both benefit from this.
2)      Focus on independence.  Teach your child how to: drink from a cup without a lid, apply a band-aid, clean up a spill, blow their nose, put on and remove their jacket, apply glue, hold a pencil and cut with scissors.  Nobody can mother a classroom full of kids and they shouldn't have to; their job is to teach!
3)      Give your child a knowledge base for teachers to work with:   Teach them 'left' from 'right,' talk about the calendar (days < months < years), talk about the clock (seconds < minutes < hours), demonstrate 'more' and 'less,' practice sorting and categorization.   Familiarity with these concepts will help them learn.
4)      Send your child to school rested, fed and groomed.  This seems obvious, but dirty, unclipped fingernails, teeth that aren't brushed, untreated dry skin, a generally unkempt appearance and fatigue can all put a child at a disadvantage in relating to his/her peers.
5)      Teach your child to be appreciative.  Teachers spend a lot of their own money to better the classroom experience for their students.   Complaining isn't just rude, it can hurt a teacher's feelings.
6)      Make sure your little one knows basic etiquette.  Respect includes making good eye contact, not interrupting and not challenging a teacher's instructions.  Manners are important.
7)      Please do not send a child to school with a fever, pink eye, etc… , even when they're *almost*over it.   It might be inconvenient to keep them home, but that is best for everyone.
8)      Eliminate screen time before school.  A child that has taken the time to eat well and had even a small window for creative play arrives at school fresh and ready to learn.
9)      Show your appreciation and support.  Write a kind and supportive note, bake something special, cross something off the teacher's classroom wish list or consider a gift card, chocolate or coffee!
10)  Especially when a school situation gets hard, remind yourself that most people teach because they love kids and they enjoy helping them.  Think of your child's teacher as your ally.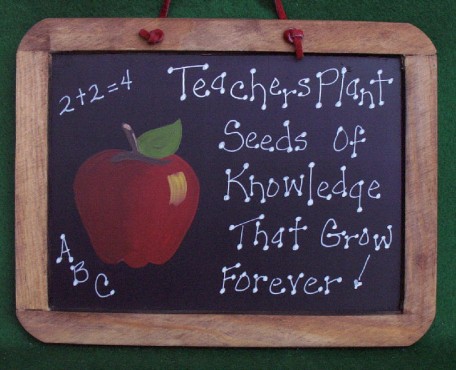 We know there are more teachers out there – what do you have to add?
We love you and THANK YOU!!
Share this post
You might like...
Category: For Moms, Holidays
Tags: Parents can Help Teachers, Teacher Appreciation Day |
3 Comments »
Mama Nolte

on May 3, 2011 10:05 am

Excellent article! These ideas could make a world of difference to a child and his family for a successful, delightful and warmly memorable school experience in particular and life in general

---

Elisa Cornman

on May 3, 2011 2:19 pm

A little appreciation goes a long way!!!
Velcro is a teacher's best friend. Also, whoever invented the adjustable waist is a genius! Belts and shoe strings are the worst at turning a 10 minute potty break into a 30 minute craze…

---

Heidi Farmer

on May 5, 2011 10:25 am

@ Elisa – couldn't agree more – even for home!
I don't know about you all, but I scrubbed and cut my elder adorable's fingernails immediately – hadn't thought about that one – and they were wildly long and dirty.
But 15 minutes later they were dirty again, so this may be a losing battle….

---
Leave Us Some Comment-Love