March 14, 2011
Happy Spring Forward Monday to you!  I hope you were able to get enough sleep…
With spring almost upon us, many of you have special trips planned for Spring Break.  But are you ready for the travel time with your adorables??
With these great grab-and-go kits from TravelKiddy, you can check that item off your to-do list!
This is the Toddler Travel Toy Collection ($40):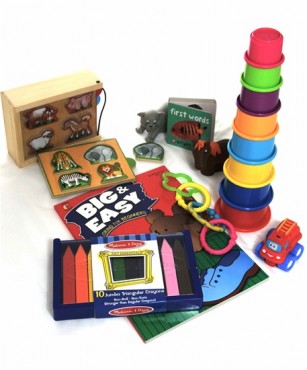 Filled with oodles of goodies: Melissa & Doug puzzles and crayons, a picture board book, stacking cups, a Tonka truck, a giant coloring book, and other items to keep your young adorable busy and entertained.
For your adorables aged 3-5, this is their TravelKiddy ($50):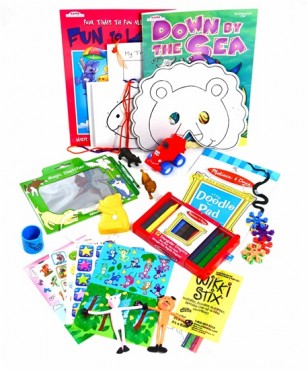 A green zippered bag filled with the motherload of items you see here AND….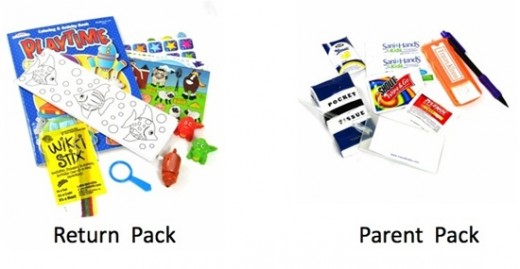 it even includes a separate pack for your return trip AND another pack for you that includes tissues, band-aids, wipes, etc.  Now that's brilliant!
And for your older adorables aged 6-9, this is your TravelKiddy ($50):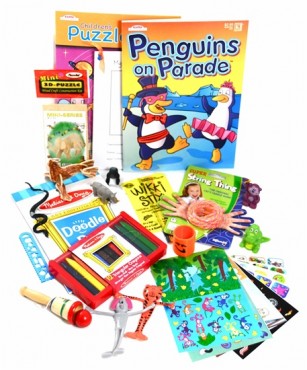 Now this will keep your adorables busy for hours!  Mine would love the fresh surprise of each item AND…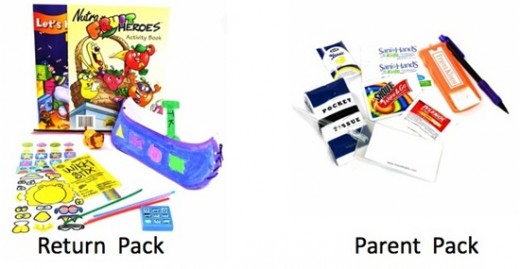 just like the TravelKiddy for ages 3-5, this pack includes a Return Pack and a Parent Pack.
And this is the BusyKiddy ($40):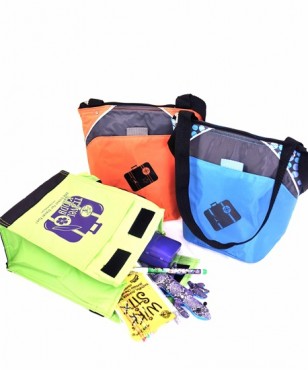 Keep this bag in your car and never find yourself unprepared in a restaurant or waiting room again.  Now that's a nice thought….
Giveaway
One lucky, lucky winner can win a $50 Gift Certificate to www.TravelKiddy.com simply by leaving a comment by Friday, March 19th. I'll choose the winner using Random.org and announce it on Saturday.
Because I just LOVE comments, here's how to gain extra entries (please leave them as separate entries):
1. Do you subscribe by email or RSS to The Good Stuff Guide? I love my subscribers, so you get an extra entry. Wahoo!
2. Email 5 of your friends about The Good Stuff Guide and tell them what a rockin' website this is. We'd love to have them join us!
3. "Like" The Good Stuff Guide on Facebook and receive the latest news and your chance at additional giveaways. (I LIKE you too!)
Good luck!

Share this post
You might like...
Category: Activities, Family Trippin', Toys and Gift Ideas
Tags: goodie bags, traveling with children, Travelkiddy |
87 Comments »
Sue

on March 15, 2011 8:22 am

email subscriber My neice would love this!

---

on March 15, 2011 9:28 am

I love TravelKiddy! They are the best!

---

Rachel C

on March 15, 2011 9:37 am

These look fun!

---

Rachel C

on March 15, 2011 9:37 am

email subscriber

---

Marykate

on March 15, 2011 10:09 am

What a great idea!!

---

Jenn

on March 15, 2011 12:35 pm

So cute! Love this idea.

---

Michelle B

on March 15, 2011 12:44 pm

Headed to Disney and this would be perfect for that long flight!

---

Jules Greenaway

on March 15, 2011 1:53 pm

Too cute, too cute, too cute!!!! My adorable would love this and so would I…Tee Hee!!!!

---

Jules Greenaway

on March 15, 2011 1:54 pm

I'm a subscriber….

---

Jules Greenaway

on March 15, 2011 1:54 pm

And I'm a FB fan!!!! Gotta love FB!!!!

---

Laura

on March 15, 2011 1:55 pm

I could have used this 2 weeks ago when we went to FL! Oh well, maybe next year:)

---

Laura

on March 15, 2011 1:55 pm

I am a subscriber!

---

Laura

on March 15, 2011 1:56 pm

and I like you on FB:)

---

Jessica Crump

on March 15, 2011 5:38 pm

I am an email subscriber.

---

Jessica Crump

on March 15, 2011 5:38 pm

I like you on facebook.

---

Jessica Crump

on March 15, 2011 5:39 pm

I emailed 5 friends to tell them what a rockin' site The good stuff guide is!

---

gillette

on March 15, 2011 7:15 pm

What a great idea!

---

gillette

on March 15, 2011 7:15 pm

I'm a subscriber

---

Linda

on March 15, 2011 7:21 pm

Need this for the next road trip!

---

Linda

on March 15, 2011 7:21 pm

Like you on fb

---

Linda

on March 15, 2011 7:22 pm

email subscriber

---

Jerry

on March 15, 2011 7:47 pm

love it

---

Jane

on March 16, 2011 9:38 am

Great giveaway. My kids would love this. Love your recommendations and tips. Thanks!

---

nan

on March 16, 2011 10:19 pm

thanks for the chance

---

nan

on March 16, 2011 10:19 pm

e-mail subscriber
nannypanpan at sbcglobal.net

---

Lisa

on March 17, 2011 9:29 pm

FB fan!

---

Lisa

on March 17, 2011 9:30 pm

Email subscriber

---

Lisa

on March 17, 2011 9:30 pm

This would be handy for a road trip we have coming up in May!

---

Katie

on March 18, 2011 12:00 pm

Would have been great on the flight to Grandma and Opa's house last week.

---

Katie

on March 18, 2011 12:01 pm

I FB like you

---

Guillermo

on March 18, 2011 2:52 pm

Looks like it'd be great for road trips!

---

gillian s

on March 19, 2011 1:08 am

we would love to have this for spring break!

---

gillian s

on March 19, 2011 1:08 am

subscriber too

---

gillian s

on March 19, 2011 1:08 am

and we "like" you on FB!

---

on March 19, 2011 11:25 pm

I love love love travel games and toys!

---

on March 19, 2011 11:25 pm

I am a subscriber

---

on March 19, 2011 11:26 pm

I like your facebook page Love Katydid

---
Leave Us Some Comment-Love