January 15, 2013
Yes, I'll just sit here while you digest that for a minute…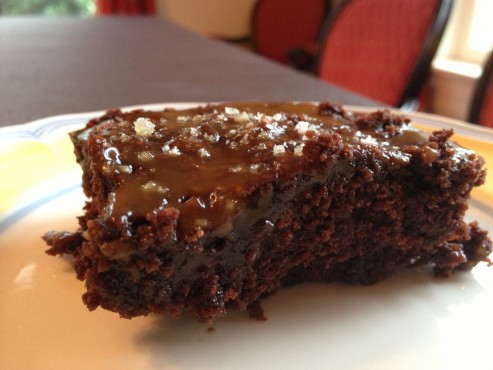 These brownies, adapted from Ina Garten's new recipe in Foolproof: Recipes You Can Trust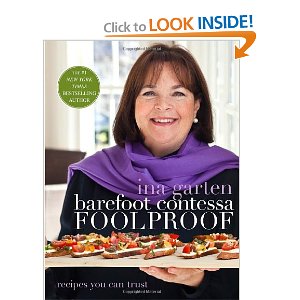 I love everything Ina does and this book did not disappoint!  I bought this book – and one for a friend – within minutes of it being published.
As much as I love Ina, I skipped making her Ultimate brownies (shame, shame!) and instead used these 3 ingredients:
1) Ghirardelli Triple Chocolate Brownie Mix.  I get this 6-packet box from Costco and I always have a box in the pantry. I can't think of a better brownie on the planet.
2) Good caramel sauce: Ina called for Fran's, but I substituted for this Fleur de Sel Caramel Sauce from Trader Joe's.  Half the price – love that place!
3) Fleur de Sel salt.  You'll probably need to hit your gourmet store for this, and it is pricey, but it lasts for a long while.
So here's how you make these sinfully delicious brownies:
1) Follow the directions on the box, baby!
2) When brownies are still warm, heat the jar of caramel sauce in the microwave for 45 secs or so.
3) Pour the caramel sauce over the hot brownies – sometimes I use the whole jar, sometimes not (How's that for helpful??)
4) Sprinkle liberally with fleur de sel.
5) Allow to cool.  I know, I feel your pain.
These have a little more issues "staying together" than traditional, unenhanced brownies, so cut with a plastic knife when brownies are completely cool.
I have been cutting that little line all day long, so it looks like I haven't had any, but most of the pan has disappeared.  Oh man!  Should have made these in June and given my diet a chance!
Share this post
You might like...
Category: Cookin'
Tags: Caramel Triple Chocolate Brownies, Fleur de Sel, Fleur de Sel Caramel Triple Chocolate Brownies |
2 Comments »
on January 16, 2013 12:22 pm

You can also buy the salt on amazon! and I'm trying to talk someone into making these for me…

---

Anne Schenendorf

on January 16, 2013 10:09 pm

Cathy, these look amazing!!! I can't wait to try them! Thanks! Amazon is the best. It literally has everthing- and I loove the free shipping. 😉

---
Leave Us Some Comment-Love