June 30, 2011
Here's my announcement: I have rented our home to a wonderful family from Manhattan who wanted to escape the city heat for 6 weeks.
I've packed up all of our clothes and put them into the attic, tried to coordinate all the toys through the house so all the pieces can be found (and therefore played with), found the Running Man a studio sublet so he can continue to work in Manhattan and also booked him 5 flights so he can join us every weekend.
So I've been a wee bit busy these last few weeks.
We passed off our home this past Sunday and we've been traveling through friends homes all this week, except for 1 night we spent in New York City.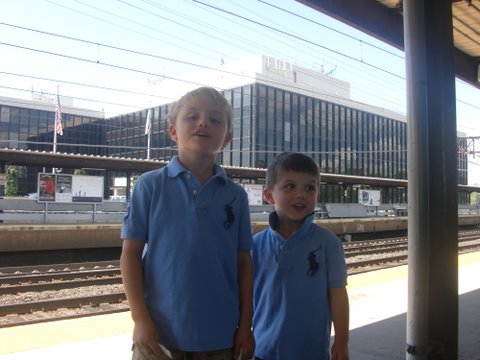 We took the train in (daddy had already commuted hours before).  Matching shirts are my own version of "We go together and Mommy can find us easily".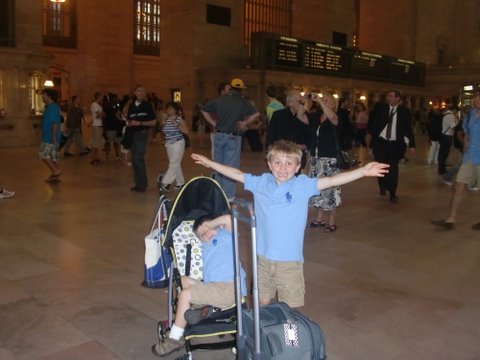 Arrival into Grand Central.  And we were already tired.
We met Daddy for a quick lunch and then headed out to find the best cupcake in New York City.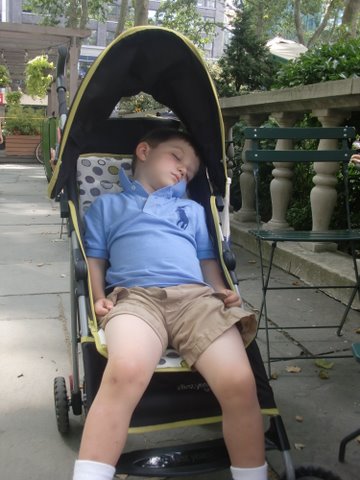 But by then younger adorable was already gone to this world.
He barely fits into this stroller, but I was most grateful to have it.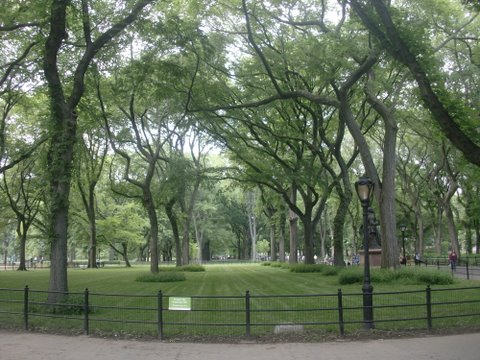 Then we headed into gorgeous Central Park…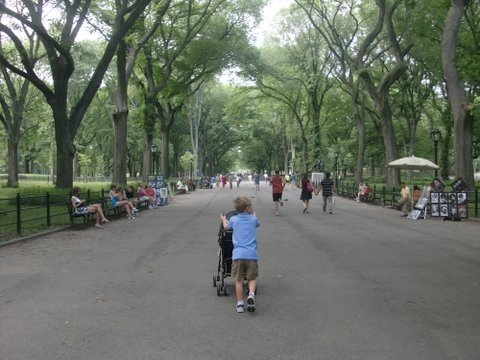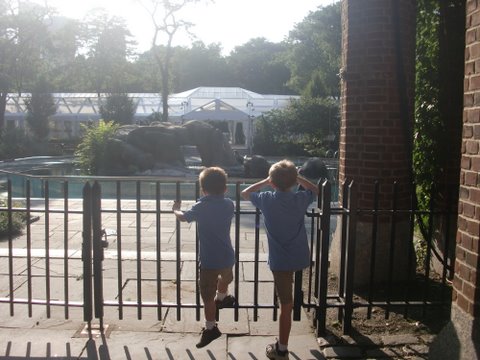 So when I miss the closing time at the Central Park Zoo, the playground will have to suffice…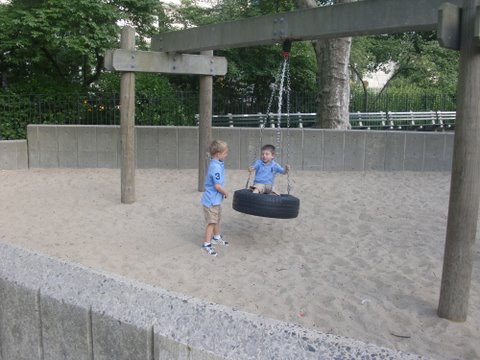 (super glad for the matching shirts here – doesn't look like it here, but it was crazy busy).
Then we headed to FAO Schwarz and they thought this was the coolest…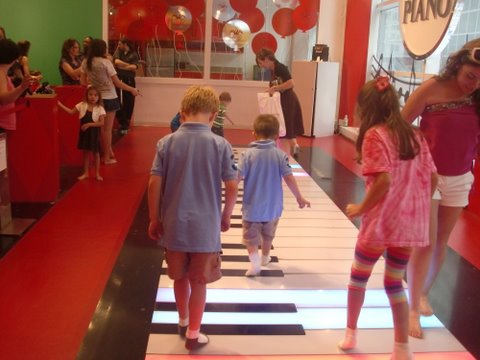 Until they spotted this…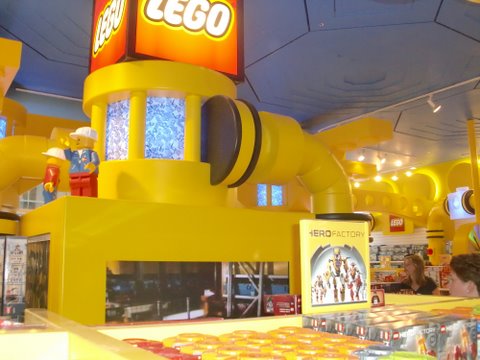 Kid heaven.  Luckily we escaped without a single purchase.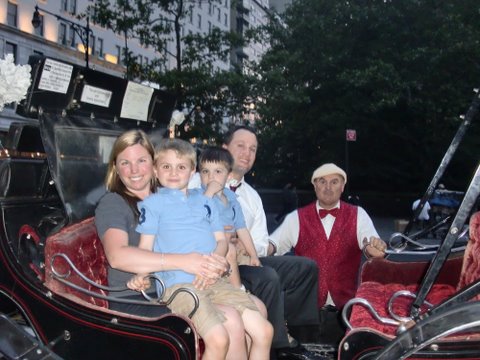 Then we met Daddy for dinner and a hansom carriage ride around Central Park.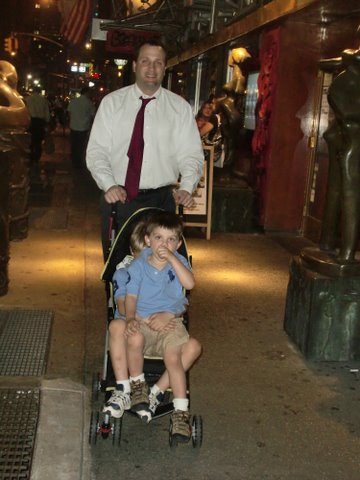 And if I wasn't grateful for the stroller before, we certainly all were now.  That's about 85 pounds there and it managed just fine.  (Disclaimer: the manufacturers probably wouldn't recommend this).
Day 2: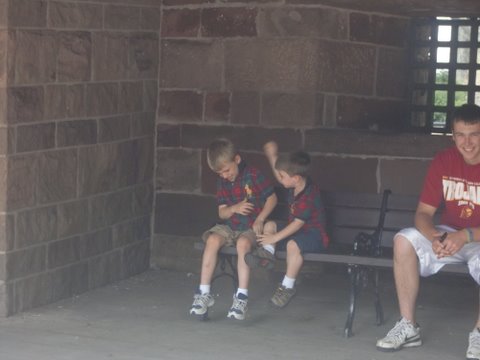 The adorables have a good fight while I stand in line for tickets to this: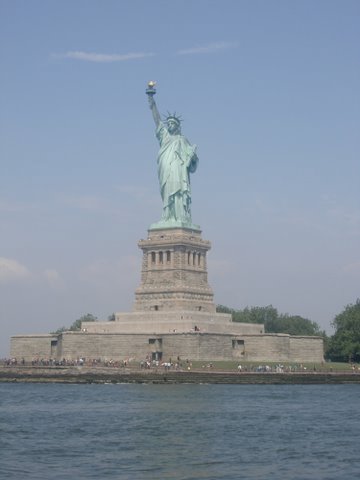 Ahh beauty!  I was humming every patriotic song I could think of on the boat over.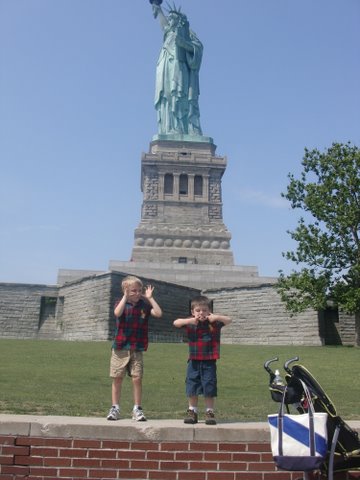 One funny face –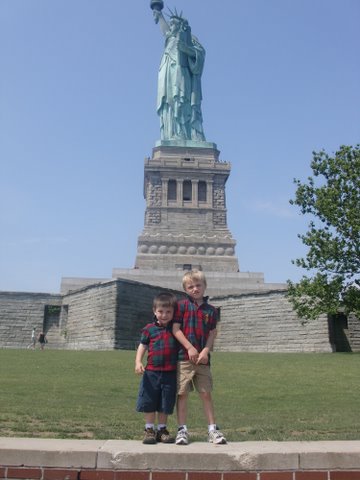 and one quasi-nice.
Michigan, here we come!
***ANNOUNCEMENT: Get ready for a Jam-packed schedule of Giveaways for the WHOLE month of July.  We know you're crazy busy, but check in often as we have really great giveaways all month long.  And since there are 5 Fridays – that means 5 Home Tours, so don't miss it!!

Share this post
You might like...
Category: Family Trippin'
7 Comments »
Christine

on June 30, 2011 8:10 am

What an exciting summer! Sounds like you are an amazing mom & wife to get this all organized! Enjoy

---

jeff

on June 30, 2011 9:31 am

very nice!

---

on June 30, 2011 3:49 pm

I love the guy on the bench amused by your documentation of brothers going at each other!

---

Julie R.

on July 1, 2011 7:41 am

Love the matching shirts. Another trick I learned that before heading out into a crowd is to take a digital pic of my child. & then just in case we do get separated I can show whoever is helping me, a pic of exactly what they look like that day and what they are wearing.
Depending on what we are doing, when we are going to a crowded place I also dress him in a bright color that most other kids aren't wearing (orange, yellow, green) – so I can spot him in the sea of kids wearing blues and reds usually.

---

Marykate

on July 1, 2011 8:19 am

Heidi! Cant wait to hear more about your adventures- love the NYC pics – you have given me ideas! We miss you all!!

---

Marykate

on July 1, 2011 8:24 am

Heidi! Cant wait to hear more about your adventures- love the NYC pics – you have given me ideas! Did you take the Circle Line or a Water Taxi? And did you get tickets for the Statue tour? So many questions!! Miss you guys!!

---

Jules Greenaway

on July 1, 2011 12:38 pm

Heidi… Sounds like an amazing summer!!!! Have a great time & I look forward to more pics of your adorables!!

---
Leave Us Some Comment-Love