August 5, 2009
After consuming 30 pounds of blueberries during our 3 week trip to Michigan (see here for that post), I carried home 17.5 pounds home to Connecticut in the minivan (thank the Lordy for the extra space!).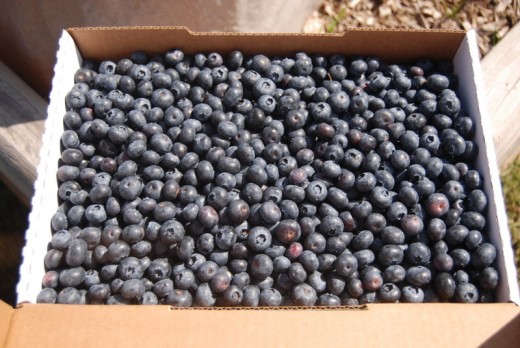 Here's the thing: I have 3 colanders that I cycle through, but it's a pain to be switching bowls so the table doesn't get wet.
My friend Laurie (of Girls Weekend fame) recommended this berry bowl: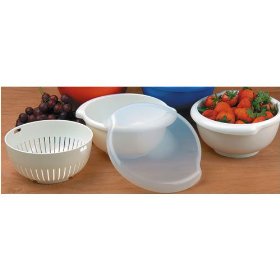 Laurie loves it and can't remember what she did without it.
Think of all those blueberries, sink to table to fridge.
I ordered one stat. And I'm waiting patiently for it to arrive.
P.S. When I asked Laurie if I could use her name in this post, she approved and replied, "I stand by its greatness!" and that made me smile.

Share this post
You might like...
Category: Kitchen Gadgets
Tags: berry bowl, colander |
4 Comments »
Susan Knipper Watson

on August 5, 2009 10:53 am

Love your blog! You had me at "My Case for the Minivan."
Have you tried freezing some of the berries? My boys LOVE to eat fresh blueberries (and all berries) frozen!

---

Heidi Farmer

on August 5, 2009 12:17 pm

Thank you! Thank you! I know I need to try freezing them, but would you believe out of the 17.53 pounds, we have less than 1 pound left?? They went so fast.

---

on August 8, 2009 11:13 am

My daughter's sitting on my lap looking at these blueberries yelling, "Get them out of the computer, mommy. I want to eat blueberries today!"

Delicious! What a yummy healthy snack!

---

Noreen

on September 14, 2009 11:06 am

LOVE the berry bowl! I too am friends with Laurie and received one as a gift from her – we cannot live without the berry bowl and I recently picked up a second bowl. It's the perfect way to keep berries of all varieties clean and ready to go for little nibblers. Love your blog!!!

---
Leave Us Some Comment-Love