October 26, 2010
Friday morning we stepped outside on our way to school and found this hanging on our front door.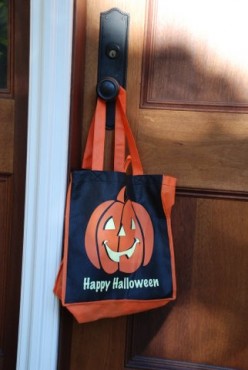 Oh the joy – we'd been BOOed!
After we investigated the loot inside the bag, we found our instructions:
1) Enjoy your treat!
2) Post your BOO sign on your front door or a visible front window
3) Within the next 2 days, make 2 more copies of this note and the BOO sign.
4) Make 2 treat bags or 2 BOO baskets
5) Secretly deliver to 2 neighbors without a BOO
6) Keep an eye on nearby front doors to see how far and fast it spreads by Halloween.
So off I traipsed to Target (of course I ended up with a cart full of other necessities I didn't know I needed) to buy the supplies for our own BOO Bags.
Friends, as fun as it was to be surprised, the real fun began when the adorables bravely walked to the front doors and then raced undetected all the way back to the car.
I love the sense of community and giving this BOO project inspires.  And there's only 1 week left!
If you are interested in getting this project going in your neighborhood, I found these gorgeous and free BOO printables from Organized Home.com.  Easy, Easy!
Let me know if you've done this in your neighborhood, or if you're a first-timer like me, how it went for you.
LOVE, LOVE, LOVE the BOO!!

Share this post
You might like...
Category: Activities, Holidays
Tags: BOO project, We've been boo'ed |
8 Comments »
Cathy

on October 26, 2010 9:09 am

This is the 2nd Year we started BOOing in our neighborhood. I agree, watching the kids BOO our friends and neighbors is just as much fun, if not more fun, than getting BOOed ourselves! Here's another site with printable 'boo' poems. http://www.beenbooed.com/

---

on October 26, 2010 10:05 am

How fun!! I love the idea of the adorables booing other people. I should do that in our Condo Building some year, I'm sure the "old" adorables would get a kick out of it!

---

Heidi Farmer

on October 26, 2010 10:20 am

Oh, I love these too! Only thing i noticed is that the directions ask you to ring the doorbell! EEK. As someone putting adorables to bed around 7:00, I really hope no one would ring the doorbell and scare us all! Do love the printables though!!

---

on October 26, 2010 12:34 pm

What a cute idea!

---

on October 26, 2010 3:40 pm

Our neighborhood does this and it's great fun for everybody- the Boo-ers and the receivers!

---

on October 26, 2010 5:13 pm

Love this idea. What a fun spin on May Day baskets. May have to try it next year. Thanks for sharing.

---

Annabelle

on October 26, 2010 11:56 pm

I started this at school with my co-workers… with report cards coming up we all needed a little distraction from the craziness. Everyone loves it and it is exciting to see how fast it spreads! : )

---

on October 29, 2010 11:15 am

So much fun! I haven't seen this around my area, but can't wait to start!

---
Leave Us Some Comment-Love