September 26, 2012
Written by Marykate Wurster, mother of three wonderful children, Gladwyne, PA
It is that time of year again, apple picking time. It is one of our favorite fall activities. What a day we had, blue skies, a soft breeze. We went with my dearest friend, who has always been more like a sister to me, and her beautiful family. As young girls we always said one day we would live next door to one another and have children the same ages. We now live in the same town and have children the same ages. Not too shabby!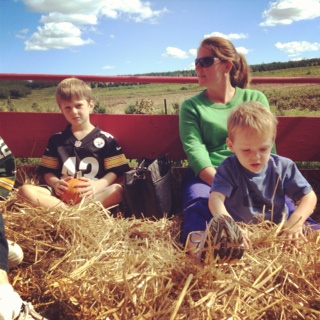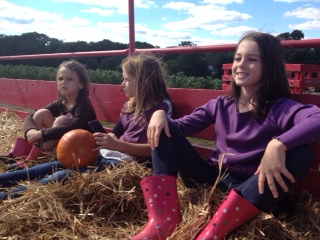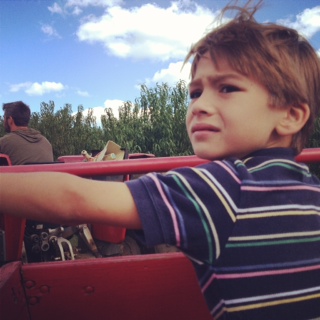 It is always so beautiful in the orchards and so fun for the kids to go running from tree to tree. We get swept up in the moment and leave with a plethora of apples, in this case, two overflowing boxes full.
And so once home they are washed and the large looming question becomes – what to do with all these apples?
Here are some of my favorite apple recipes.
Paula Deen's "Uncle Bob's Fresh Apple Cake".
I made this for a mom's night once and every girl there demanded I email the recipe after – which of course I did. Easy and delicious, it tastes complicated but anyone can make this.
Honey Glaze:
1 cup confectioners' sugar
2 tablespoons honey
2 tablespoons milk
Apple Cake:
3 cups diced Granny Smith apples, about 2 apples
1 cup lightly toasted chopped walnuts
2 teaspoons vanilla extract
2 teaspoons ground cinnamon
3 cups all-purpose flour
1 teaspoon baking soda
1 teaspoon salt
2 cups sugar
1 1/4 cups vegetable oil
3 eggs
Glaze: Add all the ingredients to a small bowl and stir until smooth. Set the bowl aside. Cake: Preheat the oven to 325 degrees F. Lightly grease a Bundt pan or tube pan.In a bowl, mix together the apples, walnuts, vanilla, and cinnamon. In a separate bowl, sift together the flour, baking soda, and salt. Using an electric mixer beat the sugar, oil, and eggs in a large bowl. Add in the dry ingredients and beat until completely combined. Fold in the apple mixture. Scrape the batter into the prepared pan and bake for 1 hour and 30 minutes or until a tester inserted into the middle of the cake comes out clean. Allow the cake to fully cool in the pan, about 1 hour, and then turn it out onto a plate. Drizzle the apple cake with some of the honey glaze, serve and enjoy!
Whole Wheat Apple Muffins
I love the cooking blog Smitten Kitchen. She has great recipes, most seasonal. And readers chime in about ingredients they substituted, how they enhanced the recipe. I made these apple muffins a few years ago and come back to this recipe every fall. It's bookmarked on my laptop. It's that good.
Yield: They said 12, I got 18
1 cup (4 ounces) whole wheat flour
1 cup (4 1/4 ounces) all-purpose flour
1 teaspoon baking powder
1 teaspoon baking soda
1/4 teaspoon salt
1 tablespoon cinnamon
1/2 cup (1 stick, 4 ounces) unsalted butter, at room temperature
1/2 cup (3 1/2 ounces) granulated sugar
1/2 cup dark brown sugar, packed, divided
1 large egg, lightly beaten
1 cup (8 ounces) buttermilk or yogurt
2 large apples, peeled, cored, and coarsely chopped
Preheat the oven to 450°F. Grease and flour 18 muffin cups and set aside.
Mix together the flours, baking powder, baking soda, salt, and cinnamon, and set aside. In a separate bowl, cream the butter and add the granulated sugar and 1/4 cup of the brown sugar. Beat until fluffy. Add the egg and mix well; stop once to scrape the sides and bottom of the bowl.Mix in the buttermilk gently. (If you over-mix, the buttermilk will cause the mixture to curdle.) Stir in the dry ingredients and fold in the apple chunks.
Divide the batter evenly among the prepared muffin cups, sprinkling the remaining 1/4 cup brown sugar on top. Bake for 10 minutes, turn the heat down to 400°F, and bake for an additional 5 to 10 minutes, or until a toothpick inserted into the center of a muffin comes out clean. Cool the muffins for 5 minutes in the tin, then turn them out onto a wire rack to cool completely.
Apple Pancakes
Another Smitten Kitchen recipe bookmarked from years ago. Sunday's are usually pancake day in our house, my kids devour them. I am sure it has nothing to do with all the butter I use (a lot, like really, really a lot) and the pure Vermont maple syrup drizzled on top. These will be on the griddle this coming weekend.
2 eggs, well beaten
1 1/2 cups of milk or yogurt (I used milk and am only assuming that the yogurt will work as well)
2 cups all-purpose flour
1 teaspoon baking powder
1/2 teaspoon salt
1/4 cup sugar
3 medium apples, peeled and coarsely grated (I used yellow delicious, but will use a more tart variety next time)
Extra flavorings (see recipe notes)
Vegetable oil, for frying
Confectioner's sugar, for dusting
1. Mix the eggs with the milk or yogurt in a large bowl.
2. In a smaller bowl, whisk the flour, baking powder, salt and sugar together.
3. Combine the wet and the dry ingredients and stir in the apples and whatever other flavorings you see fit.
4. Heat a thin layer of oil in a skillet over low to medium heat. Drop large spoonful of batter into the pan and flatten it out a little (otherwise, you might have trouble getting them to cook in the center) and cook until golden brown underneath. Flip the pancakes and cook them for an additional two or three minutes.
5. Either dust with powdered sugar and serve immediately, or keep on a tray in a warmed oven until you are ready to serve them.
Some other ideas – give them away. Everyone who comes to see us leaves with a bag full. Another – I love them in them in tuna salad with carrots, onion and mayo. They are also good in a mesclun salad with walnuts, dried cranberries, and blue cheese. Who has some apple recipes to share? The recipes above only look care of about 7 apples total, and remember, I have 2 boxes full!
Share this post
You might like...
Category: Brilliant, Cookin', Family Trippin', For Moms, Garden, Girl Time, Holidays, Kitchen, Kitchen Gadgets, Outdoor, Photography, Travel
9 Comments »
Ruth F

on September 26, 2012 9:01 am

Of course there's applesauce…we make crepe pancakes and wrap around the applesauce with cinnamon and sugar on top. Baked apples…yum! And apple pie, apple turnovers…ooh. I do look forward to trying your apple cake recipe today!

---

Marta Kyle

on September 26, 2012 11:07 am

Of course I opt for the lazy option of giving them away!! However I have so many I might just give the "Fresh Apple Cake" a try. One problem with bakes goods… I end up eating the entire thing myself!!

---

Marykate Wurster

on September 26, 2012 5:30 pm

Ruth – baked apples!! Good one! My mom made the most amazing baked apples last fall (after last years apple picking excusion) and served them with vanilla ice cream. And I have been wanting to make then since. Thanks for the reminder! Crepes sound amazing. Marta – I have the same problem – there is no "turn off" button for me and my baked goods. That is why I love to bake, I love to eat all this stuff. And that can be a problem. Funny how I need to "bake" the apples in something rather that just eat them. That would be way too healthy and easy. Here is another one – apples and peanut butter – yum.

---

Joanne Schenendorf

on September 28, 2012 9:36 am

Here's an easy, gulit-free recipe…it's like a baked apple but it's easier to serve on top of plain Greek yogurt, oatmeal, or if you must- vanilla ice cream ( Trader Joe has a frozen fat free Greek yogurt that's great) OR you can just eat this plain.
Here goes-
cut up the apples, leave skin on
place in a casserole that's been sprayed
sprinkle with cinnamon, a tiny bit nutmeg,sweetener if you like( truvia is a natural low cal sweetener from the stevia plant)
handful raisins
Bake covered with foil at 350 for one hour. The house will smell like you've been baking apple pies all day!!

---

Joanne Schenendorf

on September 28, 2012 9:38 am

here's another simple idea.
slice the apple and sprinkle with cinnamon!!

This can also be a take-with – you snack, in a zip- lock bag. The cinnamon takes care of the apple turning brown problem

---

Joanne Schenendorf

on September 28, 2012 9:41 am

BTW I usualy proof read… don't know how the word guilt turned into gulit!!

---

Marykate Wurster

on September 28, 2012 11:14 pm

Joanne – thank you!! Love the baked idea above – sounds amazing, and on the menu now for tomorrow! And great idea about the cinnamon = I could never figure the turning brown part out. Thank you!! XXOO

---

Anne Schenendorf

on September 29, 2012 8:10 am

Yummy! As of now what I do with apples is eat them and deskin them, slice them and feed them to babies. 😉 Mart and MK I too would eat that whole cake and that leaves me debating if I should do it. The muffins sound delicious too. Mom, we love eating your apple recipe. Yum! I love an apple cooked with brie cheese on top. I like that you can pop it in the toaster oven.

---

Anne Schenendorf

on October 13, 2012 6:50 am

I still have plans to make the amazing looking apple cake. Mmmm. First, I just need more apples. I wanted to let you know that this month Shape magazine has so amazing recipes with apples. The one I love is salmon with caramelized apples and onions. Don't you love Fall?

---
Leave Us Some Comment-Love