August 8, 2013
written by Cathy Baker, mom of two sweet tweens, who are motivated by money
I finally found a few things that work for chores in our house and thought I'd share them with you.
One Job. All Week. Then Switch.
I have two jobs I swap back and forth between my girls. One girl has to do dishes all week (including clearing the table off). The other one has to thoroughly clean bathroom on Sunday and then keep it picked up all week (including no toothpaste in sink!)  We have been doing this since March. I've loved the simplicity of it!  This is the job they do because they are a part of a family and we work together to take care of our stuff.
Work.For.Hire.
I was inspired by this blog post I read at Home Made by Carmona — she has this amazing chore organization system — and quite beautifully put together too.  She even has free printables, if you want to just pick up a corkboard to use!  Check it out!
Mine is much less beautiful, I literally covered cardboard with fabric I had, and as you can see, hand-wrote my cards.  I also remembered I had this deck of 'chore cards' I had made, so I pulled those out to use too.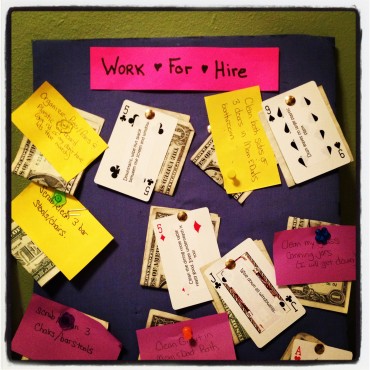 But I've LOVED having this over the summer, it's instant gratification having the money attached to the chore that they can take as soon as they finish.  It's my answer to many questions:
"Mom, can we get ice cream from ice cream man?" – 

"Sure, do a work for hire job so you have a dollar next time he comes around!"

"Mom, will we get money for camp?" – "We will give you $5, but if you want more, you need to do some work for hire jobs."
"Mom, can we buy this?" – "Sure we we get home, do a work for hire job and you can come back and purchase it!"
Sometimes they choose to do the job. Sometimes they don't. It doesn't matter to me, so there's no stress about it getting done or not.
I don't put jobs on here that need regular attention, rather I get a lot of odd jobs done! Here are some of the jobs I've included:
wash out trash cans

wash 'x' number of dining room chairs

vacuum under the couch cushions
clean grout in bathroom
wipe down 'x' number of doors
clean the space between the windows and screens
clean all my glass jars
wash inside windows of SUV
I also loved the ideas Marykate had shared about chores in her house last Fall, so in case you missed them last time, here they are again! What works for you in your home?

Share this post
You might like...
Category: Activities, For Kids, Random and Fun
Tags: allowance, chores |
4 Comments »
Marykate

on August 8, 2013 7:25 am

This is so timely! I was just saying to a friend that I need to revive this and voila – the answer! I love that the money is right there too – it's the carrot to entice. So good for teaching accountability and responsibility!

---

Ann Holmes

on August 8, 2013 9:03 am

Great idea~ I will try it with me Grandchildren~ I can always use help around the house and they always want to buy things~

---

Rachel C

on August 9, 2013 8:58 am

Love this idea – thanks!

---

Julie R

on August 9, 2013 2:18 pm

Love the way you think. I also like saying yes. YES you can buy that item you want….with your own money. YES you have have the dessert….after you eat a healthy dinner, etc. =)
Thanks for the post and the chore idea.

---
Leave Us Some Comment-Love