November 7, 2013
written by Cathy Baker, mom of two sweet tweens, enjoying life in the Ozarks
This past summer, morale was at an all time low at my husband's work place.  He's a supervisor at the state crime lab — work can be pretty intense at times, and then sometimes situations come up, and even when you work with amazing people, sometimes morale just gets low.  So we began brainstorming what we could do to help improve 'morale.'  Here was our plan of attack!
Round One: Every Monday for 6-8 weeks he anonymously put up these funny signs at work.  It was so fun listening to his co-workers trying to figure out who was behind the signs.  He has a good poker face, so he pulled it off well.
Here are some of the signs we did:
The first week he hung up a sign on the doors that said "Dry Paint" (sorry, no photo) — talk about confusing people! Dry Paint – what does that mean?! 😉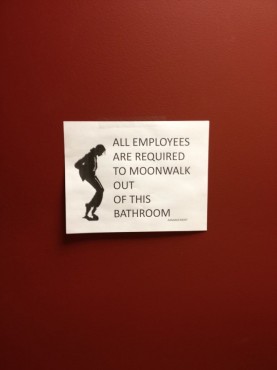 Here's a fun one for inside the bathroom.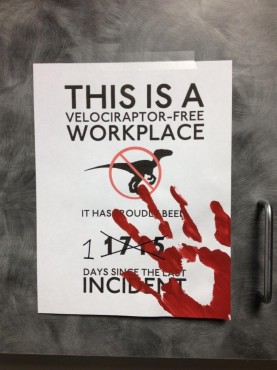 On Monday he hung these signs without the bloody handprint (side note: 1,715 is the # of days the lab has been open). On Wednesday, he replaced old signs with these bloody hand print ones.  That may or may not be my blood all over the sign. 😉
Someone actually followed up with a sign, a play off of Ghost-Busters, but "Dino-Busters" with a bullet to end velociraptor invasions once and for all.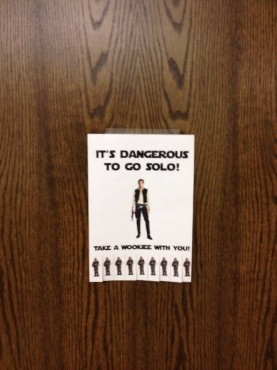 This one was put on the outside of the bathroom doors.  It's kind blurry (sorry), but it says, "It's dangerous to go solo, take a WOOKIE with you!"
He saw some wookie's taped to people's computers later that week.
This sign was hung of the refrigerator. He,he,he!
Note: We found this printable at One Man's Blog. Huge selection of free printable signs you can use!!
Round Two: Organized a 'Fall Themed' Cubicle Decorating Contest with gift cards for prizes. It was fun to see people participate, and there has even been a request to do a Christmas Theme decorating contest now!  Don't worry, cubicle decorating was encouraged to happen during breaks/lunch/before & after work! 😉
Here was his cubicle:
One evening our family 'sneaked' into the crime lab and decorated his cubicle. The girls pinned every one of those leaves on.  The photos are of the girls on Halloween throughout the years.
Mission: Successful!! A little silliness, nothing harmful, just a few extra smiles to people's day, and morale is looking brighter! woohoo! 😉
Go ahead – add a smile to your work place!
p.s. Another sign I saw at my girl's school one time said "This copier is called Bob Marley, because it always be jammin'!"
p.s.s. At our home, my daughter hung a sign at our front door that says, "door bell broken, yell ding dong really loud!" – it's not broken, but it's been fun/funny to have hanging there for past couple of weeks.

Share this post
You might like...
Category: Random and Fun
Tags: funny signs, morale |
1 Comment »
Marykate

on November 8, 2013 10:17 am

Laughter is the best medicine! Love!

---
Leave Us Some Comment-Love