December 6, 2013
Home Tour Friday is upon us.  And today's home is stunning.  Spectacular.  Striking.
And it has several unique features that will wow you. Are you ready?
I'm happy to report we're traveling to my home state of Michigan.  Home of beautiful lakes, warm friendly people, and great ice cream and fudge (I've been known to indulge).  Today's home is set on a lake outside of Traverse City, in the northern region of the lower peninsula – yes I know that's confusing. So here we go…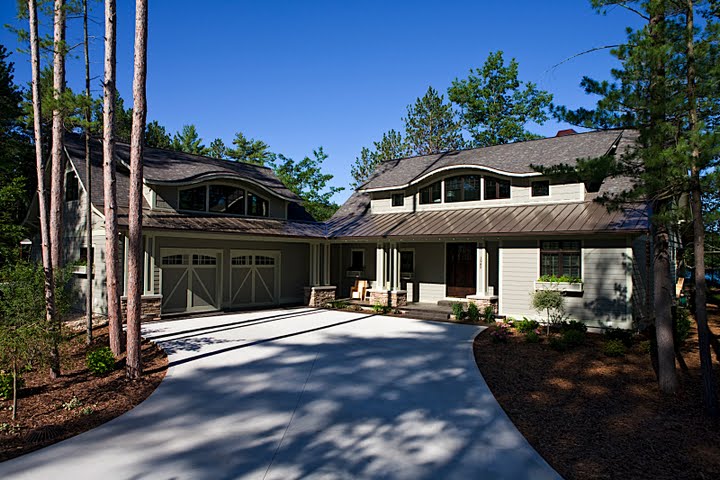 **Oops!**  Turns out I had the wrong photo of this house.  This is the correct house.  The other is the grandparent's home.  No worries, we get to tour that one next Friday.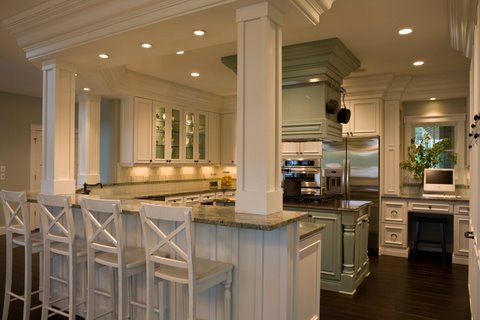 I actually wasn't sure where to start today.  But kitchen it is.  And what a kitchen it is!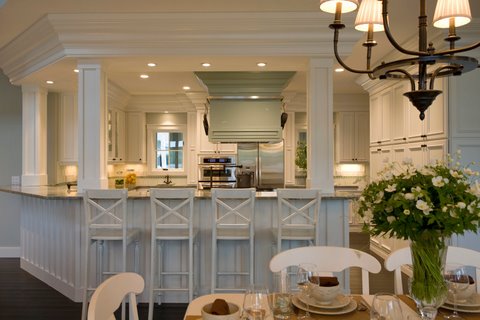 Paneling.  Wainscoting. White.  Gorgeous.
I know I say this every time, but I would have loved to be there on move-in day.  Just for the kitchen though.  That's it.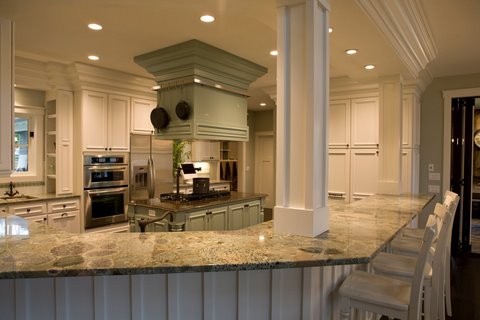 The granite is exquisite and reminds me of Petoskey stones.  Love it.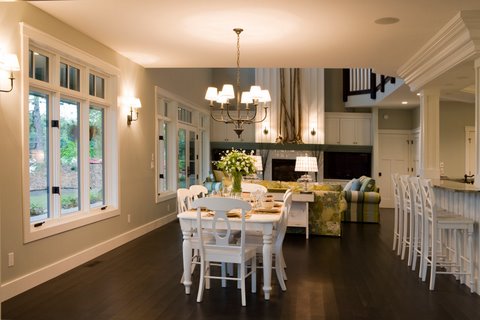 I love that the windows come almost to the floor to drink in all that sunshine and the tremendous view of the lake.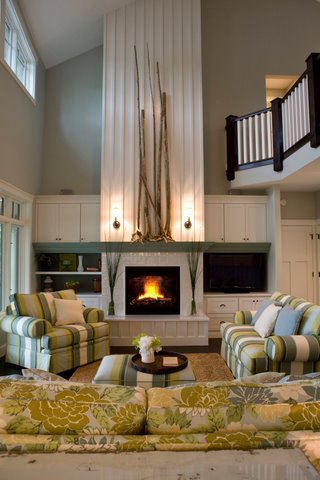 Hello 30-foot ceiling!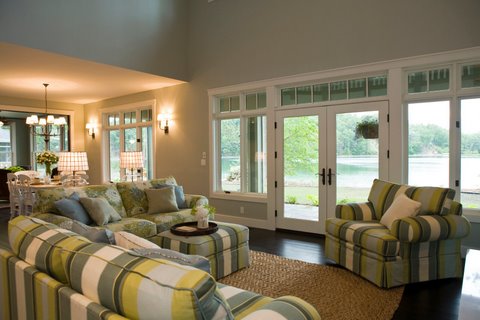 What a view!
I love the openness of this home.  No wasted formality on living rooms (you all know how I feel about those).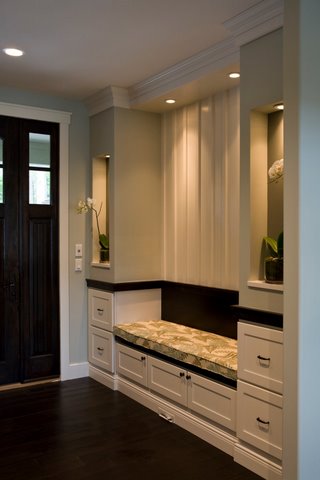 Okay, this is a brilliant idea.  Immediately next to the front door and bench and drawers to stow things.  I just noticed that large drawer at the very bottom – can that be for shoes?  BRILLIANT!  I will NEVER, not ever show you the large pile that accumulates next to our front door.
Here's where you need to prepare yourself: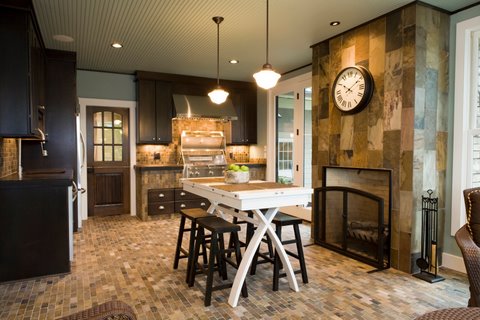 A second kitchen! (As if the first wasn't enough.)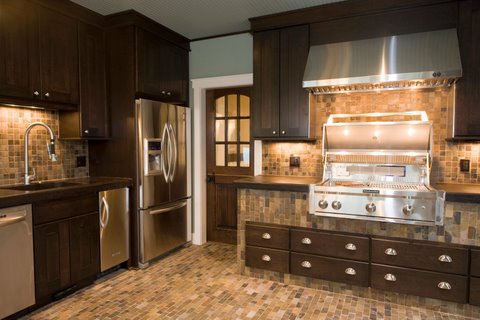 Located directly off the kitchen/eating area, this is the four-season room featuring a built-in grill and fireplace.   A Weather Shield Bi-folding door protects the entrance from the kitchen area.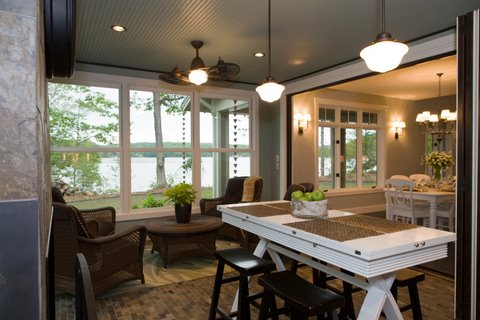 In the summer, the space converts  into a screened-in porch.  Pretty seriously awesome.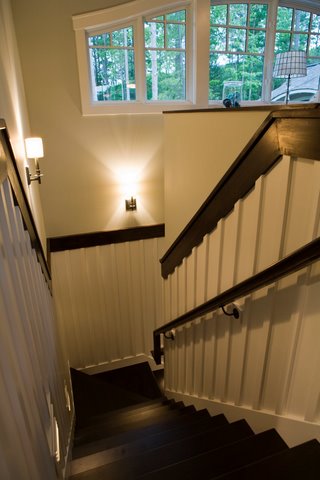 Heading upstairs…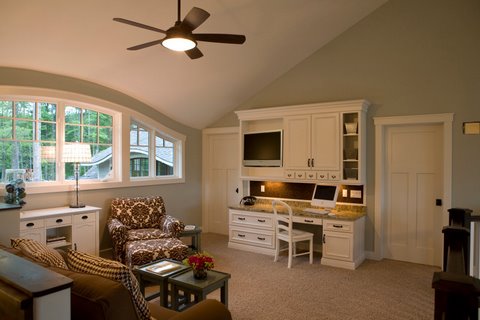 Love this workspace/sitting area at the top of the stairs…
which looks down onto this…
Hoping the adorables are not climbers as mine are!
Now here are the two cutest rooms for the adorables: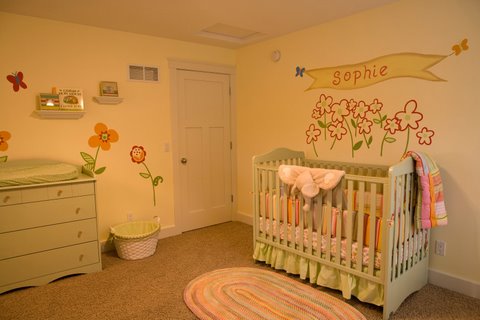 This is sweet Sophie's darling room.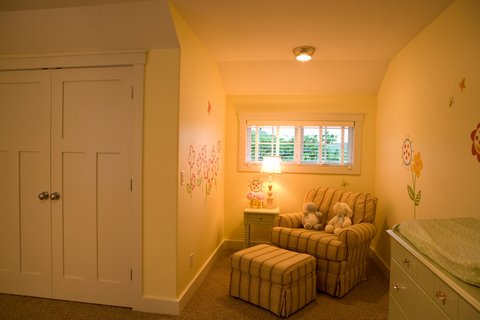 Happy, happy room.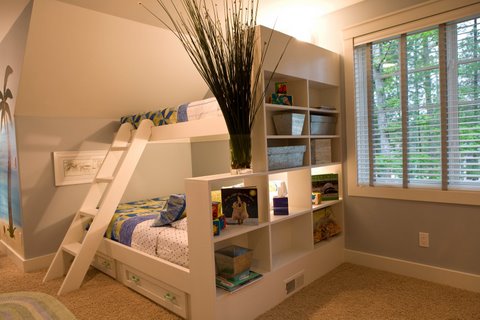 And this is one great room for a toddler boy.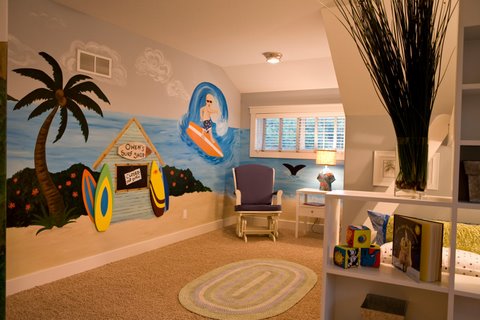 One lucky adorable.  Love it.
And back downstairs,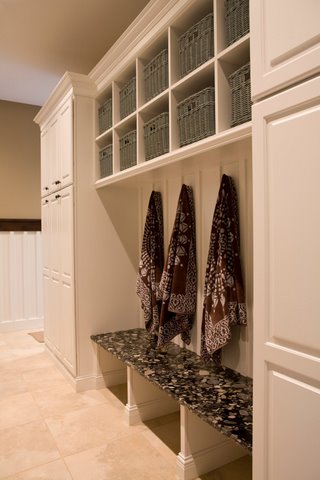 A great mudroom/laundry combo… Why, you are wondering did I save the laundry room for last? Can't wait for you to see…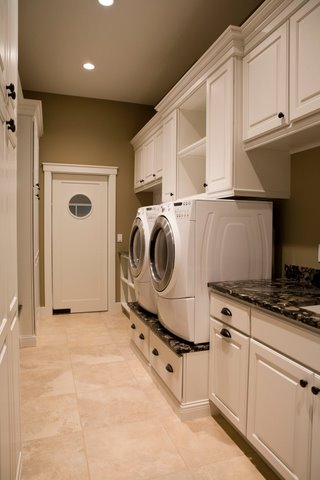 Rock on!  Love that these are elevated to save your back.  Not to mention that it's gorgeous.  But I'm really stuck on the elevated thing.
So if you are building a house in Northern Michigan, I think you should contact Dean Adams of Bay Area Contracting. He, clearly, is talented.
Partnering on this home were:
Ken Williams, Architect, Design Classic
Shane Inman, Interior Designer, The Inman Company
Old Mission Windows, Traverse City, MI
Many thanks to Courville Imaging for the use of the photographs.
Share this post
You might like...
Category: Home Tours
Tags: home tour fridays, Home Tours |
30 Comments »
on September 18, 2009 8:46 am

All I can say is WOW!

---

on September 18, 2009 10:50 am

That's incredible!!!

---

marla

on September 18, 2009 10:51 am

Love this house!!!!

---

Sarah

on September 18, 2009 12:25 pm

Out of control gorgeous!

---

Julie

on September 19, 2009 7:30 am

Where did you grow up in Michigan? I was in the southwest corner; Niles – just over the border from Indiana.

---

on January 28, 2010 5:32 pm

Petoskey stone, yes! I was born in Petoskey, spend the first years of my life in Mackinac. Some stunning homes there, by the way, but none that I'd want to move into… like this one…

The "four-season room" and the sitting room at the top of the stairs particularly got me.

---

Holly hack

on August 19, 2010 7:45 pm

Stunning

---

Stephen Woronoff

on August 20, 2010 9:09 am

Gorgeous, This Took Talant!

---

Terri

on August 23, 2010 6:39 pm

Can he come to Texas please………….

---

on August 31, 2010 12:15 pm

That's one classy house!
I like the main kitchen design – clean lines and light colors – just the way my mom had it!

---

Andrew

on November 1, 2010 1:21 am

It's not really innovative or stylish- just big. The complications, expense and environmental considerations of heating and cooling a place like this are dire. I would argue that this place is not as dreamy as is suggested- it's just big. I know that in America bigger=better, but make it solar heated, make it cooled by underground passive heat exchangers, make it a bio-neutral with greenhouses and so on. Instead, it's just big. This is about as inspiring as a humvee. It's just big.

---

karla

on November 1, 2010 1:53 pm

i wanna house like that!!! i love it!!

---

Molly

on November 2, 2010 5:01 am

Why do Americans have such over the top taste in design? This is dreadful!

---

Heidi Farmer

on November 2, 2010 8:08 am

Molly, so sorry you feel that way! I just love this home!!

---

Maria Cristina

on November 21, 2010 2:31 am

Wow wow wow! I'll love to have a house like that!

---

on January 5, 2011 1:13 am

The house is okay, but not my favorite. Kind of looks very cookie cutter except for the kitchen stove area (which i dont like, a lot of unused space there) and the laundry room

---

on January 6, 2011 8:08 am

the house is lovely- but you should have found a better painter to do the doys room mural.:(

---

on January 8, 2011 6:55 pm

This flows from one room to the next! It's like an endless dream that I don't want to wake up from!

---

on January 25, 2011 10:36 pm

Fabulous! Elegant but not stuffy. Sofia's room is adorable!

---

on March 11, 2011 10:19 am

No place better than home. sweet, elegant, neat, and best of all, none of those shiny expensive stuff unlike other houses

---

tiffany

on March 11, 2011 10:42 am

Just looks like a show home with absolutely no character, history or soul – sorry not my style/tatse.

---

on March 21, 2011 4:34 pm

Want some more this.. Very elegant.

---

Karen

on March 24, 2011 2:53 pm

Too much white for me. And not enough character. But a nice house all the same.

---

Charles Levine

on March 25, 2011 4:46 pm

I'm afraid I have to agree with the naysayers. I came upon the page from stumbleupon, which rotates me among design/interior design and architecture sites, and this just doesn't stand up. It's pretty, and certainly bespeaks a certain degree of wealth. But there's no real eye here, just a lot of pretty stuff. Like the house of a doctor who likes nice stuff. "New money luxury" or something. Like others say, no character, no real elegance, no real design. I'd live there of course. But I'd want to move somewhere cool.

---

friendandfaux

on March 29, 2011 10:59 pm

I totally agree with Charles.( Stumble brought me here too). No heart no soul nice place to visit like a good hotel, but not day after day.

---

on April 28, 2011 9:08 pm

This house is a beautiful modern take on Henry Hobson Richardson's work. I love it. I would personally decorate it differently, but this is pretty close to my dream house.

---

Jennifer

on October 28, 2012 7:50 am

A-maz-ing!!! I just love it all. Seriously, from the flooring to the ceiling! I would love to see a copy of the house plan, if possible, please!

---

Marykate

on December 6, 2013 10:05 pm

I love house tour Fridays. Like really really love them. Okay, the kitchen? amazing!! Such a fun house – full of surprises!

---

Chani M

on December 9, 2013 11:45 am

Omg I love this house!!!!!! I just want to pick it up and move it somewhere warm

---

on August 16, 2014 10:12 am

Just Wow!! Such a beautiful design. Love all the pics. Great work!! The exterior is outstanding, and the interior is extremely magnificent I like the colour combinations you have used throughout.

---
Leave Us Some Comment-Love