May 30, 2014
written by Cathy Baker, mom of two daughters who will both be in Middle School next year!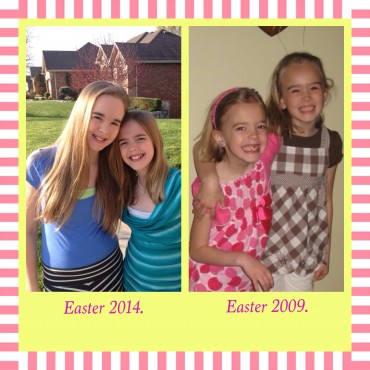 Anyone else feel the years flying by?
I *blinked* and now my girls are both going to be in Middle School!  Gulp. How did this happen?
I gasped a couple weeks ago after I found these words coming out of my mouth to my daughter, "Well next year, at this time, you will be one of those high schoolers!" What?! Not possible.  And yet it is reality.
Just a few quick reminders to savor today with your children (and your spouse too!).
Smile at your child(ren).
Look them in the eye. Every day.  Catch the sparkle in their eye before you look away.
Laugh with them.
Don't forget the power of touch. A hug. A shoulder squeeze. A high five. A back rub.
So simple. Yet in the busy-ness of life, sometimes so easy to forget how much these little things make a difference every day.

Share this post
You might like...
1 Comment »
Marykate

on May 30, 2014 6:55 am

So great and so true. Eye contact is so strong. And I am huge believer in sitting down every night together for dinner. With all the crazy sports schedules it can be a challenge for families but it is so important to take this time! So many studies have shown family dinners are the make it or break it for kids. Dinner! How easy is that?! Thank you for sharing this. It does go much too fast.

---
Leave Us Some Comment-Love