August 28, 2013
Friends, to write a post about visiting Yellowstone is completely overwhelming.  There is too much to do and see, and invariably, I will miss something.  But I tried (and waded through 778 photos to bring you these):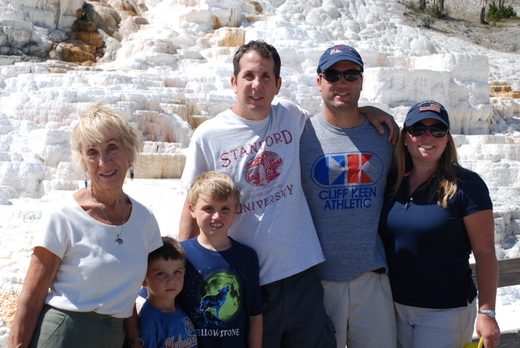 My mother-in-law planned this trip for us: 9 days in and around Yellowstone, including 2 nights in Jackson, WY and trips in to see Grand Teton National Park.  Here we are in front of Mammoth Hot Springs at the end of 9 glorious days.
Old Faithful in all it's glory.  The weather was just like this most of the trip!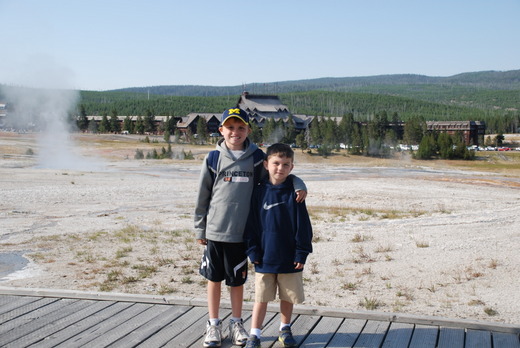 My boys on the Geyser boardwalks in front of the Old Faithful Inn.  We were able to stay here for 4 nights and it was incredible.  Our Team Farmer foursome was in a newer wing overlooking Old Faithful.  Room 3028 treated us well!
When you book 1 year in advance (really!), the Old Faithful Lodge is NOT the same thing…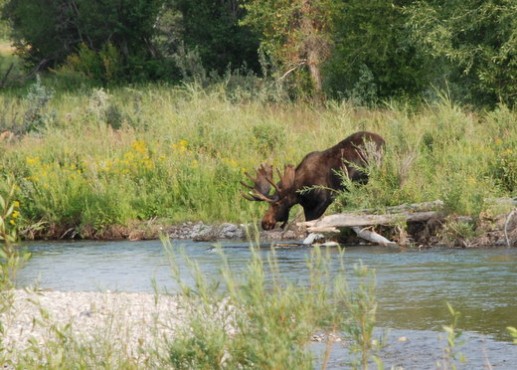 Of course I have over 500 photos of animals.  We saw this Bull Moose outside of Jackson, WY.
And this black bear inside Yellowstone park.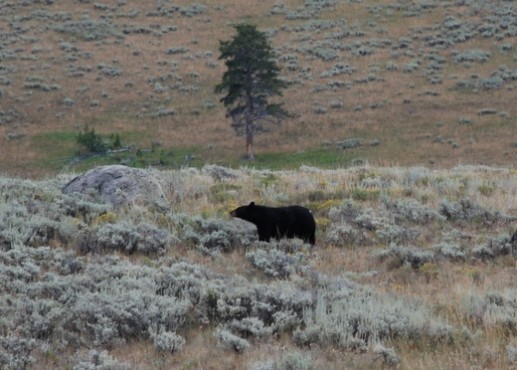 This restored Yellowstone bus from the 1930's is a perfect kitschy way to see the park.  We saw everything however by minivan (and I was a big fan of this too!)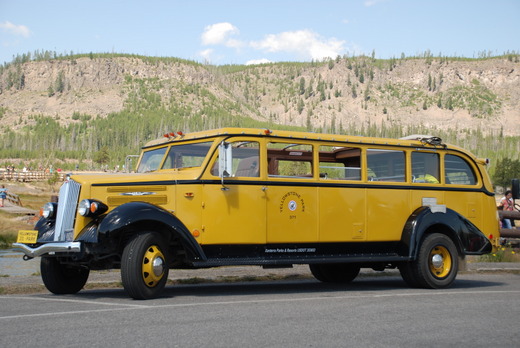 And the views!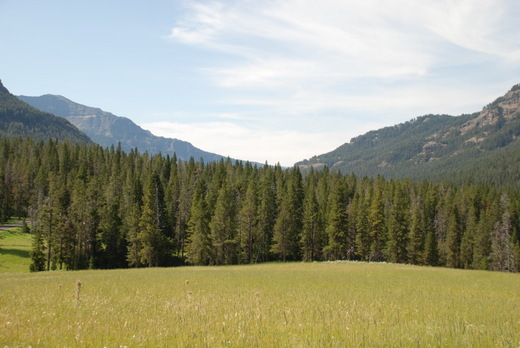 These are the Grand Tetons from the Lodge there.
Tip: the Signal Mountain Lodge has the best food.  Really, really recommend the breakfast.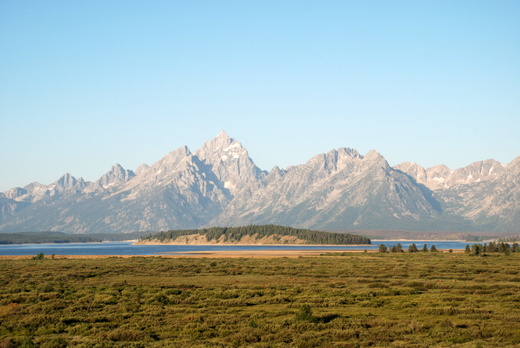 The elk roamed freely in and around our cabins at Mammoth Hot Springs.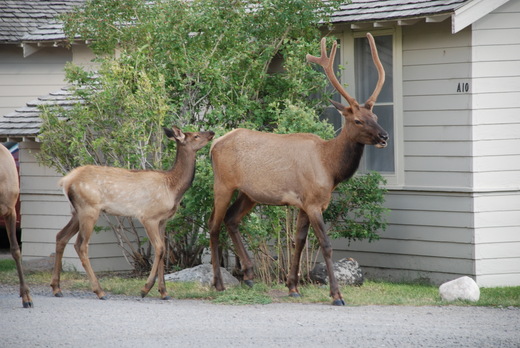 And be prepared to wait a while (!) for the bison to clear.  I felt particularly sorry for the bicyclists and motorcycles (though the bison were afraid of their revving).  Waits on bison-jammed roads could stretch to an hour (or more).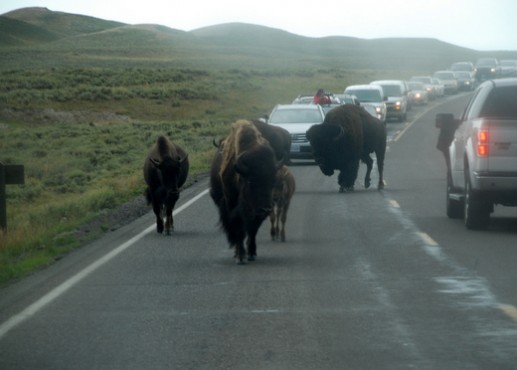 There was a chuck wagon dinner, with outstanding food and an unparalleled experience.
We also rented a boat on Lake Yellowstone and got in an hour tour just before a big storm swept through.
**I am not sorry – you will never see a photo of me in an orange life vest.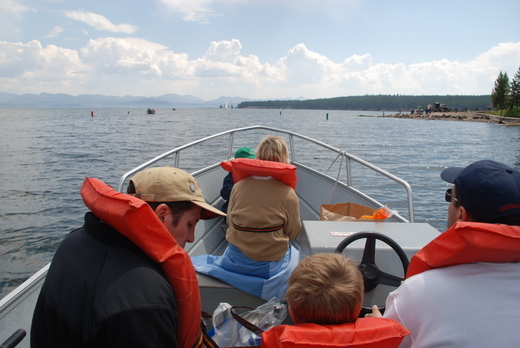 Kiddos highlight of the trip: earning their Junior Park Ranger badges by completing a nifty workbook/newspaper thing (it's free!).  Younger adorable was particularly productive and completed 2 (his age group and 1 older).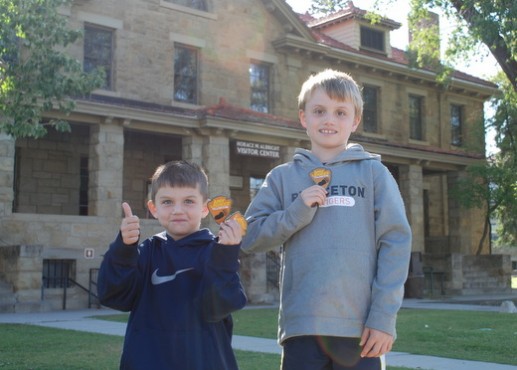 It was OUTSTANDING!  As a family (extended too), we learned loads, spent great time together hiking and soaking up all that natural beauty, and laughed a ton.
The Do's:
Spend at least 4 days.  In 4, you'll never see it all; in 7, you'll still have plenty left to see.
Stay inside the park, if at all possible.  There is a LOT of driving.  It was so nice to wake up and start immediately (especially if you have kids in tow!)
Check out usparklodging.com to start planning your trip (a year in advance –  Thanks to our Mimi for doing this!).  I highly recommend the Old Faithful Inn, The Mammoth Hot Springs Hotel and Cabins, and the Lake Yellowstone Hotel and Cabins.  There are  different price points for differing budgets within each of these properties.
If you have kids, do not miss the Junior Ranger program.  I can't stress this enough.  This, in and of itself, got them participating and made Yellowstone their own.
Attend as many Ranger talks, guided walks, movies, etc as you can.  These were free and a highlight of our trip, especially with our kiddos.  Many of the talks were scheduled at 7pm, a perfect time after dinner to relax and learn something new before bed.  By 9, we were zonked – all of us.
Make sure to spend a lot of time in the Lamar and Hayden Valleys.  We saw an abundance of animals in these places.  The first day we drove through Hayden Valley, we saw 6 bison total; the very next day there were hundreds.  Just keep driving through.
If you have time, head out to Cooke City, MT (northeast entrance) for a lunch or dinner.  It's a great town!  The same is true for Jackson, Wyoming, but spend a couple of nights there.  It is not a drive-thru – there's so much to see and do.
While I'm speaking of food, we really enjoyed our dinner at the Mammoth Hot Springs Hotel.
Go swimming in the Boiling River and the Firehole River.  The Boiling River is a natural hot tub that feeds into a river.  Choose your water temp by where you sit – hotter next to the spring; colder next to the river.  The Firehole River is cold with no hot spring, but very fun.
If you get to Grand Teton National Park, take the ferry across Jenny Lake and take the Jenny Lake hike there to see gorgeous waterfalls; about 3-4 miles roundtrip (with a good elevation gain).
Be Prepared:
There is a LOT of driving.  For our kids (ages 8 and 5), we broke this up with hikes and snacks, singing every song we knew and retelling old stories.  We also packed their backpacks full of books, colored pencils and drawing pads so they could draw animals and the amazing geothermal features (hot springs and geysers) we saw.  With the exception of a few times I threatened to take away every toy they owned, we made it without resorting to electronics use (which seems a crime among all that natural beauty).  But, it's a LOT of time in the car.
If the bison and other animals decide to trek across the road (and sometimes back again), you, and the whole line-up of cars on both sides of the road, are not going anywhere.
You will have almost no cell service (though this may change), and no wi-fi (unless you stay at the Old Faithful Snow Lodge).  For me, this was a gift to unplug and have an excuse for doing so.
Inside the park, all hotel food service is operated by the same company, Xanterra.  They do a great job, but the menus after 7 days of breakfast, lunch and dinner got a little monotonous, though I did love the veggie and hummus plate I could find virtually everywhere.
I'm sure more will come and I'll keep updating info here.  Please, please, add your own tips in the comments.  I can't wait to read yours!
Just found one we missed: Yellowstone Wolf Tracker.  We didn't see a wolf, and would have loved to.  You hire a guide, who helps you find the wolves.  Next time!
Share this post
You might like...
Category: Family Trippin', For Kids
Tags: Kids in Yellowstone, Yellowstone trip with kids |
5 Comments »
Marykate

on August 28, 2013 10:06 pm

Sounds amazing!! I feel like I got to live a bit of it through you! What an experience for you all! XO

---

Erika

on August 29, 2013 12:31 am

This was so great to see Heidi! Thanks for sharing…loved all the tips and comments. The pics were incredible!

---

on August 29, 2013 8:38 am

Looks like a wonderful trip!! Its still one place we still want to take our girls in the next few years…oh, and Washington DC too! I'm definitely planning to refer back to both your articles on these two places when we go! Hard to believe we only have 5 more summers with them! #yearsflyingby #nopausebutton

---

Julie R

on August 30, 2013 3:12 pm

Heidi – never say never, the kids will have their own phones/camera soon. =) thanks for the update, looks like an amazing vacation.

---

Meg

on September 20, 2013 7:35 pm

These are amazing pictures. I hope we can make it there one day.

---
Leave Us Some Comment-Love