December 5, 2013


Written by Marykate O'Malley, mother of three wonderful children, Gladwyne PA
Okay, so… I do this – I see a woman walking down the street and mentally do a makeover. Like those people on the Today show or morning news programs. Which I wouldn't know because I try to watch as little news as possible but that is a whole other story. I think, "she has such beautiful eyes, if she cut her hair and"… I do it with houses as well, "if you stripped off the wallpaper and knocked down that wall". I see potential. And I am visual enough to be dangerous. Really dangerous.
Recently I was needing some makeover love myself. Like the fable of the shoemaker's children I neglected to see that my yoga tanks were faded and my mat worn and who has time to devote to re-outfitting your yoga gear and clothes when really, you aren't there that much. Apparently me. Where there is a will there is a way. And ladies, I have some willpower. Ask my mother, she has some interesting stories about me at 3.  I digress…
I went out searching, scoured the earth for the perfect mats and tanks and pants so soft and comfy they could really be your favorite pair of pajama pants, disguised as yoga pants. And here is what I found:
Clothes:
Yoga, Love and Peace – They sell this adorable line at my favorite local studio Focus Fitness in lovely Bryn Mawr, Pa. I love their lounge pants – so super comfortable as well their t-shirts and the crystal and glitter union jack (love in grey). The only downside – the tops are stylish enough that my 9 old likes to swipe them.
Peace, Love, World – pajama pants definitely disguised as yoga pants. Below are the I am love t- shirt and red lines pants.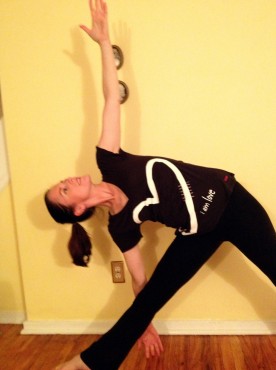 I love my Breeze Comfort yoga top.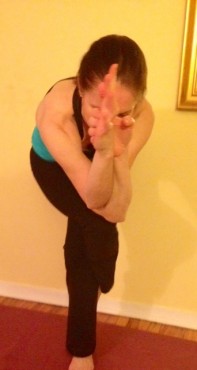 Eagle! Whenever I hear eagle, I think of the Eagles. And whenever I think of the Eagles I think of "Fly Eagles fly! On the road to victory!" (You must admit – it is a good game song. Compared to some other teams. Just sayin.)
Cuddl  Duds – I love a flowy wrap or sweater I can throw over my tank in case I need to be more covered – like I have to dash into the supermarket or mass. Getting to mass any day in addition to Sunday is a luxury and not something I can swing that often. And when I can it is usually on the way from somewhere, after stopping somewhere and the stars align and I am there. However it feels really really weird and somehow wrong to be wearing a tank and yoga pants. And so I keep a long flowy sweater in the car and I am somewhat presentable. Cuddl Duds has as super soft wrap top I love . And I love my Gaiam black swing cardigan. It is simple with clean lines and does the job every time.
Taos – I like shoes I can slip in and out of for yoga. Taos's ballet flats are super soft and easy and when the cold weather hits and the sandals go away these and my Ugg clogs are the perfect "wear to yoga class" shoes.
Mats
Manduka – I love the Eko mat. It has a great consistency. I like the Jade as well because it is also has cushion and traction. I found an Aurorae towel I really like although I personally find it harder with a towel over my mat and can only use them for backbends and shavasana (in other words nap time). At home I keep at Tomuno mat for unheated yoga. Here is one of my cutie pies hiding under it. Sweetness.
Now let's pause for a moment and take in how crazy flexible my daughter is. Honestly I cannot believe someone's back can do that! Stripes and polka dots! My favorites.
Jewelry
It really doesn't have anything to do with yoga but there is a lot of it out there. And some is really fun. I love the pieces that hold personal meaning. I have a Silver Maple "patience" necklace because, well, I could use more of that when it comes to life. It's all about learning and growing ladies.
Here are some fun jewelry companies I found:
What are some of your favorite yoga products? Share please!
Share this post
You might like...
Category: Brilliant, For Moms, Momzone, Random and Fun
1 Comment »
Heidi Farmer

on December 5, 2013 9:27 pm

Can I just say, "WOW!" I'm all about my Athleta Bettona Classic Pant. Just love them. I even wore them to a fancy Greenwich Dinner party. I'm so classy that way.

---
Leave Us Some Comment-Love