November 4, 2013
Written by Marykate O'Malley, mother of three wonderful children, Gladwyne PA
My lovely sister insisted I post this. And because I love her, I am.
I don't eat meat. Except for bacon, and sometimes ham but only the tiniest bit. I simply don't like it. I would truly force myself to choke down chicken and turkey and then thought – why am I doing this to myself?? Red meat I haven't ever really liked. I ate it but did I like it? No, not really. Let me just say though that I cycle through this not eating meat thing. The last time the cycle ended I was pregnant with my oldest. I went from a vegetarian to carnivore almost overnight. I would devour bacon cheeseburgers like a frat guy at 2 am. And I also put on (you'll want to sit down for this) over 60 pounds. Early in my second pregnancy the doctor told me that for my height I was underweight to be carrying a baby. I told her to check the charts and not to worry – this was one of my special talents. I truly don't understand the 20 – 30 pound crowd. Maybe they don't eat bacon cheeseburgers every day.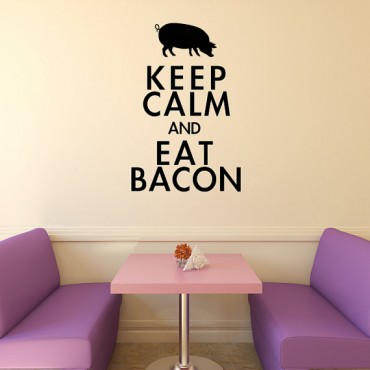 Find this decal on Etsy
So bacon. It is near and dear to my heart. Chicken, steak, turkey, they have all faded and gone. Bacon remains. Scrapple? Let's not even go there. It is a Pennsylvania thing and really the FDA should be all over this. It's just not right.
Bacon is messy. And I don't do messy. This is why my sweet sister wanted me to post this…. instead of a pan I bake it in the oven. Cookie sheet with tin foil (less mess and somewhat messless – ha!!). I bake at 400 for about 15-20 minutes and voila! For Christmas brunch I buy maple bacon, sprinkle it with brown sugar and bake. Amazing. Shrimp is also wonderful baked on a cookie sheet. I love you Ina Garten. And you, sweet sis. 


Share this post
You might like...
Category: Books, Brilliant, For Moms, For The Home, Holidays, Kitchen, Kitchen Pantry, Momzone, Random and Fun, Wondermom Resources
2 Comments »
Celeste Won

on November 4, 2013 8:46 pm

Hey MK- We love bacon around here, too! I use the microwave with lots of paper towels around the bacon and it turns out great. Can't imagine you putting on 60 lbs!

---

Marykate

on November 4, 2013 9:12 pm

Hi sweet Celeste! Oh I did and honestly it could have been more. I stopped looking at the end and didnt want to know! I now think it is so funny. And she was my smallest! Great idea to microwave and not messy!!

---
Leave Us Some Comment-Love