March 27, 2010
I have only just been introduced to Chris Van Dusen's work by Dear Reader Sarah who couldn't believe my lists of books here at The Good Stuff Guide were Van Dusen-less.
So she packed up a box of his 4 masterpieces and shipped them to me.
And Oh. My. Goodness. was she right.
These books are just incredible:
With crisp rhyming text perfect for reading aloud;
With concepts that provoke creative thinking;
With gorgeous illustrations that literally pop off every page.
So I implore you to either order them from Amazon or your local bookstore immediately or run to your library and check them out.  Like yesterday.
Trust me on this.
1. If I Built a Car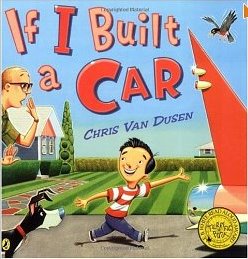 This is The Running Man's and my elder adorable's favorite of the group.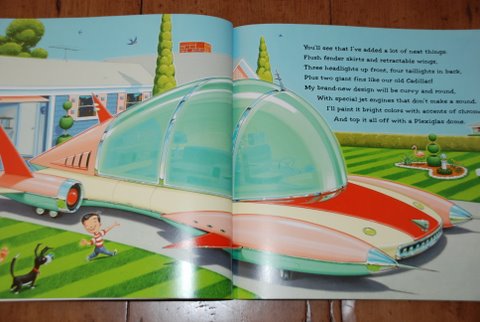 I really don't want to give anything away, but this would be my dream car too.  (Though I do love my minivan, this car has some killer features.)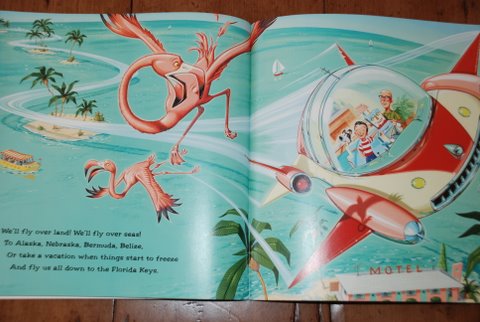 For instance, my minivan can't fly…
(A natural extension would be to ask your adorable to draw or write about his/her dream car.  What would be the same; what would be different?  Which newly invented features would astound the world?)
2. The Circus Ship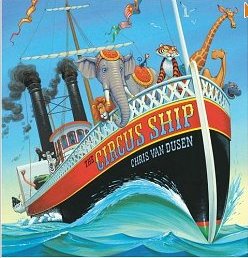 This is my favorite.  I love the expressions of the animals.  I love that there really was a circus ship that sunk off the coast of Maine on which this story is very, very loosely based.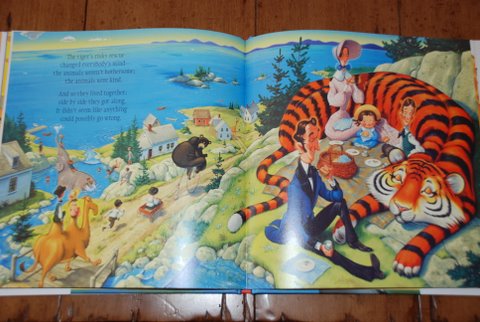 And I could never tire of these gorgeous illustrations.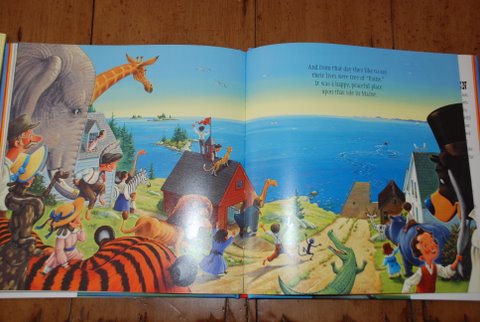 Happiness everywhere.
3. A Camping Spree With Mr. Magee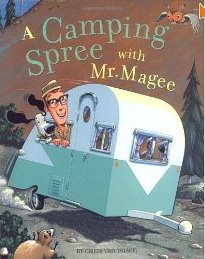 A real Maine adventure starts here.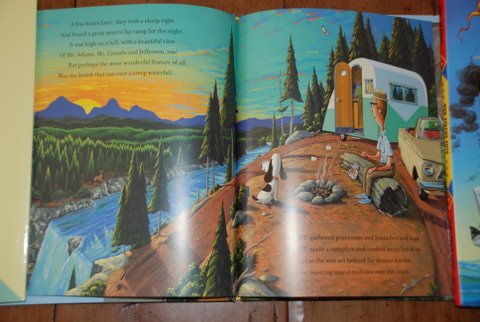 This is a silly, fun story about a wayward camping excursion.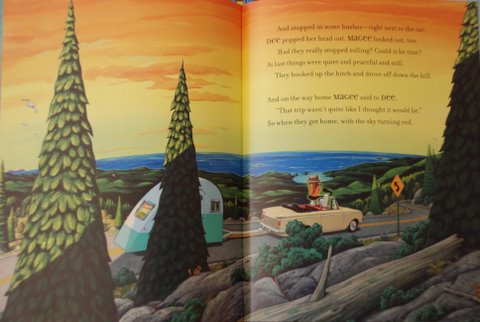 These illustrations!  You won't mind reading these books again and again and again and again….
4. Down to the Sea with Mr. Magee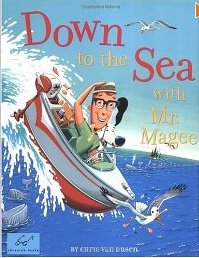 You have a gorgeous Maine coast.  You have whales!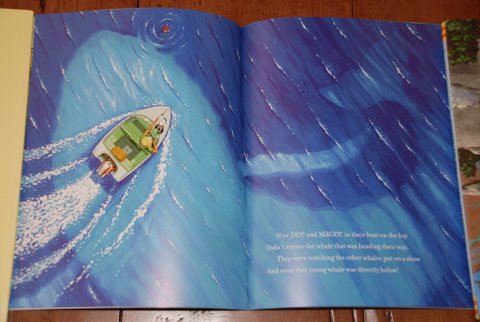 You have a problem.  You have lots of whales!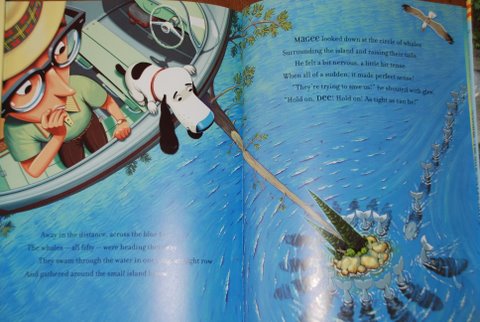 Your problem is fixed.  And all along the way, we were carried by great lyrical prose and a wonderful explosion of colorful illustrations.
________________________________________
Good news for us: a third Mr. McGee is coming this October.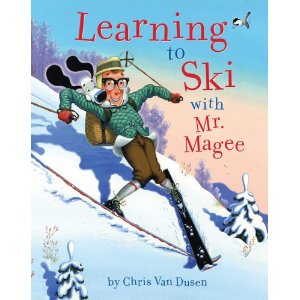 'Tis Here – you can pre-order on Amazon: Learning to Ski with Mr. Magee
!!!!!! (I already have!)
I've added these books to The Great Picture Books of Maine, and to my forthcoming 25 Best Children's Literature of All Time.  I promise it really is on the way.
Many thanks to Sarah for ending my Van Dusen-less days!
And now a simple plea to Mr. Chris Van Dusen:
More please.
Pretty please.
I'm not above begging.

Share this post
You might like...
Category: Brilliant Authors
Tags: Brilliant Author Series, Chris Van Dusen |
10 Comments »
on March 27, 2010 9:00 am

Great, fun books!!

---

on March 27, 2010 9:46 am

Your minivan isn't made of polymer gel?! That's so 2009, Heidi.

THESE BOOKS ARE AWESOME!! Save yourself a trip, people, and buy 2 of each book to have on hand as gifts- I love watching the birthday boy or girl beg to stop opening presents long enough to read the book we gave them. These are true treasures that warm your heart, satisfy you visually and excite your imagination- just imagine how a child reacts.

Brilliant is the perfect heading for Chris Van Dusen's work because the illustrations and stories are just that: brilliant.

---

on March 27, 2010 9:58 am

These look great! I am definitely pick some up. I do love the illustrations. I would kill for some wall art that looked like that for my son's room.

---

Lisa

on March 27, 2010 10:39 am

These books looks great….already added them to Matthew's birthday list! Check out these other series of books that are a huge hit with Matthew….

Captain Flynn and the Pirate Dinosaurs by Giles Andreae. He's written 3 in the series (Missing Treasure, Magic Cutlass) that I have found and they're a lot of fun!!

---

Lisa

on March 27, 2010 10:58 am

Hi me again….I had to share one last series of books that are definite favorites around here. The Daniel San Souci series. The illustations are terrific, the storylines have great messages (teamwork, frienship and being creative) and the end of the books sets up the storyline for the next book.

The Dangerous Snake and Reptile Club
Space Station Mars
The Amazing Ghost Detectives
The Mighty Pigeon Club

I for one and eagerly awaiting his next book!! Happy Reading!!

---

Mama Nolte

on March 27, 2010 11:48 am

Ladies, don't forget to add any of these books or others to your WishLists on Amazon for the Grands
The Grans and Grandads need to know these things!
Kudos to Sarah and all other Moms with sharing good ideas!

---

Heidi Farmer

on March 27, 2010 12:06 pm

Thanks for these! Can't wait to check them out!

---

on March 27, 2010 1:07 pm

Whitney- you can have Van Dusen wall art! He sells prints on his website: http://www.chrisvandusen.com/prints

---

Heidi Farmer

on March 27, 2010 1:08 pm

Sarah – you beat me to it!

---

on March 28, 2010 9:46 pm

Wow, Sarah – Thanks so much! Can't wait!

---
Leave Us Some Comment-Love