June 23, 2010
The hydrangeas have ARRIVED!
I have 12 of these Everlasting Summer hydrangeas spread throughout the garden, and we are awash in blue.  I love the northeast coastal climate that allows these to flourish!
(Go ahead and remind me I said this in February.)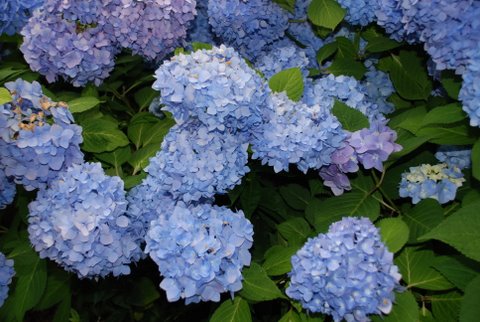 If you live in the area, please come and create a bouquet for yourself – there will be plenty left.
I have a little project in mind that involves drying these and displaying these in hurricanes.  I'll show you when I finally get there…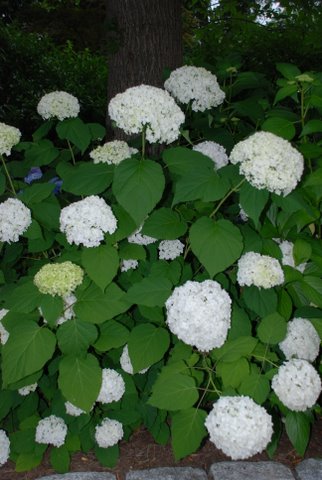 Annabelle Hydrangea – simple, classic and huge!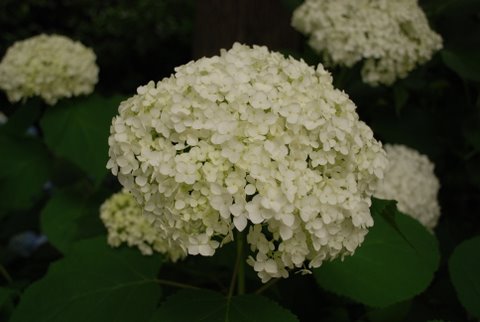 This bloom is a solid 12-inches across.  It reminds me of a wedding bouquet.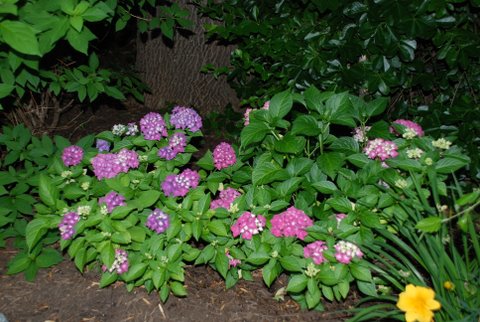 Pia hydrangeas are the dwarf variety…  Just a little dab of pink.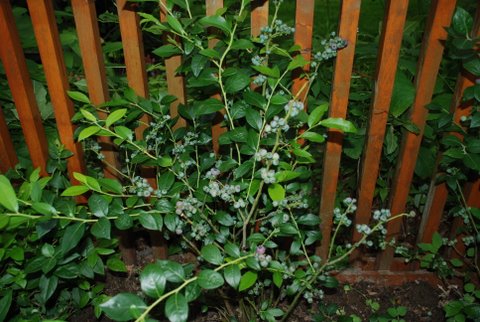 Blueberries!  Still about 2 weeks to go…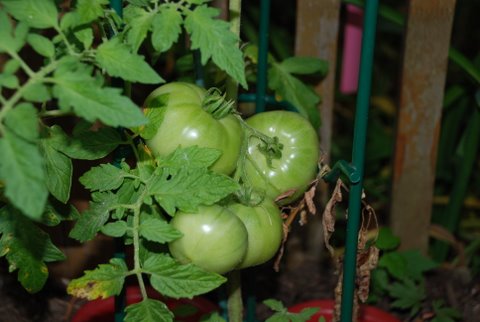 Tomatoes: hurry up please!!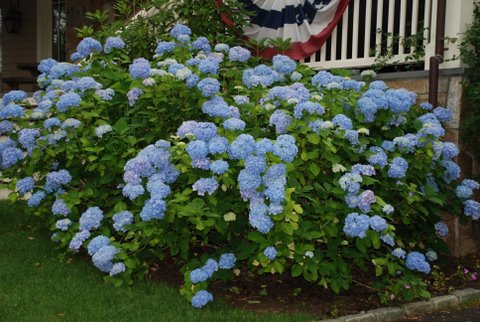 These were my Costco hydrangea plants I purchased 5 years ago (they were a Mother's Day present from my mom-in-law).  I'm happy to report they are now 6-7 feet high and across.  Oh how I adore them.  If we ever move, I'm taking them with me… I'll have to put them under "Exclusions" in the home info.
And do you remember this pruning disaster from last year??
Oh heavens that was terrible.
Well, I've replaced them with these rose trees (also from Costco, as a matter of fact) and we're all sighing with relief.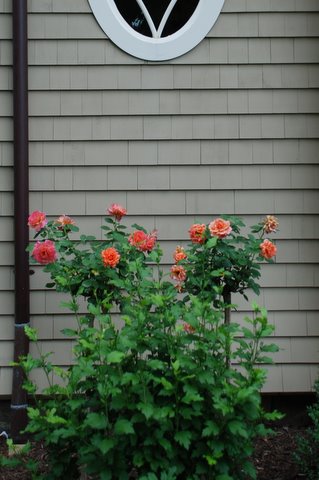 That's a gorgeous blue Rose of Sharon in front.  It was completely engulfed before.  I'm sure it's so much happier to see the sun.
And don't worry – my neighbors found good homes for the old trees so no plants were destroyed in the making of this post.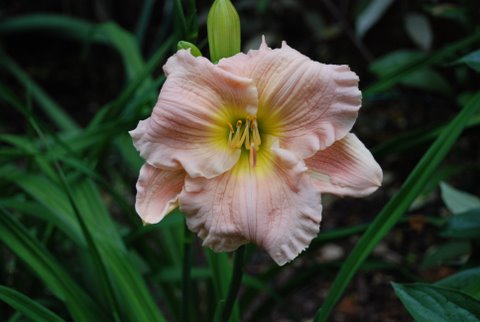 These are Barbara Mitchell daylilies I just planted last year.  They are rebloomers so I should enjoy these all summer long.
Delightful!
So what's happening in your garden?  Are you tweaking anything?  What's blooming?
I just love to hear what's going on in your gardens across the nation.

Share this post
You might like...
Category: Garden
Tags: blueberries, hydrangeas, pruning |
7 Comments »
on June 23, 2010 8:35 am

Gorgeous! I wish I could have a garden!

---

on June 23, 2010 10:51 am

Beautiful!. Hey @Marla: I think I can find a garden for you!

---

on June 23, 2010 11:06 am

Gorgeous! I'm jealous. I want both hydrangeas and blueberries too…maybe next year…

---

gillian s

on June 23, 2010 12:44 pm

patiently waiting for tomatoes,. onions and we've been getting strawberries little by little!!

---

Jennifer h

on June 23, 2010 1:23 pm

Those hydrangeas are gorgeous!! Lucky you! I am on cloud 9 for winning the tent. I can't wait to see hubby's face when it arrives. I've emailed you back, thank you so much!!!

---

on June 23, 2010 4:16 pm

I love hydrangeas. My endless summer hydrangea just started blooming. I am hoping that Big Daddy blooms this year. My lady in red is a gorgeous red right now. We've had too much rain for anything to really grow. My blueberries plants have berries, but they are really early, a few strawberries are ripe, and lettuce is ready. So cold and rainy in the Northwest lately, everything is behind.

---

Zak

on May 7, 2012 2:42 pm

Hello! I just came across this and your hydrangeas are gorgeous. I just bought some blue Costco hydrangeas this morning. Do you have any advise on how to plant them/ maintain them? How many of the blue ones do you have planted there? I would love to create the same look! Your garden is beautiful. I'd be extremely grateful for any info!

Thanks so much!!!
Zak

---
Leave Us Some Comment-Love