April 19, 2012
Last night I was having dinner with my dear friend Marykate, and we started talking about this post.  PLEASE, for the love of all that is good, do NOT miss the comments.  You will cry with laughter.
I drive past this several times a day as I'm out and about: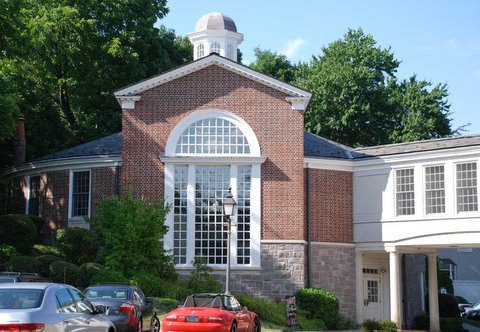 This is the children's wing of our local library.
Each time I admonish myself for not taking better advantage of this wonderful, educational, free resource.  Seriously, what excuse can I possibly have?
I asked Dear Reader Sarah F. (not to be confused with Sarah D. of geocaching fame) to share some ideas on her library routine with her twin 3-year-old adorables (ahem, they are 5 now…).
How do use your local library?
We LOVE libraries.  Our frequent use of the library serves many purposes, from filling open times during our week with an activity we all enjoy to reinforcing what I tell my boys every day, that if you learn to read, then you can teach yourself anything you wish!  Using the library frequently is good practice in manners (being quiet, waiting in line, saying please and thank you), sharing (returning books so other children can have their turn to bring them home), speaking to other adults in a polite manner that can be heard and understood (asking the librarian where the space books are, or the fire engine books, or that one about the otter that learns to swim…), group participation and following through with a commitment (summer reading program).  I believe there are teaching moments in the simplest parts of every day, and there are some places or activities that conveniently offer a plethora of lessons and good examples that directly give kids the practice they need at very important skills they'll use throughout their lives; libraries are one of those places.
What is your library routine?
When my kids were under 2, we went to the library on a weekly basis for "Books & Babies" story time and to check out board books.  Now, we visit the library several times each month.  In general, I will search the online catalog a few days before we go so the picture books I know I want are on the hold shelf waiting for me.  I look up favorites we've checked out before. books that relate to our lives right now (learning to swim, moving to a new house, riding a bike, flying on an airplane, etc….) and books that I've seen recommended in magazines or by friends.  The library is also a great place to explore more work by the author of a book your kids love.  That's how we fell in love with Chris Van Dusen!  Our library has a great summer reading program with activities and special performances throughout the summer months.  We have taken advantage of some of those but we don't do story time much right now.  We read so much at home that my boys are ready to explore when they hit the library, not sit still for a book.
Any tips for keeping your library books separate at home?
At home we have two shelves on our book shelf that are designated for library books (see below).  This helps us find library books quickly when it's time to return them and also helps the boys go right to a book they checked out recently.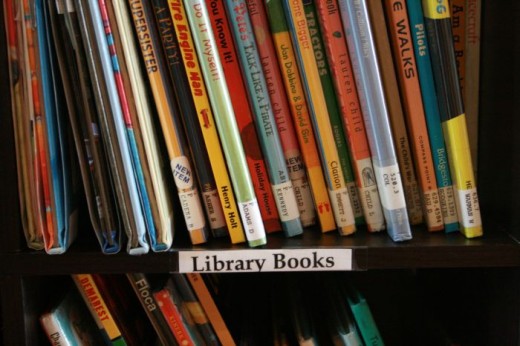 Visiting Libraries during travel…
We don't just visit our local library, we drive to Topeka and Kansas City libraries and we visit the library near my parents when we stay with them in Colorado.  My mom has visited her library before one of our visits and filled her house with 30 fun new books for the boys to read for the week that we're there.
What do you think your adorables are learning?
The Reading Rainbow and Super Why recommendations to "Look- in a book!" are a philosophy of learning in our house.  We purposefully point out to the boys when we read a manual, a cookbook, a publication about coffee (the family business)….so they see that it's not just a kid thing we're trying to instill, but a family practice and a way of living where acquiring knowledge is a life long endeavor.  At the very least, they will be prepared for reading, writing and research, which is 70% of success in school, I think.
Borrow, don't buy…
The children's section of a library is a good resource on "citizenship" issues like caring, honesty, hard work, conflict resolution, feelings, as well as books about the human body.  Both of these categories are books you might not want to buy for your home library, but they are perfect to share visuals and helpful words, phrases and stories when you are helping your kids work through these things and internalize values.  The repetition that books provides in simple terms can take the pressure off giving a lecture repeatedly and I have found it interesting how my boys will keep requesting a book like that until they have it down.  Re: the digestive system and our talk about how food travels through the body.  They were fascinated by seeing all those "pipes" inside their body and learning that those pipes pull out good things from the food they eat, that's why it's important to put good food in the pipes in the first place, etc…. books can be a fantastic springboard for other conversations.  Now they know why I want them to eat well!   We also talk about "just enough and not too much," a phrase from the title of one of our favorite library books that stresses moderation in life.  Another book, "Little by Little" is about learning new things one little step at a time.  I can just say those phrases and the boys immediately know what I'm talking about thanks to how the book illustrates and spells these concepts out for them.
____________________________________________________
Thanks Sarah for these incredible ideas!
After talking with Sarah, I'm making a commitment for more regular library visits – there will be no driving past.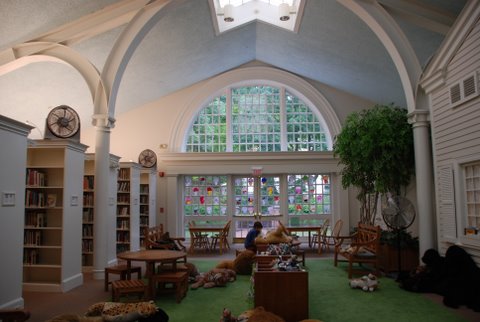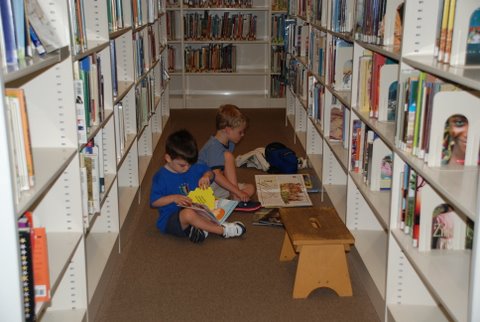 Need I say more?
I also learned that many libraries (perhaps all?) receive their funding based on circulation, which means the more you check out, the more money they get!  So we filled 3 bags with books and I have been amazed how my adorables remember which books they chose and how often they sit with our basket of library books at home.
So now I could kick myself for passing the library by before!!
What is your library routine?  Do you have any good tips to share?

Share this post
You might like...
Category: Activities
Tags: Kids and library, trip to the library |
19 Comments »
on July 22, 2010 8:19 am

I had hoped to have a library 'routine' for the summer. The school our children attend uses the public library as their 'school' library, and there are several branches along our usual routes. My son has his own card, and my daughter is now old enough for her own!
Our challenge – keeping the library books separate from our personal collection, along with getting them back to the library on time. I just found another overdue book this morning.
I appreciate Sarah F's suggestion about having a separate shelf – I'm keeping it in mind as we continue our whole-house "reorganize and purge" project.

---

on July 22, 2010 8:55 am

I love that picture of your boys on the floor of the library. It's like Christmas when they find a whole section on a subject they love! I'm curious what your story times are? We have a Thursday night story time and a Saturday am story time in addition to the weekday times so working parents are not excluded from participating.

I also wanted to mention that for any fellow germaphobes out there, the "new book shelf" or equivalent is fantastic- untouched books and scratch free movies with cases that haven't been previously sneezed on! A dream come true. Seriously, this section of the library is always pleasing because the books just in are good ones the librarians have ordered because they just have to have them, or books that fellow patrons love dearly and have recommended the library order.

---

Heidi Farmer

on July 22, 2010 9:40 am

RLR – I had the same problem – I reused a huge basket and so far the boys have been great about getting them back into the basket. I love the separate shelf though and I'm going to work toward that.

---

Heidi Farmer

on July 22, 2010 9:43 am

I love the "New Book Shelf" too – I'm such a nonfiction lover (and my librarians who do the ordering seem to be too). I'm often checking out my own children's books on Amelia Earhart or Eleanor Roosevelt or others. I'll never read a 400-page biography on them, but I can certainly learn a lot in 32 or 64 pages!

---

on July 22, 2010 10:10 am

What a great post! Wow! Sarah is really on top of things and so is her mother.

---

on July 22, 2010 4:58 pm

Great post! So true!

---

Mama Nolte

on July 22, 2010 5:05 pm

I am proud to day that I am Sarah's Mom!
Thank you for the kind words, Marla!
The library and reading have always been important to our family.
Sarah continues our tradition!

---

Mama Nolte

on July 22, 2010 6:53 pm

I mean proud to say! oops, I should proofread my comments!

---

Julie

on July 23, 2010 7:44 am

Great article Sarah!
I use to be a book snob and would buy my son's books so he could keep them and have his own library. WOW, lots of money spent and books that he didn't go back to. When we moved we donated a TON of books to his school library. They really liked that, but I learned my lesson.
We now use the library almost exclusively, (except for reference books that he will go back to). My son is 9yo, so he gets the Scholastic Book orders home from school. My tip, is to go through the order form and instead of ordering, go online to your local library and put them on reserve. Better than the bookstore. When I go to the library, I just go up to the check-out counter and they have the books right there – I don't even have to wander the library/"store" for the books.
Heidi we also use a basket to keep our library books in, so they don't get lost.
Everyone, cut yourself some slack too on overdue books. I figure if I'm overdue on a book or two, it still doesn't even come close to what I would spend on one book at the bookstore, so I'm still ahead and the overdue fine goes to support the library!
Our former library was GORGEOUS and had a ton of kids programs. Our new library doesn't have as much, so take advantage of what you have before it is gone.
I also enjoy reading my son's "juvenile" books. Authors are doing some great writing for this age group (thank you JK Rowling for making the market realize young readers). I get a good, quick book and priceless time discussing the characters, plot etc. with my son.
Also another tip is if there is a new release book in a high-demand series and he just can't wait for it, I don't feel so bad if we purchase it and then donate it to the library. I know there is a waiting list for it, so it helps out the library as well as other young readers.

"Medicine for the soul."
– Inscription over the door of the Library at Thebes

---

Laurie

on July 23, 2010 8:07 am

I love this post and the comments. We definitely need to get to the library more often. Thanks for the motivation. Maybe even today since it's rainy. Thank you!

---

Heidi Farmer

on July 23, 2010 9:07 am

Wow! Julie – these are amazing ideas – thanks for them!

---

Lauren

on July 23, 2010 9:59 am

Your library is amazing!!! My kids love the library, too. We keep their books in their rooms in the personalized library bags so that they don't get mixed up in the craziness at home. And as for overdue books, I consider the fines I pay my contribution to the library! Happy Reading everyone!

---

on July 23, 2010 1:12 pm

My girl and I go to the library every week. We don't do story time since its the same day we have playgroup. I wish my library looked as cool as the one posted. If it did, we'd probably go more than once a week.

---

Susie B.

on July 24, 2010 4:11 pm

Ringing in as an F.O.S. (Friend of Sarah) and a mom/librarian (mombrarian?), I'll second everything Sarah and others have said and add a few random thoughts and suggestions (Heidi, sorry this took so long!):

– When old enough and able, let your kids bring their own bags and carry their own books. My five year old brings a small rolling suitcase and fills it up and wheels it to the checkout desk on his own. My back/shoulders are forever grateful and it self-regulates the amount we check out.

– Libraries are a great way to reinforce critical thinking skills and teach kiddoes that everything is *not* on the Internet. Let them help you search the online catalog, give them a general outline of the Dewey Decimal system (i.e. tractor books are in the 500s, history books in the 900s), and have them go up to the desk and politely ask for help from the librarians when they need it. Also, when questions come up at home, in addition to (or instead of) jumping on the Internet, tell them that you'll look for a book about it at the library next time (and be sure to do so!)

– When you read aloud, try to remember to say the authors name along with the title, to teach the idea of authorship and help them figure out their favorites. While the concept of authorship is still a bit abstract for him, my two year old clearly shows a preference for certain authors/illustrators (especially Byron Barton) and can pick out his books over others. You never know, your kiddo might just add "author" to "tractordriverfarmerastronautrockstarhelicopterpilot" when asked what he wants to be when he grows up!

-If you get into a series (Curious George, Nate the Great, etc.) find a good printable list (librarians are happy to help!) and have your kiddo check off each title as you read them and take the list when you go to the library to find more — trust me, this will be a guaranteed hit!

– Now this one might be your cup of tea or not, just depends, but I want to throw it out there because I've been thinking & talking about it recently. Over the past few months, I've had occasion to question a lot of people whose hearts/minds/characters I really respect about their reading practices from childhood. Almost without fail, a common response was that their parents never limited/censored what they read — whether in subject or format or target age. If they wandered into the adult section as a sixth grader or they dragged over all 20 volumes of the World Book as a mere toddler, their parents never said "Don't Read That". Now, I don't know if there is a correlation, but all of them are now critical thinkers, high achievers, avid readers, and all around smart, competent, free-thinking citizens of this world. As I said, this may not be for you, but especially as your kiddoes get older, you'll want to consider your stance on this matter before it comes up.

-Finally, a word about Friends. Most libraries have a Friends of the Library (FOL) organization that you should join as a family. Why? It helps support the library (often FOL monies go to programming, special purchases, etc.), it may yield a great opportunity to volunteer as a family at a library event, its usually pretty darn cheap, AND often it gets you into some kind of an early, members-only preview night for the annual or semi annual booksale, where you can find lots of books, movies, cds, and more dirt cheap.

Happy Reading,
Susie B.

P.S. Since Sarah brought up the self-serve holds shelf at the Lawrence Public Library, let's ask her to share the story of her alias (all patron holds are on publicly accessible shelving, so we give folks the option to create an alias for privacy reasons), which she did *not* choose for privacy reasons. Sarah?

P.P.S If you've never perused "How to Get You Child to Love Reading by Esme Rajj Codell," then run, don't walk, to your local library and check it out! Incredibly awesome resource for "rabid and reluctant" readers full of thematic lists of books for all levels. This is my go-to gift for new parents.

P.P.P.S. The biggest pitfall of being a mombrarian? On your day off, you ask your kiddoes what they want to do that day and without fail, they'll yell "Let's Go To The Library!"

---

Heidi Farmer

on July 24, 2010 4:22 pm

This info is just invaluable – I can't thank you enough for weighing in!

---

on July 25, 2010 9:22 pm

I love how Heidi protects the innocent by using my last initial, Sarah F., and my friend throws me under the bus and demands I reveal my true identity. She just can't get enough of her flatulent friend…

So the first time I used the hold shelf system at the Lawrence Public library I, Sarah Farthing, approached the "F" shelf and what was the label on our books? FART

Thank you very much.

Is there not an exception if the first four letters of your last name spell something like fart?! What if it spelled an obscenity- would they help a sister out then and give me my 5th letter?

I finally reached the day when I could no longer approach the reserve shelf at the library and scan for FART. (Apparently the system cannot throw a girl an "H," even in semi-dire circumstances.) I told the person at the reference desk that I was ready for an alias and as I started to spell out "DUKE" for him he went on to explain that the aliases all have to start with Q and be followed by 7 letters. ?????????????? What year is their computer system from, 1971?!!! It was so specifically ridiculous. Honestly.

I told him I would think about it on the drive home and call back.

This is what I came up with: QTPATUTZ

Cutie Patooties!

Now don't you go stealing my library books on hold!!

---

on July 25, 2010 9:32 pm

I should mention that many, many wonderful childhood memories are waiting to be made at your local public library…for instance: http://farthingboys.blogspot.com/2009/06/and-then-it-happened.html

---

Heidi Farmer

on July 25, 2010 11:31 pm

Oh Sarah, I was just crying with laughter reading this! You need to take this bit on the road!!!

---

Marykate Wurster

on April 19, 2012 8:31 pm

Very funny – Heidi thanks for posting. Love libraries!

---
Leave Us Some Comment-Love