April 29, 2011
Happy Friday and Happy Mother's Day Week of Giveaways…
and Happy Royal Wedding Day.
and happy gorgeous, sunny day while I'm at it.
Today, a delectable treat to celebrate all the joy in the world today…
And not just any treat – Artisan Chocolate by Christophe…

Christophe Paume, owner of Christophe Artisan Chocolatier-Pâtissier, is the rarest breed of artisans, a third-generation French chocolatier, who grew up in his father's pâtissier in Toulouse, France. Alongside his father, he learned to create exquisite French pastry, the highest quality chocolates, succulent gelato, and every type of bread imaginable.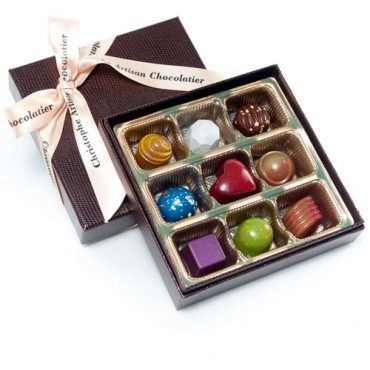 All of the chocolates are handmade by Christophe using the freshest ingredients, and all of their chocolates are preservative-free and gluten-free, giving everyone the chance to indulge in beauty. With distinctive flavors from star anise to caramel pecan and inspired chocolate gifts from edible eggs filled with bunnies to incredible table-scape center-pieces, their premium chocolates blend rich European tradition with master artisanship.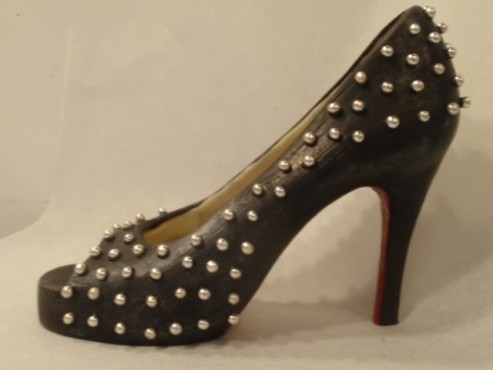 Isn't this chocolate shoe particularly fun?
Now I'm really hungry for a little (or big, actually) sweet treat!
And you lucky, lucky readers can win A LOT of chocolate…
Giveaway
You can win a $100 Shopping Spree from Christophe Chocolatier just by leaving a comment by Tuesday, May 3rd and I'll choose the winner using Random.org on Wednesday, the 4th.
Here's how to gain extra entries:
Do you subscribe by email or RSS to The Good Stuff Guide? I love my subscribers, so you get an extra entry. Wahoo!
Email 5 of your friends about The Good Stuff Guide and tell them what a rockin' website this is.  We'd love to have them join us!
Tweet about this Mother's Day Week of Giveaways (Just cut and paste): It's a whole week of #Giveaways for Mother's Day at The Good Stuff Guide @GoodStuffGuide http://su.pr/2TJPO2
Share the news of this giveaway on your Facebook status (Just cut and paste): It's a whole week of Giveaways for Mother's Day @The Good Stuff Guide http://www.thegoodstuffguide.com/moms-flip-2hr-minohd-giveaway/
Become a Facebook fan of The Good Stuff Guide and receive the latest news and your chance at additional giveaways.
Become a Facebook fan of Christophe Artisan Chocolates.
Follow Christophe on twitter.
(Feel free to do them all – that's a total of 8 entries friends!  Please leave them as separate entries.)
Good luck!
If you're just joining us, don't miss the Flip 2Hr MinoHD Giveaway
or the Teleflora Collection by Faith Hill Bouquet Giveaway
or the $100 Stella & Dot Shopping Spree Giveaway
or the Monogrammed Basket Handbag from Queen Bea Studios
And there are still 1 more day to go!

Share this post
You might like...
Category: Holidays
Tags: Christophe Gourmet Chocolates, Mother's Day Week of Giveaways |
195 Comments »
Cathy

on April 29, 2011 7:29 am

So many awesome giveaways – THANKS! I can't decide which one I'd like to win the most!! I'm kinda leaning towards these chocolates though…

---

Cathy

on April 29, 2011 7:29 am

I subscribe by RSS feed.

---

Julie R.

on April 29, 2011 7:33 am

Your giveaways are great Heidi. Wedding, chocolates and Friday – all go together so well. =)

---

Julie R.

on April 29, 2011 7:34 am

FB Fan

---

Julie R.

on April 29, 2011 7:34 am

Email subscriber

---

on April 29, 2011 8:24 am

Nice work this week!

---

on April 29, 2011 8:24 am

Also like you on FB.

---

on April 29, 2011 9:05 am

Mmmm…I love chocolate!

---

on April 29, 2011 9:19 am

WOW!

---

on April 29, 2011 9:20 am

I REALLY like you on FB!

---

on April 29, 2011 9:25 am

I just tweeted you!

---

on April 29, 2011 9:26 am

I put you on facebook! These chocolates look amazing!!!

---

on April 29, 2011 9:28 am

I'm following Christophe on Twitter!

---

Mama Nolte

on April 29, 2011 9:37 am

This is an excellent choice for Give Away. They look amazing and these treats can be shared

---

christine t

on April 29, 2011 9:45 am

yum

---

Lis

on April 29, 2011 10:10 am

That would make for a great day, no matter what day it is!

---

Lis

on April 29, 2011 10:11 am

fan of you on FB too

---

Linda

on April 29, 2011 10:49 am

How many Weight Watchers points do you think that shoe is? Please, I need chocolate!

---

Linda

on April 29, 2011 10:49 am

email subscriber

---

Linda

on April 29, 2011 10:50 am

I like you on facebook

---

on April 29, 2011 10:54 am

Oh girl you know I love chocolate! These look amazing!!!

---

Chris Newman

on April 29, 2011 11:29 am

Yum!

---

Chris Newman

on April 29, 2011 11:30 am

facebook subscriber!

---

Carrie Whittle

on April 29, 2011 11:32 am

That chocolate sounds delectable!

---

on April 29, 2011 11:35 am

If it involves chocolate– I'm all over it!!

---

on April 29, 2011 11:36 am

I like you on FB

---

Amanda Comen

on April 29, 2011 12:31 pm

I need chocolate!

---

Amanda Comen

on April 29, 2011 12:31 pm

I follow Christophe Artisan on twitter

---

Amanda Comen

on April 29, 2011 12:32 pm

I like Christophe Artisan on FB

---

Chelsea H

on April 29, 2011 12:41 pm

Who doesn't want chocolate? Gimme gimme gimme!!! =)

---

Chelsea H

on April 29, 2011 12:41 pm

I'm a FB fan…

---

Chelsea H

on April 29, 2011 12:42 pm

I'm an email subscriber (and I love it!) =)

---

Chelsea H

on April 29, 2011 12:43 pm

Tweeted it out (although I'm not sure I want everyone to know about this one!)

---

Chelsea H

on April 29, 2011 12:45 pm

Updated my FB status =)

---

Jamie N

on April 29, 2011 1:01 pm

ooh these look super yummy!

---

Jamie N.

on April 29, 2011 1:04 pm

Im a facebook friend!

---

Jamie N.

on April 29, 2011 1:05 pm

Email subscriber!

---

Jamie N.

on April 29, 2011 1:05 pm

I emailed five people (and told another one by mouth!)

---

monkygm

on April 29, 2011 1:07 pm

YUM!!!!!!!!!!!!!!

---

monkygm

on April 29, 2011 1:07 pm

Email subscriber

---

monkygm

on April 29, 2011 1:08 pm

Facebook fan

---

monkygm

on April 29, 2011 1:09 pm

Shared on facebook!

---

monkygm

on April 29, 2011 1:10 pm

Emailed my friends!

---

Kelly R.

on April 29, 2011 1:30 pm

Um, those look fabulous – yum!

---

Kelly R.

on April 29, 2011 1:30 pm

And I like the GSG on FB, too!

---

Jessica Crump

on April 29, 2011 1:32 pm

FB fan

---

Jessica Crump

on April 29, 2011 1:33 pm

I am an email subscriber. I love chocolate

---

Jessica Crump

on April 29, 2011 1:33 pm

I am emailing 5 people

---

Kim B.

on April 29, 2011 1:33 pm

The chocolates look too pretty to eat, almost.

---

Jessica Crump

on April 29, 2011 1:33 pm

I will share on twitter

---

Kim B.

on April 29, 2011 1:33 pm

I follow you on fb.

---

Jessica Crump

on April 29, 2011 1:34 pm

I will post to facebook too.

---

Lesli C

on April 29, 2011 2:09 pm

Oh wow! These look incredible!!

---

Lesli C

on April 29, 2011 2:09 pm

I'm an email subscriber

---

Lesli C

on April 29, 2011 2:10 pm

I emailed five friends about this weeks mothers day giveaways!

---

Lesli C

on April 29, 2011 2:11 pm

I tweeted about the great giveaways this week

---

Lesli C

on April 29, 2011 2:11 pm

I like you on FB

---

on April 29, 2011 2:21 pm

Chocolate! Wow, what a fun and yummy giveaway.

---

Kareem

on April 29, 2011 3:01 pm

Yum-o!! Chocolate! Loving this week's giveaways.

---

Valerie S

on April 29, 2011 3:32 pm

That shoe is incredible!!

---

Valerie S

on April 29, 2011 3:33 pm

RSS subscriber

---

Valerie S

on April 29, 2011 3:33 pm

facebook fan of yours

---

Ronda

on April 29, 2011 3:43 pm

Beautiful chocolates!

---

Ronda

on April 29, 2011 3:44 pm

Fan on Facebook

---

katie

on April 29, 2011 3:46 pm

yum!

---

Lauren

on April 29, 2011 3:49 pm

wow, this is making me drool!!

---

Lauren

on April 29, 2011 3:49 pm

i liked you on facebook

---

Katrina Brady

on April 29, 2011 5:53 pm

Oh my gosh! Just looking makes my mouth water

---

Katrina Brady

on April 29, 2011 5:54 pm

http://twitter.com/#!/sweetmamabrady/status/64084980564901888

tweeted

---

Christine

on April 29, 2011 10:42 pm

These look so delicious!

---

Christine

on April 29, 2011 10:43 pm

I'm an email subscriber.

---

Jane

on April 29, 2011 11:19 pm

I'd love to win chocolate, thanks!

---

Jane

on April 29, 2011 11:19 pm

I subscribe via RSS feed.

---

Jane

on April 29, 2011 11:20 pm

I am a Facebook fan of Christophe Artisan Chocolates (Jane Eileen).

---

Vivian A.

on April 30, 2011 3:06 am

Yummmmmmm!

---

Vivian A.

on April 30, 2011 3:06 am

Email subscriber!

---

Vivian A.

on April 30, 2011 3:07 am

Facebook loved!

---

Vivian A.

on April 30, 2011 3:07 am

Emailed friends!

---

Vivian A.

on April 30, 2011 3:08 am

Status posted!

---

Elisa

on April 30, 2011 11:58 am

Yum!

---

Elisa

on April 30, 2011 11:58 am

Your facebook fan

---

Elisa

on April 30, 2011 11:59 am

Christophe's facebook fan

---

Elisa

on April 30, 2011 11:59 am

Emai subscriber

---

Elisa

on April 30, 2011 11:59 am

Follow you on twitter

---

Elisa

on April 30, 2011 12:00 pm

Tweeted!

---

Elisa

on April 30, 2011 12:01 pm

Shared on FB

---

Kaijsa

on April 30, 2011 12:15 pm

Yipee!

---

Kaijsa

on April 30, 2011 12:16 pm

I am an email subscriber!!

---

Kaijsa

on April 30, 2011 12:17 pm

Just tweeted!

---

Kaijsa

on April 30, 2011 12:18 pm

I'm following Christophe on Twitter!

---

Kaijsa

on April 30, 2011 12:19 pm

I'm a fan of his on facebook!

---

Kaijsa

on April 30, 2011 12:20 pm

I'm a fan of yours on facebook!

---

Kaijsa

on April 30, 2011 12:21 pm

I shared the news of the giveaway on facebook!

---

gillette

on April 30, 2011 12:34 pm

Yum…..!

---

gillette

on April 30, 2011 12:34 pm

I am a subscriber

---

Hyang A.

on April 30, 2011 5:20 pm

All look DELISH!

---

Hyang A.

on April 30, 2011 5:21 pm

Email subscriber!

---

Hyang A.

on April 30, 2011 5:22 pm

Facebook liked!

---

Hyang A.

on April 30, 2011 5:30 pm

Status posted!

---

Hyang A.

on April 30, 2011 5:35 pm

Emailed friends!

---

Melissa S

on April 30, 2011 6:30 pm

The chocolate heel shoes would be awesome to own!

---

Melissa S

on April 30, 2011 6:31 pm

I subscribe to the Good Stuff's emails!

---

Melissa S

on April 30, 2011 6:38 pm

I am a Facebook Fan of The Good Stuff Guide!!

---

Melissa S

on April 30, 2011 6:39 pm

I am now a Facebook fan of Christophe Artisan Chocolatier! I LOVE chocolate!!

---

Jamie N

on April 30, 2011 6:57 pm

I put this as my facebook status!

---

Jamie N

on April 30, 2011 6:57 pm

tweeted!

---

Jamie N

on April 30, 2011 6:58 pm

Im a fan of Christophe Artisan Chocolates!

---

judy

on April 30, 2011 9:05 pm

Looks too good to pass up

---

judy

on April 30, 2011 9:06 pm

yummy sounding

---

judy

on April 30, 2011 9:06 pm

My girls would love something like this for Mother's Day.

---

on May 1, 2011 1:14 am

Chocolate, thank God for the Aztecs!

---

Guillermo L.

on May 1, 2011 2:44 am

These sound great for father's day as well!

---

Guillermo L.

on May 1, 2011 2:45 am

Email subscriber.

---

Guillermo L.

on May 1, 2011 2:45 am

Facebook liked.

---

Guillermo L.

on May 1, 2011 2:46 am

Emailed friends.

---

on May 1, 2011 2:53 am

OMG…beautiful chocolates!!
bleatham*at*gmail.com

---

on May 1, 2011 2:53 am

email subscriber
bleatham*at*gmail.com

---

on May 1, 2011 2:54 am

tweet
http://twitter.com/#!/sleatham1/status/64575771389341696
bleatham*at*gmail.com

---

on May 1, 2011 2:55 am

I Became a Facebook fan of Christophe Artisan Chocolates.(Shelly L)
bleatham*at*gmail.com

---

on May 1, 2011 2:56 am

I Follow Christophe on twitter as sleatham1
bleatham*at*gmail.com

---

on May 1, 2011 2:57 am

TGSG Facebook fan (Shelly L)
bleatham*at*gmail.com

---

on May 1, 2011 2:57 am

shared on FB
http://www.facebook.com/#!/sleatham1/posts/127924783950255
bleatham*at*gmail.com

---

Mimi

on May 1, 2011 8:46 am

Is there anything better than chocolate ?

---

Mimi

on May 1, 2011 8:47 am

I'd be happy to share with family & friends.

---

Jenny Hout

on May 1, 2011 9:33 am

Yummy!!!!!!!!!!!!!!!!!!!!!!!!!!!!!!!!!!!!!!!!!!!!!!!!!!!!!!!!!!!!!!!!!!!!!!!!!!!!!!!!!!!!!!!!!!!!!!!!!!!!!!!!!!!!!!!!!!!!!!!!!!!!!!!!!!!!!!!!!!!!!!!!!!!!!!!!!!!!!!!!!!!!!!!!!!!!!!!!!!!!!!!!!!!!!!!!!!!!!!!!!!!!!!!!!!!!!!!!!!!!!!!!!!!!!!!!!!!!!!!!!!!!!!!!!!!!!!!!!!!!!!!!!!!!!!!!!!!!!!!!!!!!!!!!!!!!!!!!!!!!!!!!!!!!!!!!!!!!!!!!!!!!!!!!!!!!!!!!!!!!!!!!!!!!!!!!!!!!!!!!!!!!!!!!!!!!!!!!!!!!!!!!!!!!!!!!!!!!!!!!!!!!!!!!!!!!!!!!!!!!!!!!!!!!!!!!!!!!!!!!!!!!!!!!!!!!!!!!!!!!!!!!!!!!!!!!!!!!!!!!!!!!!!!!!!!!!!!!!!!!!!!!!!!!!!!!!!!!!!!!!!!!!!

---

Michele S.

on May 1, 2011 12:52 pm

Chocolate should be its own food group!

---

Michele S.

on May 1, 2011 12:52 pm

Email subscriber!

---

Michele S.

on May 1, 2011 12:53 pm

FB fan!

---

Melissa S

on May 1, 2011 2:22 pm

I shared this giveaway on Facebook!!

By the way, the link that you have to post on Facebook is for a different giveaway. Just to let you know!

---

Fatima Y. Al Hammadi

on May 1, 2011 4:20 pm

Yummy..
I subscribe by E-mail…

---

on May 1, 2011 7:31 pm

Oh my goodness. Chocolate is my favorite and this looks AMAZING!

---

on May 1, 2011 7:32 pm

I am an email subscriber to the Good Stuff Guide.

---

on May 1, 2011 7:32 pm

I emailed five friends about the giveaways.

---

on May 1, 2011 7:32 pm

I made the giveaways my FB status.

---

on May 1, 2011 7:32 pm

I like the GSG on Facebook.

---

on May 1, 2011 7:33 pm

I like Christophe Gourmet Chocolates on FB.

---

on May 1, 2011 8:11 pm

What a perfect Mother's Day gift this would be!

---

on May 1, 2011 8:12 pm

I am an email subscriber.

---

on May 1, 2011 8:12 pm

I emailed five friends about the giveaways.

---

on May 1, 2011 8:12 pm

I made these giveaways my FB status.

---

on May 1, 2011 8:12 pm

I like you on FB.

---

on May 1, 2011 8:13 pm

I now like Christophe Chocolatier on fb too.

---

Christina

on May 1, 2011 8:39 pm

These chocolates look incredible. I'd love to try them.

---

nan

on May 1, 2011 8:56 pm

yummy
nannypanpan at gmail.com

---

nan

on May 1, 2011 8:56 pm

e-mail
nannypanpan at gmail.com

---

Laura

on May 1, 2011 9:27 pm

Amazing, thanks!

---

Laura

on May 1, 2011 9:28 pm

http://twitter.com/LAURAWI18/status/64863676804505601

---

Laura

on May 1, 2011 9:28 pm

Became a Facebook fan of The Good Stuff Guide

L P Wirth

---

Laura

on May 1, 2011 9:28 pm

Became a Facebook fan of Christophe Artisan Chocolates.

---

Laura

on May 1, 2011 9:29 pm

Follow Christophe on twitter.

LAURAWI18

---

on May 1, 2011 9:46 pm

Yummy! I would love to win!

---

on May 1, 2011 9:46 pm

like you on facebook

---

on May 1, 2011 9:47 pm

subscribe in google reader

---

on May 1, 2011 9:47 pm

like Christophe on facebook

---

on May 1, 2011 9:47 pm

follow Christophe on twitter @huffychic

---

Donna B.

on May 2, 2011 8:15 am

LOVE the shoe! (for obvious reasons LOL) These look delicious.

---

Donna B.

on May 2, 2011 8:15 am

I'm already subscribed to the mailing list of The Good Stuff Guide

---

Donna B.

on May 2, 2011 8:16 am

I emailed 5 friends (and cc'd you)

---

Donna B.

on May 2, 2011 8:16 am

I follow you on Twitter http://twitter.com/simplydab/status/65025462459564032

---

Donna B.

on May 2, 2011 8:16 am

I like you on Facebook http://www.facebook.com/simplydab/posts/201012069937917

---

Donna B.

on May 2, 2011 8:17 am

I'm a Facebook fan of The Good Stuff Guide

---

Donna B.

on May 2, 2011 8:17 am

I'm a Facebook fan of Christophe Artisan Chocolates.

---

Donna B.

on May 2, 2011 8:18 am

I follow Christophe on Twitter.

---

Belinda

on May 2, 2011 8:31 am

Looks so yummy!

mikebelindaconnor at hotmail dot com

---

Belinda

on May 2, 2011 8:31 am

tweeted
http://twitter.com/#!/mommato5boys/status/65028710780252160

mikebelindaconnor at hotmail dot com

---

Belinda

on May 2, 2011 8:32 am

I follow you on FB
Belinda B
mikebelindaconnor at hotmail dot com

---

on May 2, 2011 11:35 am

oh my! what a great prize! my mouth is watering looking at the website

---

on May 2, 2011 11:36 am

Following Christophe on twitter – 2kidsblogger

---

on May 2, 2011 11:37 am

subscribed via email: 2kidsblogger (at) gmail (dot)com

---

on May 2, 2011 11:37 am

http://twitter.com/2kidsblogger/status/65069627817996288

---

on May 2, 2011 11:38 am

a Facebook fan of Christophe Artisan Chocolates – 2kidsblogger

---

on May 2, 2011 11:39 am

Following your blog via facebook – user name: 2kidsblogger

---

on May 2, 2011 11:40 am

http://www.facebook.com/2kidsblogger/posts/169715166420578

---

Heather C

on May 2, 2011 1:17 pm

Whoa.. I should have looked at that site AFTER lunch. I am sure that the chocolate tastes great, but it really gets a bunch of extra points for looking so beautiful! Thanks for the great giveaway!.

---

Heather C

on May 2, 2011 1:17 pm

I tweeted:
http://twitter.com/#!/Hyzennthlay/status/65102636306804736

---

Heather C

on May 2, 2011 1:18 pm

I follow Christophe on twitter (@hyzennthlay)

---

Heather C

on May 2, 2011 1:18 pm

I subscribe to you VIA RSS

---

Jackie J.

on May 2, 2011 2:32 pm

These are amazing!

---

Jackie J.

on May 2, 2011 2:33 pm

I look forward to your email to see what fabulous products are out there. Great job!

---

Colleen Gallagher

on May 2, 2011 4:14 pm

great looking candy!

---

gillian s

on May 2, 2011 5:44 pm

yum!!

---

gillian s

on May 2, 2011 5:46 pm

subscriber

---

gillian s

on May 2, 2011 5:46 pm

I like you on FB!

---

on May 3, 2011 11:24 am

Oh, have I wanted to try this chocolate!

---

on May 3, 2011 11:25 am

I'm a subscriber!

---

on May 3, 2011 11:25 am

I'm a FB fan of GSG!

---

on May 3, 2011 11:26 am

I'm a FB fan of CAC!

---

on May 3, 2011 11:26 am

I'm following Christophe!

---

Katie

on May 3, 2011 2:46 pm

That chocolate shoe is so creative!

---

Katie

on May 3, 2011 2:48 pm

I shared the giveaway as my Facebook status.

---

Jerry

on May 3, 2011 2:48 pm

Oh yummy!

---

Katie

on May 3, 2011 2:49 pm

I became a fan of the GSG on FB, too.

---

Katie

on May 3, 2011 2:49 pm

Lastly, I became a fan of CAC on FB.

---

Jacquie

on May 3, 2011 10:28 pm

Chocolate is my weakness.

---

Jacquie

on May 3, 2011 10:28 pm

i am a subscriber

---
Leave Us Some Comment-Love