May 31, 2010
Happy Memorial Day Monday to you.  A heartfelt thanks to all the men and women who gave their lives to ensure our freedom.
Sorry to totally switch gears on you, but we have some good news for you.
Today, you can win this: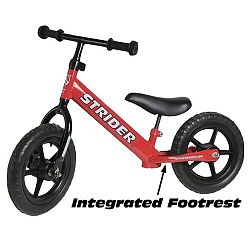 I know, super cool, right??
I hope you caught the post about teaching your adorables to ride a 2-wheel bike.  These pedal-less bikes are perfect for teaching the concept of balance to your adorables.  When you switch to a bike with pedals, you can skip the training wheel phase.
Here's the PREbike in action at our house:
My goal is to get my elder adorable proficient with this and then move it down in a few weeks to the younger adorable.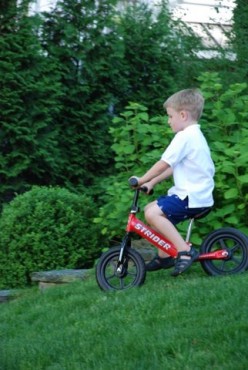 Elder adorable really wanted the cushion of the grass while he gave this bike his first whirl.  Helmet would have been a good idea still – oops.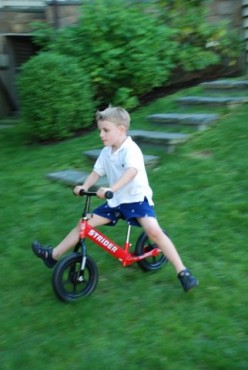 Balanced!
You can win the Strider PREbike just by leaving a comment by Friday, June 4th and I'll choose the winner using Random.org on Saturday, the 5th.  You can even pick your color.
Here's how to gain extra entries:
Do you subscribe by email or RSS to The Good Stuff Guide? I love my subscribers, so you get an extra entry. Wahoo!
Email 5 of your friends about The Good Stuff Guide and tell them what a rockin' website this is.  We'd love to have them join us!
Become a Facebook fan of The Good Stuff Guide and receive the latest news and your chance at additional giveaways.
(Feel free to do them all – that's a total of 4 entries!)
Good luck!
Special thanks to Strider for this awesome giveaway and for providing a bike for my adorables to try.

Share this post
You might like...
Category: Gear
Tags: Monday giveaway, Strider PreBike |
63 Comments »
on June 2, 2010 11:14 pm

I would love to win this for my daughter!

---

on June 2, 2010 11:15 pm

Oh yeah, I'm a FB fan, too.

---

on June 3, 2010 6:43 pm

My nephew would wear this bike out! He is super athletic and is not even 2 yet!

---

Tom

on June 3, 2010 7:39 pm

I would for my son to have a bike like this. He is soo ready to ride like the wind.

---

Cari King

on June 4, 2010 6:45 am

I so badly want one of these bikes for my son!

---

Cari King

on June 4, 2010 6:45 am

I subscribe via email

---

Cari King

on June 4, 2010 6:45 am

I'm a facebook fan of The Good Stuff

---

Cari King

on June 4, 2010 6:46 am

I emailed five family/friends and told them what a rockin' website you have.

---

Cari King

on June 4, 2010 6:46 am

I subscribe to RSS

---

kari

on June 4, 2010 11:20 am

Lovely! Thanks for the chance.

---

kay

on June 4, 2010 11:20 am

My little guy would love this. Thank you!

---

Cheri Early

on June 4, 2010 7:20 pm

My grandson would love this.

---

Kevin

on June 4, 2010 7:20 pm

My wife has been wanting one of these for our son. Thanks for the giveaway!

---
Leave Us Some Comment-Love