May 8, 2012
written by: Cathy Baker, mom of two amazing girls, from Missouri
With summertime quickly approaching, we are kicking off a 'series' called Summertime Kids! Watch for ideas in the upcoming weeks to inspire your kids this summer…in Reading, Math, Being Healthy, Having Fun, and Traveling! Perhaps these ideas are just what you need to structure your summer, sneak in some learning, and have a whole lot of fun! Up first, reading!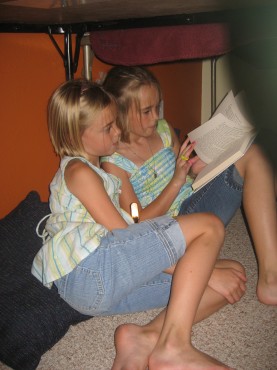 (my girls in their 'reading fort', Summer 2010)
Summer Reading Programs at your local library. They provide incentives (ie, PRIZES!) for kids to read. (They often have an adult reading programs too!)   I highly recommend checking out your local library to see what they offer, as we've lived in three different towns and each library had their own reading program.
After a visit to our library (and sometimes a Sonic Drink Stop) we come home and spread out blankets under the shade trees in our backyard (or you could go to a park if you don't have shade trees!), and we simply lay around for an hour or more while we read through our latest library finds!
Pay Per Page – Last year, in order to encourage my kids to read chapter books – I offered to pay them for reading.  I paid 3 cents a page, and we kept track on a chart of what they had read and I paid out the money the day before we left for our summer vacation, so they had spending money! It worked really well and I will most likely do this again!
Summer Book Club – I am still 'organizing' this idea – but my plan is to start a summer reading book club for my girls (currently ages 9 & 10). My idea is to pick 3-4 books for them to read over the summer – and then invite several of their friends to read the same books. Then, every 2-3 weeks we have a little get-together to discuss the book, have a snack, maybe do a craft.  I think they will enjoy seeing their 'school' friends throughout the summer…and this should be a fun way encourage reading, for them & their friends!
My girls have definitely outgrown 'naps' but everyday after lunch, I still 'require' them to spend 45 minutes in a quiet spot (ie, hammock, playhouse, couch, their bed, my bed , homemade fort, – anywhere really) where they can snuggle up with a good book.
Library Tour. Last summer I met an acquaintance at the pool and she was 'touring' the libraries in nearby towns with her kids over the summer. Seeing what they had to offer, reading books while at the library. You couldn't check out books, but I still think it would be a fun way to spend an afternoon reading! Also, if you missed Sarah's article about getting the most out of your local library, check it out here!
So how about you? I'm always looking for ways to encourage my kids love of reading over the summer, so I'd love to hear your ideas for inspiring the love of reading in your kid's hearts!

Share this post
You might like...
Category: Books, For Kids
Tags: Reading, Summertime Kids |
2 Comments »
Heidi Farmer

on May 9, 2012 9:17 am

I love, love, love these ideas!! I'm going to start with the after-lunch curl-up-with-a-book. I also love the idea of taking library books to the park and spending time reading.

---

on May 13, 2012 7:11 pm

I've been sending my daughter to reading camps since she was 3 and she now reads on a 10 grade level in 6th grade

---
Leave Us Some Comment-Love