June 12, 2012
written by Cathy Baker, mom of two amazing girls, from Missouri
We've come to final week of our summertime kids series! I hope you've been inspired during the past five weeks by one or more of the ideas! Last week was all about summertime fun, and this week is about fun too…traveling fun!
With all our family being more than 600 miles away, we make lots of car trips to keep in touch during the summertime! Here are some of the things we've done to add fun to our miles. As you can see from this photo, it really is possible for kids to still be this happy at the end of 2,733 miles…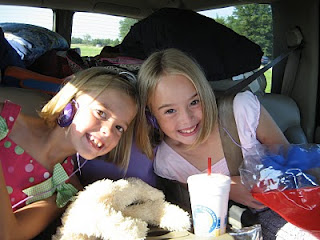 Road Trip Bucket List – I just came across this fun idea over at The Happy Family Movement! I think it's such a cute idea, I've already made up a Travel Bucket List for our family, even though our next road trip is still six weeks away! So here's our 'Bucket List' for our next road trip…
* Play tag at a rest stop  * Buy slushies  * Stop at an advertised billboard to see a tourist attraction * Sing along to the radio (loudly!)  *  Do something kind for a stranger  *   Chinese Firedrill  * Everyone goes down a slide at the same time  * Take a picture of the girls next to a statue  * Find a geocache (app on your phone makes it easy to find wherever you are!) * Memorize the state capitols of every state we drive through  * Have a bubblegum blowing contest to see who can blow the biggest bubble
Presents – These have been a life saver over the years!  I found the easiest thing is to buy a present for each state we will be traveling through – then every time we cross the state line, they get to open a new present! If you just have a long trip in 1 or 2 states, you can always have them open a present every hour.  Some of the things I've wrapped in the past include –
* stickers * new coloring book/colored pencils * puzzle * travel game * pipe cleaners (do you know how fun it is to make things with pipe cleaners!?! Our family picks one thing – like 'a flower' and everyone makes their own version.) * special candy or snack * playdoh * new movie (if you have a DVD) * new book * flashcards *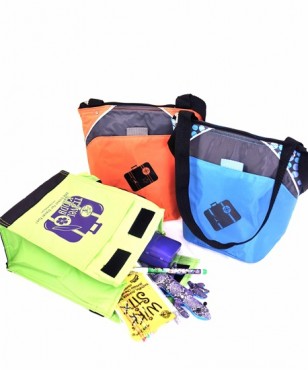 Travel Kiddy – Last year, before I began writing for the Good Stuff Guide, lucky me won one of these awesome Travel Kiddys! And let me tell you, it's become a part of every trip since!!  These bags are packed full of hours (and hours) worth of fun!!!   Travel Kiddy saves you all the trouble of finding activities for the road trip – they do all the hard work of packing activities and putting them into a fun bag  so your little one has a place to stash all their goodies!!  How convenient is that?! And guess what?!  Travel Kiddy has a special coupon code for all Good Stuff Guide readers!!  From now until the end of June, use code GSG10 for 10% off all your orders. They also have FREE standard shipping on all orders over $100!
Rest Stop Fun – Don't forget to have a little fun at rest stops – play tag – bring a ball or frisbee – a jumprope – find a geocache, stretch, play and laugh! Travel Kiddy also has a fun Made int he Shade bag for this exact purpose!
Silly Song – I actually got this off a really old cartoon we had rented from the library when my kids were little, "Jay, Jay the Jet Plane."  I sing it, but you could actually just say it, but anytime my kids ask "How much further?" or "Are we there yet?" They can guarantee that I'll start singing "We'll get there when we get there, and have a great time when we do! but half the fun of gettin' where we're going, is going there with you!"
So this summer, I hope you enjoy the journey to your destination, just as much as the destination itself!

Share this post
You might like...
Category: Family Trippin', For Kids, Travel
Tags: Summertime Kids, Travel |
No Comments »
No comments yet.
Leave Us Some Comment-Love