June 13, 2011
'Tis here, 'tis here!!
Welcome to Day 1 of the Father's Day Week of Giveaways – that happy week when we celebrate the daddios in our lives with amazing giveaways one after the other.
And today's will surely get you revved for the week:
Meet the SodaStream Fizz: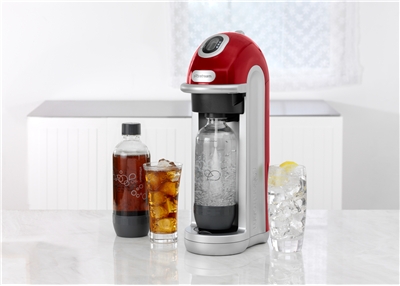 A home fountain soda machine that will rock your world.
*It sure does rock mine!
I've had mine SodaStream for about 1.5 years (mine is an older version not nearly as cool as this, but it's still LOVE!), and since then I haven't bought a single can or 2-liter of soda.
Look at all these gorgeous colors the Fizz comes in: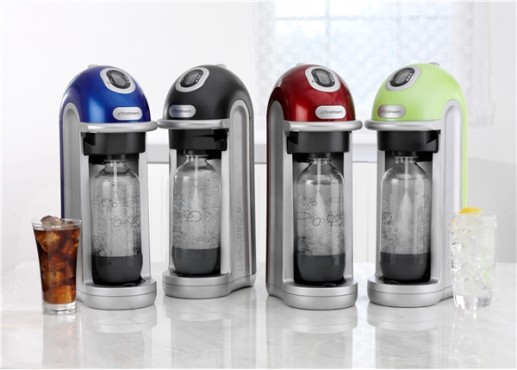 I'm an avid Caffiene-free Diet Cola drinker, so every day for 1.5 years I take 90 seconds (I timed it) to make myself a fresh liter to get my fix.
The new Fizz machine has a special gauge that alerts you when your CO2 canister is about to expire: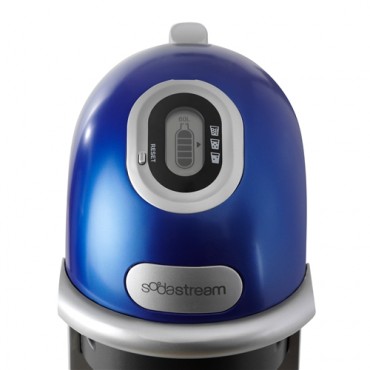 And you can win all of this…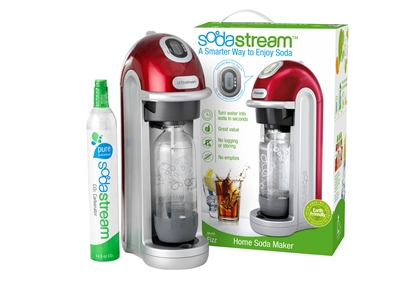 Your SodaStream Fizz comes with the Fizz machine, 1 carbonating bottle, 1 60L of Co2, and 2 flavors of the your choice.
You're going to love it!
Oops, I mean the Daddio in your life will love it.  Of course, of course this is all for the Daddios….  Silly me for the slip.
Giveaway
You can win a SodaStream Fizz set just by leaving a comment by Tuesday, June 21st and I'll choose the winners using Random.org on Wednesday, the 22nd.
Here's how to gain extra entries (please leave them as separate entries to get counted!):
Do you subscribe by email or RSS to The Good Stuff Guide? I love my subscribers, so you get an extra entry. Wahoo!
Email 5 of your friends about The Good Stuff Guide and tell them what a rockin' website this is.  We'd love to have them join us!
Tweet about this Father's Day Week of Giveaways (Just cut and paste): It's a whole week of Rockin' #Giveaways for Father's Day at The Good Stuff Guide @GoodStuffGuide http://su.pr/2TJPO2
Share the news of this giveaway on your Facebook status (Just cut and paste): It's a whole week of Giveaways for Father's Day @The Good Stuff Guide http://su.pr/2TJPO2
"Like" The Good Stuff Guide on Facebook and receive the latest news. (I LIKE you too!)
(Feel free to do them all – that's a total of 6 entries friends!  Please leave them as separate entries.)
Good luck!
P.S. I've thought of a way you can *test* SodaStream before buying the set to make sure you will love it.  Visit any of the following stores that carry SodaStream:

You can purchase 1 Sodamix for $4.99 in your choice of flavors and buy 1 liter of seltzer water at your grocery store.  Follow the directions to mix your soda and give it a try!  1 Sodamix bottle will make the equivalent of 33 cans – so you'll get more than just the 1 liter to try it.  Let me know what you think!!
Remember to check back every day this week for outstanding giveaways – there's so much more to come!
Share this post
You might like...
Category: Brilliant, Kitchen Gadgets
144 Comments »
Ferdinand Angeles

on June 17, 2011 2:46 am

A long time email subscriber

---

Ferdinand Angeles

on June 17, 2011 2:47 am

posted on tweeter : http://twitter.com/ferdinand_dti/status/81613522563371008

---

Ferdinand Angeles

on June 17, 2011 2:47 am

shared the good news on FB : http://www.facebook.com/permalink.php?story_fbid=182205255167245&id=100000148102005

---

Ferdinand Angeles

on June 17, 2011 2:48 am

"liked" you very much on facebook

---

Danielle K

on June 17, 2011 12:04 pm

I like you on FB!

---

Fatima Y. Al Hammadi

on June 17, 2011 4:29 pm

It is really nice …

---

Fatima Y. Al Hammadi

on June 17, 2011 4:31 pm

I'm an e-mail subscriber

---

on June 17, 2011 5:48 pm

My husband would love this!

---

on June 17, 2011 5:49 pm

RSS subscriber

---

on June 17, 2011 5:49 pm

I like gsg on FB

---

Angela Braden

on June 17, 2011 6:53 pm

I liked you on FaceBook

---

Angela Braden

on June 17, 2011 6:53 pm

I posted the giveaway link to my FB status

---

Angela Braden

on June 17, 2011 6:54 pm

I would love to win this to save me money on soda pop, and ween me off of my addition to coca-cola and the mycoke rewards!!! LOL

---

donna zittel

on June 17, 2011 8:59 pm

this looks so cool. my husband would love it!

---

on June 18, 2011 2:39 am

my hubby would love it!! Thanks for the chance!
bleatham*at*gmail.com

---

on June 18, 2011 2:41 am

I subscribe by email
bleatham*at*gmail.com

---

on June 18, 2011 2:44 am

facebook follower too Shelly L
bleatham*at*gmail.com

---

on June 18, 2011 2:45 am

shared on facebook
http://www.facebook.com/#!/sleatham1/posts/223903010962205
bleatham*at*gmail.com

---

on June 18, 2011 2:45 am

tweeted
http://twitter.com/#!/sleatham1/status/81971698810892288
bleatham*at*gmail.com

---

on June 18, 2011 2:47 am

ooops….entered twice….please delete my 2nd set of entries…sorry!

---

Mimi

on June 18, 2011 10:19 am

I have tried it and can only say it's great !

---

Mimi

on June 18, 2011 10:19 am

Would love to have one at my house !

---

Jan Schaub

on June 18, 2011 6:45 pm

Neat little gadget there.

---

Jan Schaub

on June 18, 2011 6:46 pm

I like you on facebook.

---

Jan Schaub

on June 18, 2011 6:46 pm

I subscribe via email.

---

Vivian A.

on June 19, 2011 3:25 pm

Really cool!

---

Vivian A.

on June 19, 2011 3:26 pm

Email subscriber!

---

Vivian A.

on June 19, 2011 3:26 pm

Facebook loved!

---

Vivian A.

on June 19, 2011 3:26 pm

Facebook status updated!

---

Vivian A.

on June 19, 2011 3:27 pm

Let friends know!

---

Veronica

on June 19, 2011 6:58 pm

Neat!

---

Veronica

on June 19, 2011 6:59 pm

Emailed friends.

---

Chelsea

on June 20, 2011 9:20 am

Shared on my FB status =)

---

Chelsea

on June 20, 2011 9:20 am

I'm a FB fan…

---

Jerry

on June 20, 2011 10:38 pm

So cool. Looks fun.

---

Mary

on June 21, 2011 11:50 am

I would love to win this for my mama. Her birthday is this week and she love love loves sparkling water.

Thanks for the giveaway!

---

Mary

on June 21, 2011 11:51 am

I subscribe via RSS to The Good Stuff Guide

---

Mary

on June 21, 2011 11:54 am

I tweeted:
https://twitter.com/#!/feelsgoodtowin/status/83200957797765121

---

Mary

on June 21, 2011 11:55 am

I like you on FB

---

Mary

on June 21, 2011 11:56 am

I shared on FB:
https://www.facebook.com/hatchmalice/posts/108124319281595

---

Mary

on June 21, 2011 12:05 pm

I emailed 6 friends (and cc'ed you)

---

on June 21, 2011 11:21 pm

So awesome ! My hubby would love it

---

on June 21, 2011 11:22 pm

I am an email subscriber.

---

on June 21, 2011 11:23 pm

Tweeted
http://twitter.com/#!/Arianah_00/status/83374319681552384

---
Leave Us Some Comment-Love