April 30, 2011
Happy Mother's Day Week of Giveaways to you!
Today, 360 Cookware…
Made of the highest quality stainless steel in our own USA (hooray!), this cookware is built to last and comes with a lifetime warranty.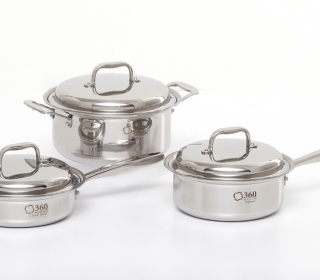 Now this is not your standard cookware.  360 Cookware utilizes their own Vapor Technology – a revolutionary cooking method created by the design and high quality of the metals used. Vapor Technology allows cooks to utilize a low to medium heat because the design and metal are so efficient that food permeates evenly from all sides.  This allows food to cook in its own natural juices without the excess water or grease other skillets and saucepans require.
And did I mention 360 Cookware is made in the USA?
When you hold this saucepan, you can feel the solid, well-made construction.  And the unique technology means less oils and fats for far more healthy yields.
It's a win – win!
And you can win…
Giveaway
You can win a 1 quart saucepan from 360 Cookware just by leaving a comment by Tuesday, May 3rd and I'll choose the winner using Random.org on Wednesday, the 4th.
Here's how to gain extra entries:
Do you subscribe by email or RSS to The Good Stuff Guide? I love my subscribers, so you get an extra entry. Wahoo!
Email 5 of your friends about The Good Stuff Guide and tell them what a rockin' website this is.  We'd love to have them join us!
Tweet about this Mother's Day Week of Giveaways (Just cut and paste): It's a whole week of #Giveaways for Mother's Day at The Good Stuff Guide @GoodStuffGuide http://su.pr/2TJPO2
Share the news of this giveaway on your Facebook status (Just cut and paste): It's a whole week of Giveaways for Mother's Day @The Good Stuff Guide http://www.thegoodstuffguide.com/moms-flip-2hr-minohd-giveaway/
Become a Facebook fan of The Good Stuff Guide and receive the latest news and your chance at additional giveaways.
(Feel free to do them all – that's a total of 6 entries friends!  Please leave them as separate entries.)
Good luck!
If you're just joining us, don't miss the Flip 2Hr MinoHD Giveaway
or the Teleflora Collection by Faith Hill Bouquet Giveaway
or the $100 Stella & Dot Shopping Spree Giveaway
or the Monogrammed Basket Handbag from Queen Bea Studios
and the $100 Shopping Spree from Christophe Chocolatier
What a week!!
I hope you have a fabulous weekend.

Share this post
You might like...
Category: Holidays, Kitchen Gadgets
Tags: 360 Cookware, Mother's Day Week of Giveaways, Stainless Steel Cookware |
196 Comments »
on May 2, 2011 10:57 am

Wow! This would be great in my kitchen.

---

on May 2, 2011 11:07 am

we need new cookware badly! would love to win!

---

on May 2, 2011 11:07 am

http://twitter.com/2kidsblogger/status/65069627817996288

---

on May 2, 2011 11:08 am

http://www.facebook.com/2kidsblogger/posts/217535088258622

---

on May 2, 2011 11:09 am

Following your blog via facebook – user name: 2kidsblogger

---

on May 2, 2011 11:09 am

subscribed via email: 2kidsblogger (at) gmail (dot)com

---

Laurie

on May 2, 2011 11:15 am

Fantastic…liking stainless cookware more and more.

---

Laurie

on May 2, 2011 11:16 am

Also a fb fan and email subscriber.

---

Chani m

on May 2, 2011 11:29 am

I could really use a new set of pots!! These look great!

---

CHani. M

on May 2, 2011 11:30 am

Fb fan

---

on May 2, 2011 11:42 am

I could always use some new cookware!! These look great!

---

on May 2, 2011 11:49 am

I like you on FB!!

---

Gretchen

on May 2, 2011 2:28 pm

I need new pots. Great Giveaway

---

Gretchen

on May 2, 2011 2:29 pm

FB fan

---

Christina D

on May 2, 2011 3:57 pm

The 1 qt saucepan is a favorite in our kitchen.

---

jules

on May 2, 2011 4:04 pm

I would love to have this I am in need of some new pots and pans

---

jules

on May 2, 2011 4:04 pm

subscribe to your emails

---

jules

on May 2, 2011 4:04 pm

Like you on facebook

---

Colleen Gallagher

on May 2, 2011 4:13 pm

great cookware!

---

gillian s

on May 2, 2011 5:17 pm

Wow! I could really use new cookware!

---

gillian s

on May 2, 2011 5:18 pm

email subscriber

---

gillian s

on May 2, 2011 5:18 pm

facebook friend

---

on May 2, 2011 5:31 pm

Who doesn't love new pots and pans!

---

on May 2, 2011 5:32 pm

I subscribe by RSS!

---

on May 2, 2011 5:32 pm

I'm a facebook fan!

---

on May 2, 2011 5:32 pm

I tweeted about all the Mother's Day giveaways! @mcclurejill

---

Kathy

on May 3, 2011 7:15 am

Yes! Pick me, pick me! My pots and pans are embarrassing, to say the least.

---

Kathy

on May 3, 2011 7:16 am

I'm a facebook friend!

---

Kathy

on May 3, 2011 7:16 am

I'm on the RSS feed.

---

Kathy

on May 3, 2011 7:18 am

Email subscriber

---

Christine

on May 3, 2011 8:14 am

This cookware looks really well made. Who couldn't use that in their kitchen? 😀

---

Christine

on May 3, 2011 8:14 am

I'm an email subscriber.

---

Jules Greenaway

on May 3, 2011 8:22 am

Again, I hope I'm not too late… WOW, would love this cookware! Would actually make me wanna cook!!!! LOL!!!!

---

Jules Greenaway

on May 3, 2011 8:23 am

FB fan…

---

on May 3, 2011 11:28 am

Oh, who wouldn't LOVE new cookware?

---

on May 3, 2011 11:29 am

I tweeted about the giveaways!

---

on May 3, 2011 11:29 am

I'm a subscriber

---

on May 3, 2011 11:30 am

I'm a FB fan, too!

---

Jerry

on May 3, 2011 2:49 pm

Just great!

---

Valerie S

on May 3, 2011 6:33 pm

awesome giveaway!

---

Valerie S

on May 3, 2011 6:33 pm

RSS subscriber

---

Valerie S

on May 3, 2011 6:34 pm

like you on fb

---

Jacquie

on May 3, 2011 10:24 pm

Nothing like great set of pots and pans.

---

Jacquie

on May 3, 2011 10:25 pm

I ove those pans. I am a subscriber too!

---

Ty Hodges

on May 4, 2011 8:22 am

I need this! Just ruined one of my pans by overheating.

---

Ty Hodges

on May 4, 2011 8:23 am

I subscribe to email and RSS

---
Leave Us Some Comment-Love